Despite miscues, Sox stand by Panda, Hanley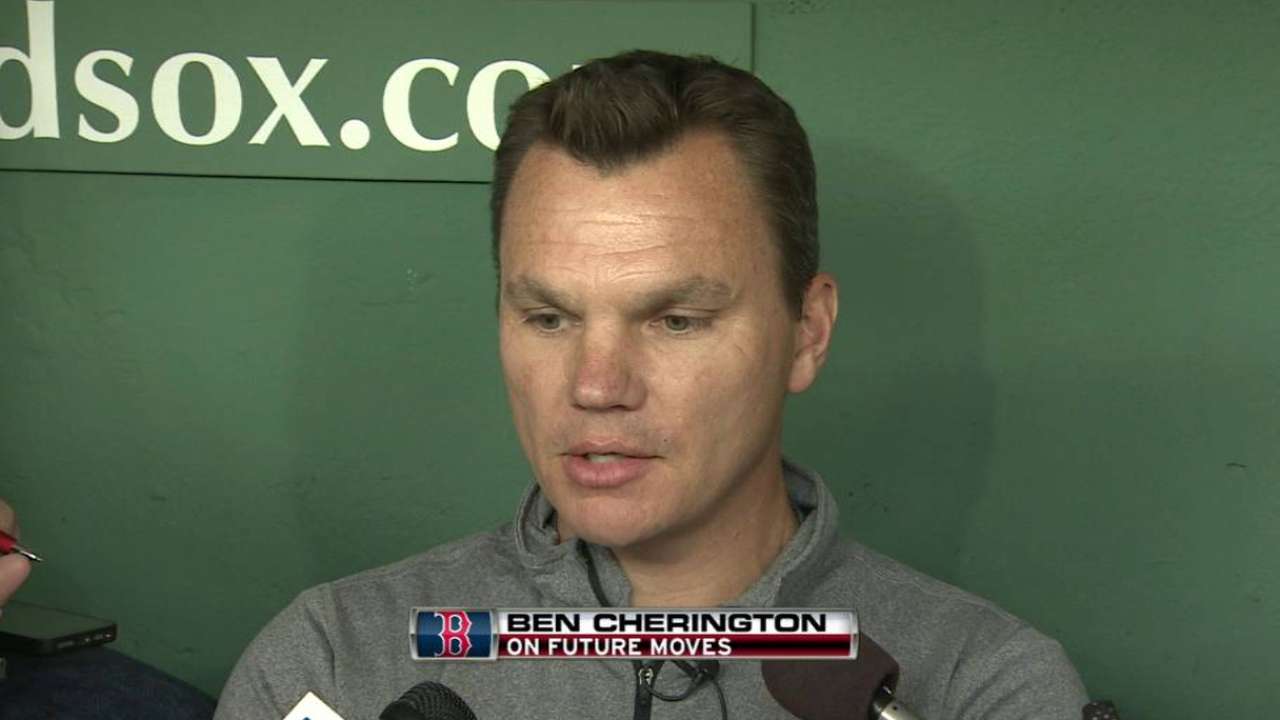 BOSTON -- A day after committing two key errors in Thursday's 8-4 loss to the Twins, Red Sox third baseman Pablo Sandoval was held out of Friday night's starting lineup while Hanley Ramirez moved to designated hitter as the recently acquired Alejandro De Aza started in left field.
When asked whether there was any disappointment with the pair, general manager Ben Cherington and manager John Farrell unequivocally stood by their struggling veterans.
"He's our left fielder," Cherington said of Ramirez. "We're going to continue to challenge him to be the best he can be out there."
"[Sandoval] is the same player that at one point was hitting .360 against right-handed pitching," Farrell said. "He's gone through a stretch where he's not had a lot to show for it. He's scuffling offensively, not unlike any other player that's played this game. He's our guy, we support him and continue to work with him."
After breaking out for 10 homers in April, Ramirez is slugging .343 since returning from a left shoulder injury on May 9. He also committed a mental error while running the bases during Thursday's defeat, getting caught advancing to third base with only one out in a tie game.
On the defensive side, Ramirez's first season as a left fielder continues to be a rocky one.
"We didn't know exactly how it would go," Cherington said. "We felt some confidence he would make the adjustment and figure it out. We think we're seeing some elements of his play that are improving. He's handled the wall better. He's moving left and right. All we can do is stick with him, continue to help him and challenge him to keep getting better."
Sandoval, meanwhile, is mired in a 7-for-60 slump at the plate. He has particularly struggled against left-handers, which played into the Red Sox sitting him against A's southpaw Scott Kazmir on Friday, but Farrell added that the absence was also intended to give the 28-year-old a mental breather.
"Every guy at this level has an expectation for himself," Farrell said. "Whether or not coming into a new setting adds to that is going to be individual. To see that [the defensive errors] play out in Pablo's at-bats, I can't say that because he's an aggressive hitter.
"We know even in the short run of this year to be a streaky hitter. We accept that. We somewhat anticipate that. I don't know him to be a guy that takes his at-bats to the field, but he's also human. He wants nothing more than to contribute and be a positive, productive player."
Among American League clubs, the Red Sox rank 13th in runs scored (206), 14th in OPS (.683) and 14th in batting average with runners in scoring position (.224) through 55 games. Their overall team performance in a recent 3-8 stretch has been particularly dismal.
But Cherington still expresses faith in the roster he constructed last winter, and he believes the team's slow start is his alone to bear.
"I don't think it's John Farrell's fault," Cherington said. "Ultimately it's my responsibility. I'm the GM. I'm at the top of the baseball operations department. Performance of the Major League team is ultimately on me."
Alec Shirkey is an associate reporter for MLB.com. This story was not subject to the approval of Major League Baseball or its clubs.