MLB.com Columnist
Megan Zahneis
Son's injury brings perspective for Axford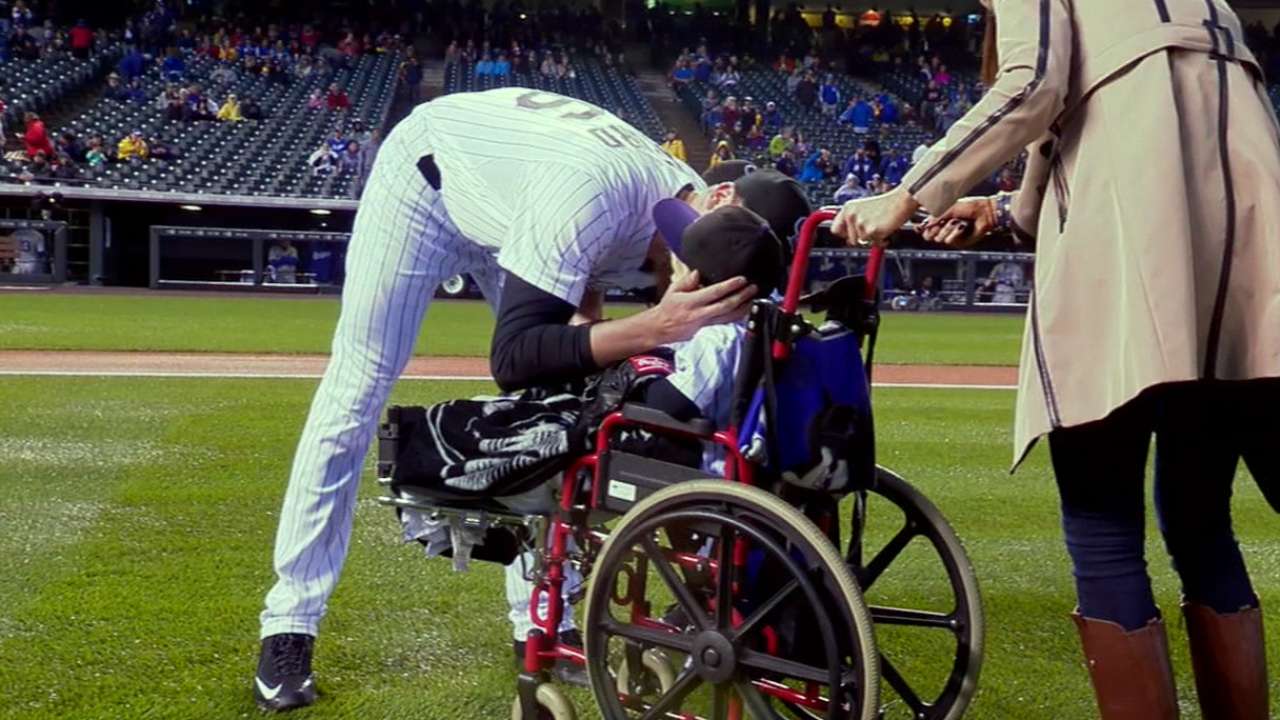 March 25, 2015 started out like any other Spring Training day for John Axford.
The closer, plucked from free agency by the Rockies this offseason, appeared in a Wednesday afternoon tilt against the Giants, striking out the side in his one-inning relief appearance.
Then he met his wife Nicole and sons J.B., 3, and Jameson, 2, in the Rockies' designated family area at Salt River Fields, saying goodbye before finishing up his postgame routine.
"[J.B. and Jameson] were supposed to leave the next day, and I was just finishing up my work, doing what I need to do after the game. The mentality changed immediately," Axford recalled.
"I remember looking at my phone walking to the car, thinking, 'I better get home because I'm going to see my boys for the last time tonight before they leave tomorrow.' Then I saw that text and I just began running to the car instead of walking."
The text was from Nicole, and Axford knew right away that something was wrong.
A phone call later, Axford heard the news that would change his life: his son Jameson had been bitten by a rattlesnake while playing outside the Scottsdale home the Axfords were renting for Spring Training.
The situation was dire: the snake had sunk its fangs into Jameson's right foot not once, but twice, leaving several times the normal amount of venom in the toddler's bloodstream. To make matters worse, Jameson's age and size posed an even greater danger. Doctors said it was the worst bite they'd seen in the area.
And so it was that the Axfords found themselves practically living in hospitals in Arizona and later Denver, once Jameson's condition had stabilized. Initially, doctors weren't sure if they could save Jameson's foot, but a series of treatments and surgeries -- carving infected skin and tissue from the foot, skin grafts and more - started to prevail.
The road is still long: Jameson Axford still cannot walk and will require months of therapy and treatment. Yet progress has been steady: Last week, Jameson had his PICC line and wound closure removed, a step worthy of a proud Tweet from Dad.
One milestone came in early May, when Jameson suited up and rolled onto Coors Field to throw a ceremonial first pitch before a Rockies game. Nicole Axford escorted Jameson to the mound, and J.B. relayed his brother's throw to Dad behind the plate.
A touching moment, and a healing one, too.
"That was actually, I think, the best experience I've ever had on a baseball field," Axford said. "You talk about pitching in the playoffs, pitching in the World Series, making the big leagues for the first time -- all of those things are really great and really special, but looking back on those pictures, that moment, as short as it was, just him throwing out that first pitch was the best thing I ever experienced on a baseball field."
As tragic as Jameson's injury was, his dad says seeing the light at the end of the tunnel has brought a welcome dose of perspective.
"It makes you realize and understand what's important and what really isn't at specific times, especially," Axford said. "Baseball is important in my life, but when something like that happens, [baseball] definitely takes a secondary seat to family and what was going on.
"As hard as it was at the beginning of the year being gone -- and I did take some time off for a while when they came up to Denver -- but as hard as those times were, I think they actually helped me when I was out there on the mound, as well. You realize that there are bigger things than what is happening right there. It helps me maintain my focus a little bit more."
As counterintuitive as it may sound, it's true: Despite the challenges Axford's been facing off the field, he's touting a mind-boggling 0.56 ERA and 10 saves through 17 games.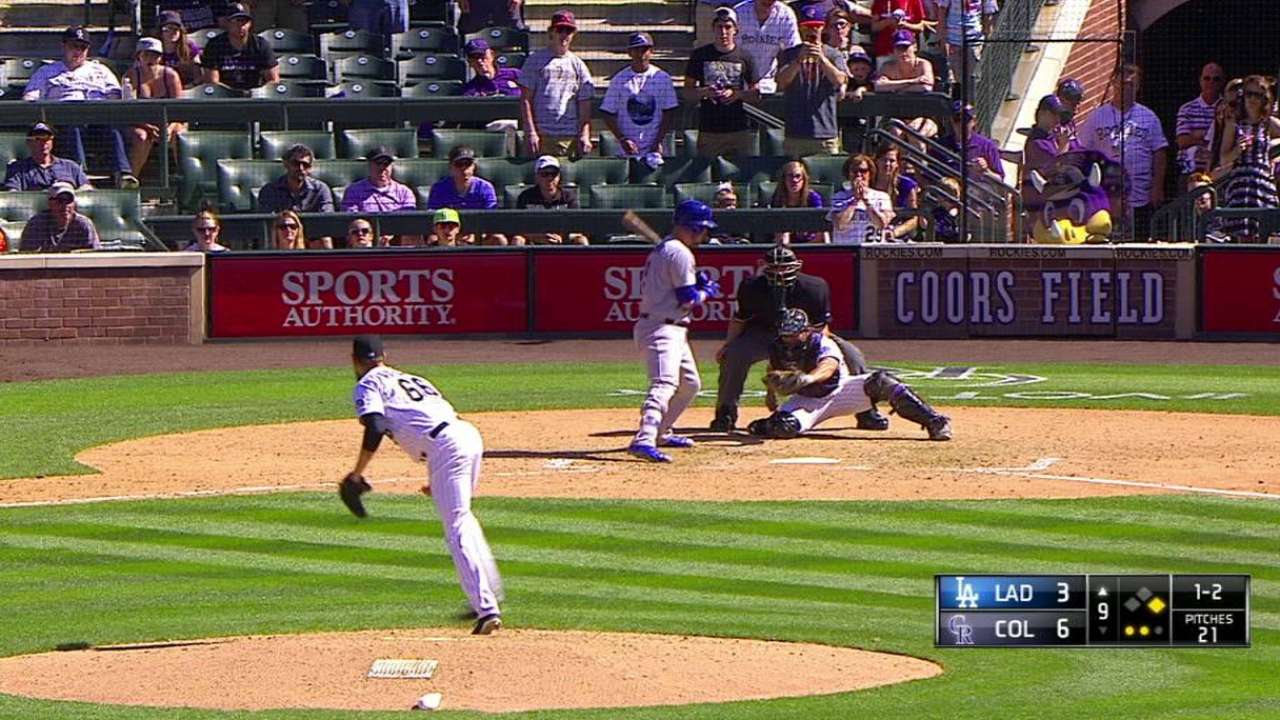 He's mastered one of the toughest skills a baseball player can attain: the ability to "flip the switch," blocking out the outside world when game time rolls around.
What's the secret?
"You know, I don't really know," Axford admitted. "I think it's something that I've always kinda worked on throughout my career. It's something that, as strange as it sounds, was made easier by this moment [with Jameson] because I know if I am thinking about it, my mind is definitely not going to be on baseball at all.
"Things can come in your head a lot of different ways at a lot of different times when you're playing this game, but when they're huge moments like that -- things that could potentially make you cry when you're out there on the mound -- you make sure you shut everything else off and only focus on the game."
The phrase "blessing in disguise" seems trite when it comes to describing the Axford family's scare, yet it somehow rings true.
"[My family's reactions have been similar], kinda figuring those things out and realizing what is important and what's not important in life and understanding your true feelings and passion that you have for your family," Axford said.
"As an adult, I'm not sure I'd be able to handle it as well as my 2-year-old has."
Megan Zahneis is a reporter for MLB.com. This story was not subject to the approval of Major League Baseball or its clubs.