MLB.com Columnist
Jim Callis
Best tools in the Draft: College pitchers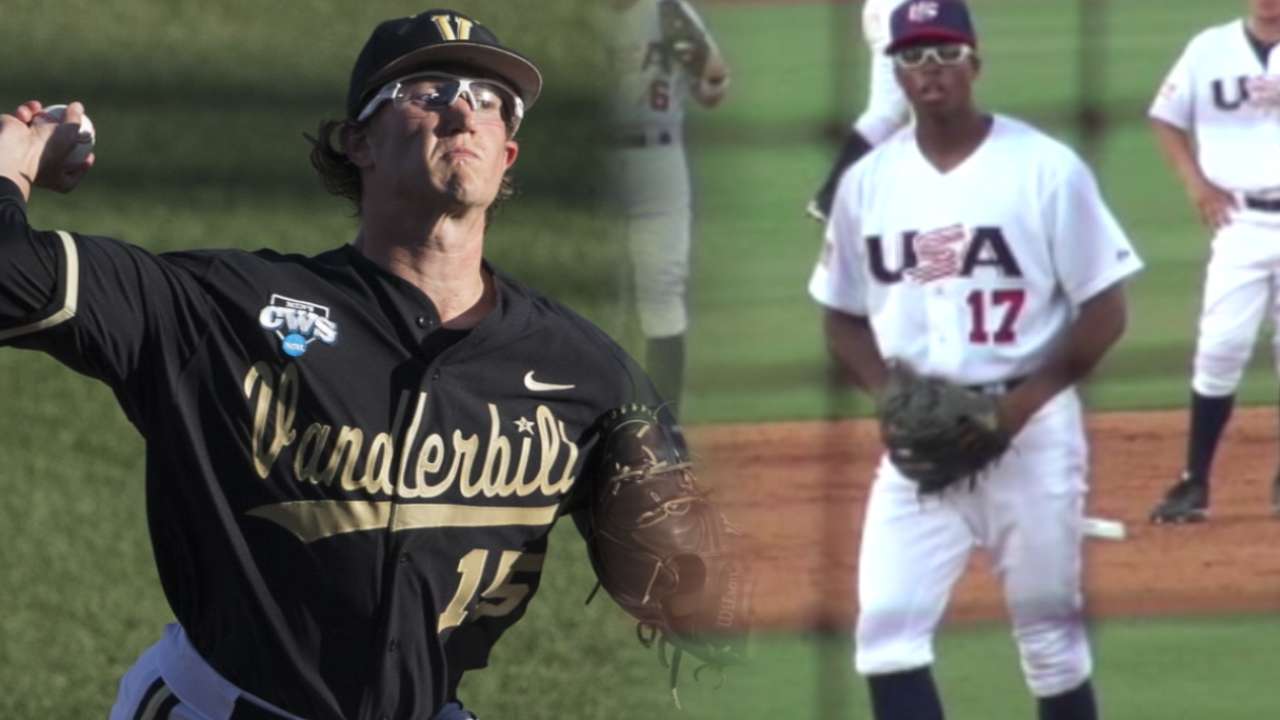 College pitching was supposed to be one of the strengths of the 2015 Draft. Instead, it's generating more questions than answers.
At the start of the season, Duke's Michael Matuella, Vanderbilt's Walker Buehler, Virginia's Nathan Kirby, Louisville's Kyle Funkhouser and Vanderbilt's Carson Fulmer ranked as the best college arms available. But Matuella had Tommy John surgery in April, and Kirby's stuff and command were off before he went down that same month with a lat strain. Buehler missed his first two starts with elbow soreness and hasn't been quite as sharp as he was in the past, while Funkhouser slumped significantly at the end of the regular season.
The only member of that original top five who has lived up to expectations is Fulmer, though his size and high-effort delivery have some scouts questioning whether he's better suited for a big league rotation or bullpen. The same is true of the other two consensus best college (and overall) arms: UC Santa Barbara's Dillon Tate saw his stuff fade at the end of his first year as a college starter, while Tyler Jay has made one start in three seasons at Illinois. None of the three is especially physical, with the 6-foot-2, 185-pound Tate the biggest.
"It's a strange year with the top college pitchers," a scouting director with an American League club said. "You're sure they're going to be solid relievers, positive they can be eighth-inning guys, maybe they're closers and you hope they can be starters -- but you have no certainty. The pure starters, like Jon Harris and Kyle Funkhouser, they're not as good and don't have the same dynamic stuff."
The 2015 Draft will take place from Monday through Wednesday, beginning with the Draft preview show on MLB.com and MLB Network on Monday at 6 p.m. ET. Live Draft coverage from MLB Network's Studio 42 begins at 7 p.m., with the top 75 picks being streamed on MLB.com and broadcast on MLB Network. MLB.com's exclusive coverage of Day 2 begins with a live Draft show at 12:30 p.m. on Tuesday, with exclusive coverage of Day 3 beginning at 1 p.m. on Wednesday.
MLB.com's coverage includes Draft Central, the Top 200 Draft Prospects list and Draft Tracker, a live interactive application that includes a searchable database of over 1,700 Draft-eligible players. Every selection will be tweeted live from @MLBDraftTracker, and you can also keep up to date by following @MLBDraft. And get into the Draft conversation by tagging your tweets with #mlbdraft.
Here's how the top five college pitchers stack up today, with only Fulmer and Buehler repeating from the preseason list:
3. Carson Fulmer, RHP, Vanderbilt
5. Dillon Tate, RHP, UC Santa Barbara
9. Tyler Jay, LHP, Illinois
10. Jon Harris, RHP, Missouri State
11. Walker Buehler, RHP, Vanderbilt
Top tools
Fastball: Josh Staumont, RHP, Azusa Pacific (Calif.) (70 on the 20-80 scale)
College baseball's hardest thrower hails from an NCAA Division II program. Staumont (No. 65 on the MLBPipeline Top 200) sits at 93-97 mph as a starter while expending very little effort in his delivery, and he has hit 100 while working in shorter stints. He may be ticketed for the bullpen as a pro because his secondary pitches, control and command pale in comparison to his heater.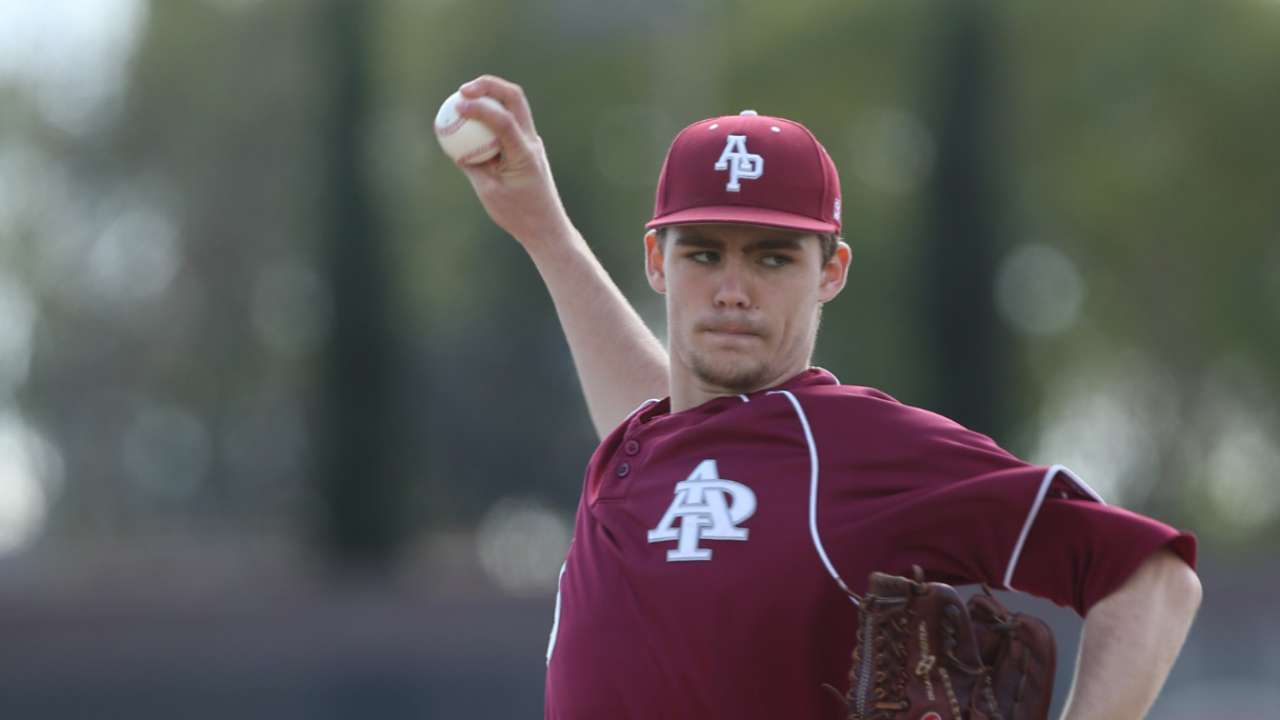 Curveball: Fulmer (60)
His mid-90s fastball is nearly as good as Staumont's, and Fulmer backs it up with a power curveball. Even better, he maintains his quality stuff deep into games and from start to start as well as any college pitcher. That's why the Southeastern Conference Pitcher of the Year ranks second in NCAA Division I in both strikeouts (147) and strikeouts per nine innings (12.3), and third in victories (12).
Slider: Tate (65)
As good as Fulmer's 1-2 punch is, Tate's can be slightly better. He pairs a mid-90s fastball with a wipeout upper-80s slider. Scouts thought Tate relied too heavily on his slider at times, especially at the end of his season when he showed the effects of pitching a career-high 103 1/3 innings.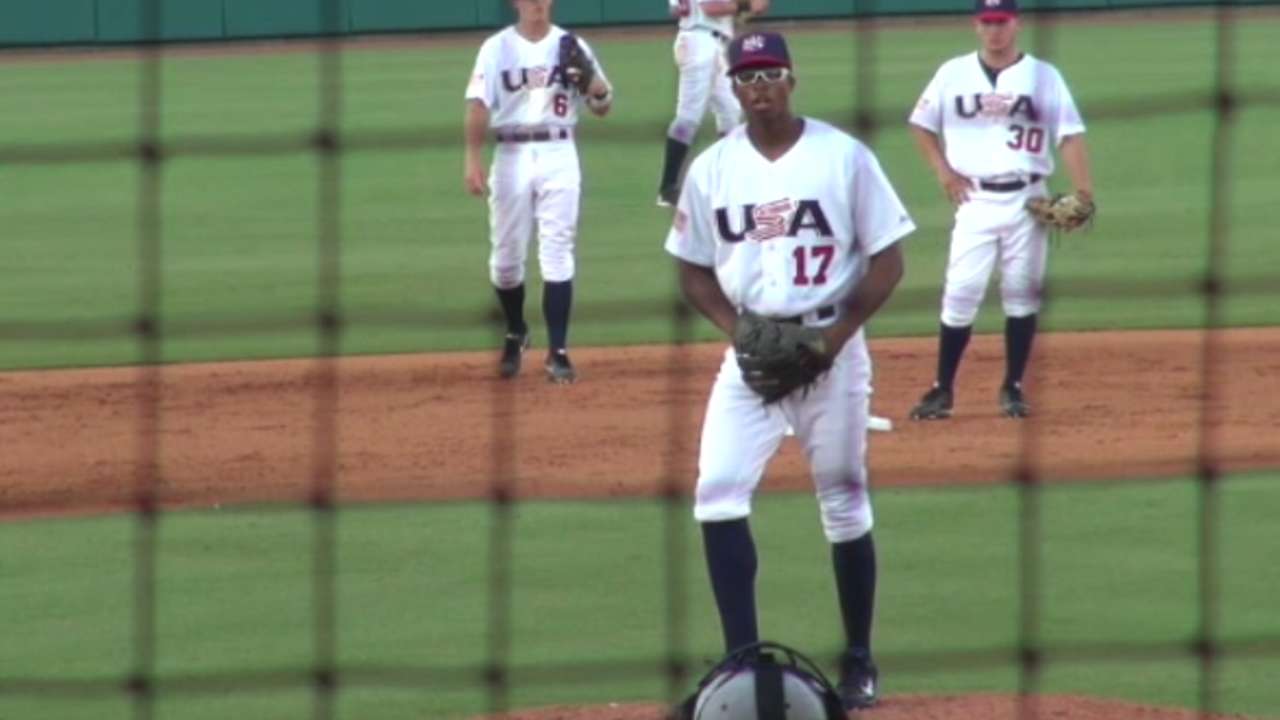 Changeup: James Kaprielian, RHP, UCLA (60)
Kaprielian (No. 22) usually works with an average fastball, but he's effective nonetheless because he has three solid-or-better secondary pitches and can throw his entire repertoire for strikes. He sells his circle changeup well, and it features some fade and sink. Kaprielian has enjoyed consistent success in three years at UCLA, as well as during the summer in the Cape Cod League and with Team USA.
Control: Thomas Eshelman, RHP, Cal State Fullerton (65)
Eshelman (No. 98) is the best strike-thrower in the history of college baseball and maybe the Draft. He has led NCAA Division I in fewest walks per nine innings in each of his three years: a record 0.2 as a freshman, 0.6 as a sophomore and 0.4 this spring. Eshelman has walked 17 in 362 2/3 innings, and that career 0.4 rate is also a record. His pinpoint control helps his fringy stuff play up and gives him a chance to sneak into the first round.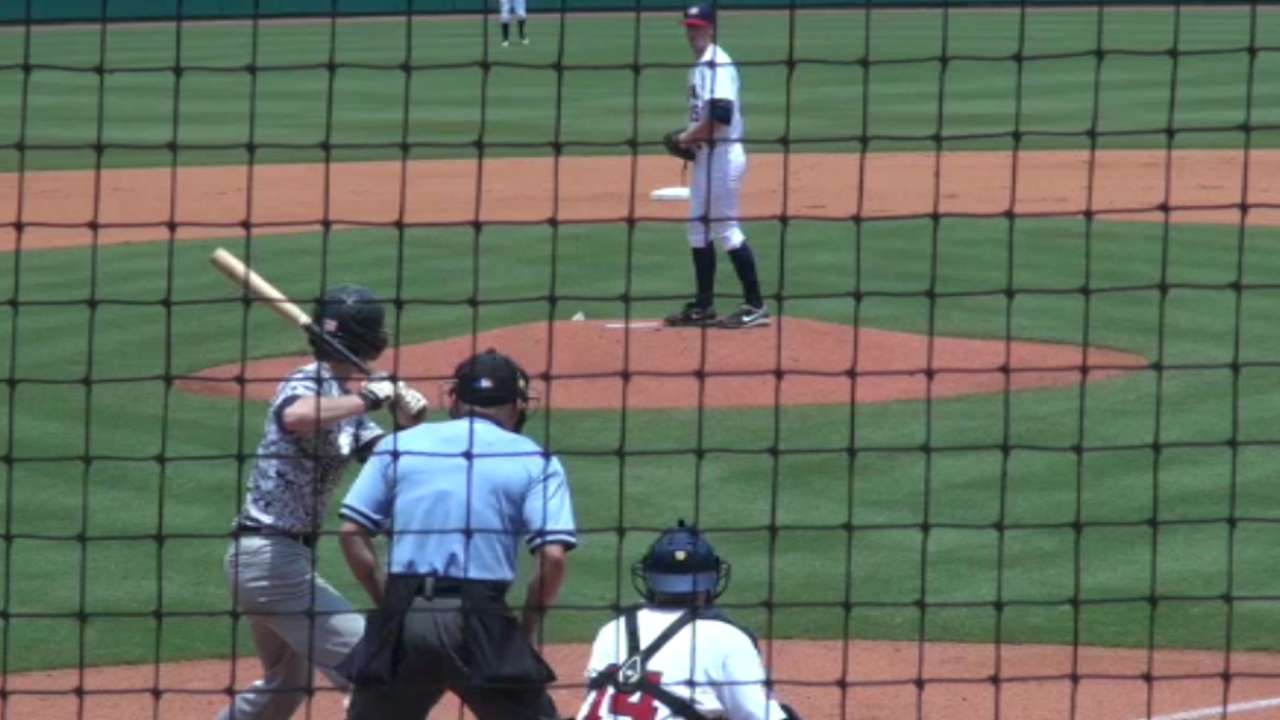 Highest ceiling: Jay
Jay didn't win any of the superlatives above, but he has one of the best fastballs, best sliders and some of the best control in this Draft. He has dominated as a reliever, leading NCAA Division I in hits per nine innings (4.5) and WHIP (0.61) while ranking second in ERA (0.60) and fourth in strikeout/walk ratio (10.0) entering the NCAA Super Regionals. Though Jay is 6-foot-1 and has started just one game in college, he has the necessary ingredients (four pitches, control and command, athleticism, sound delivery) to be a front-line starter in the big leagues.
Highest floor: Harris
Though he'll probably be just the fourth college pitcher selected on Monday, Harris has a better chance of becoming at least a mid-rotation starter than any of them. The latest product of Missouri State's pitching factory, he has a lively 92-94 mph fastball and three secondary pitches (curveball, slider, changeup) that all grade as plus when at their best. Harris has a high ceiling too, because he still has a good deal of projectability remaining in his 6-foot-4, 190-pound frame.
Jim Callis is a reporter for MLB.com and writes a blog, Callis' Corner. Follow @jimcallisMLB on Twitter. This story was not subject to the approval of Major League Baseball or its clubs.