MLB.com Columnist
Barry M. Bloom
Harvey proves Mets made right move on injury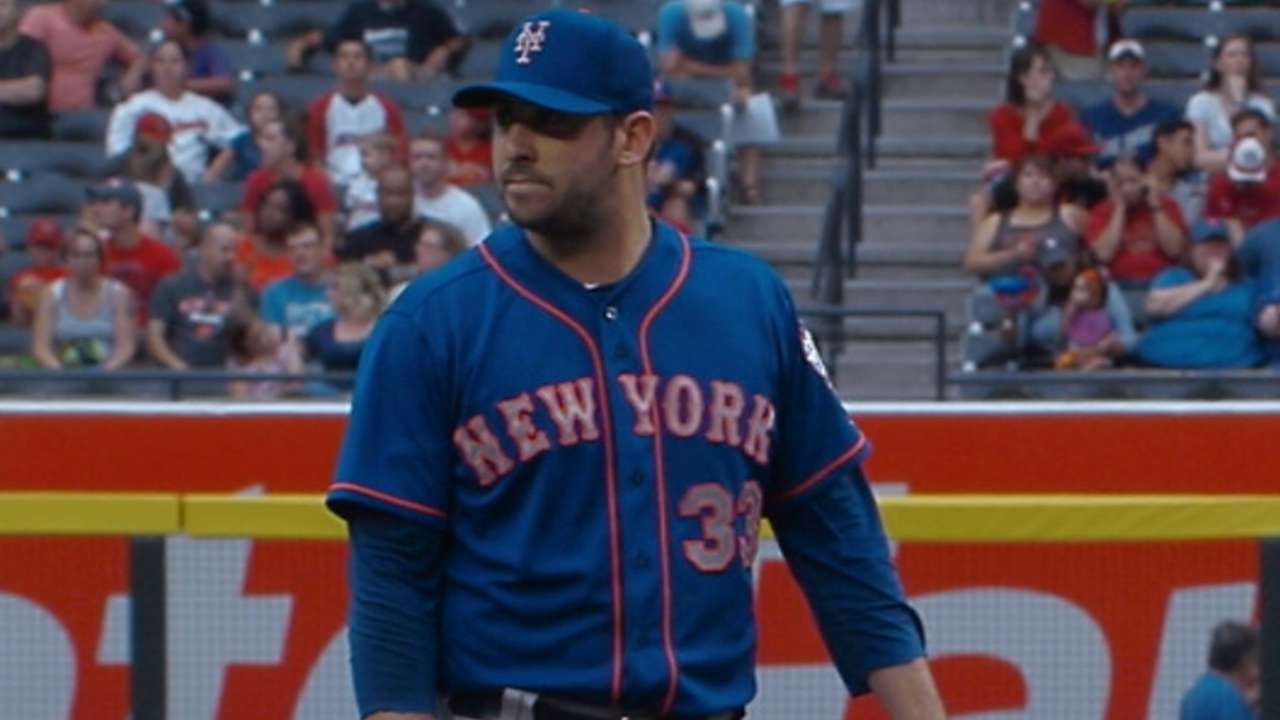 PHOENIX -- If Thursday night's outing by young right-hander Matt Harvey is any indication of his physical condition, the Mets were right sitting him out for a full season after Tommy John surgery.
"It was absolutely the thing to do," Mets manager Terry Collins said after the Mets beat the D-backs, 6-2, behind Harvey's seven innings of two-run, six-hit pitching at Chase Field. "I think in Matt's case, we thought we might as well give him the extra rest. He's our No. 1 guy. Let's just make sure when he comes back, he's ready to go."
After three losses in his previous five starts, the 26-year-old with so much potential was more than ready to go. Harvey generally mowed down the D-backs, striking out nine -- eight of them swinging -- on pitches that mostly registered in the upper 90s.
The D-backs' two runs were scored on homers by Jarrod Saltalamacchia and Paul Goldschmidt. Harvey walked one and scattered another four singles, striking out Goldschmidt and Yasmany Tomas with runners on the corners and one out in the third.
After the homer to Saltalamacchia with two out in the second, Harvey decided it was time to kick it in gear. His strikeouts came in bunches, five in a row at one point, and three in a row at another.
"I got angry that my last couple of starts weren't very good," said Harvey, who ran his record to 6-3 with a 3.05 ERA and 80 strikeouts. "I needed to put an end to that and I started to get more aggressive."
Harvey underwent the surgery on Oct. 22, 2013, and didn't pitch again in a Mets jersey until the first game of this past Spring Training in Port St. Lucie, Fla., a span of 17 months. Harvey thought he was ready to pitch last year, but the Mets stayed the course. They figure that he's too valuable an asset to throw all caution to wind. Even Harvey sees that now.
"Yeah, absolutely, at this point [11 starts] into the season, feeling the way I feel," he said. "I felt like I was ready, but overall I had a normal offseason feeling like I did pitch. I took about a month and half off, and after that, I was able to pick up a baseball like a normal pitcher again. For me, that was very important."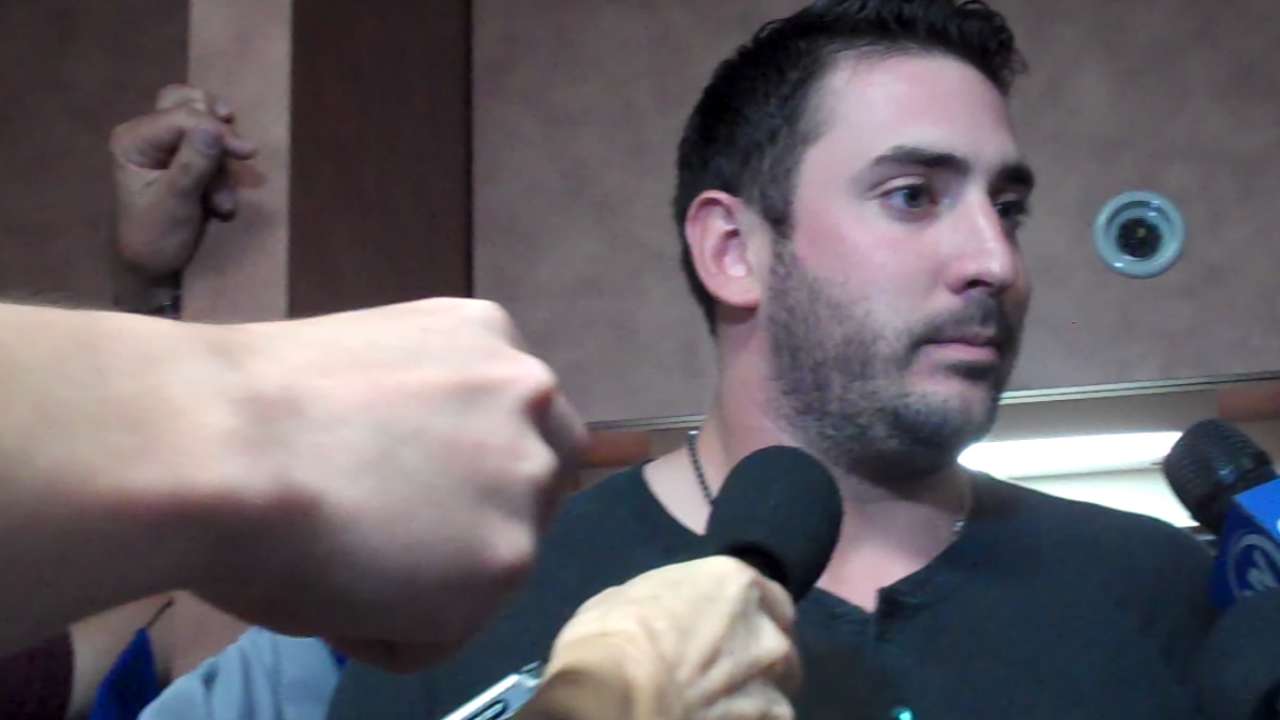 It should give the D-backs' hierarchy some food for thought as they monitor the recovery of Patrick Corbin from his Tommy John surgery on March 25, 2014. The 25-year-old left-hander has been working his way back through a series of bullpen sessions and games at the club's Salt River Fields training complex.
The D-backs are pondering a Minor League rehab soon, but you have to wonder what the hurry is. The D-backs are pretty competitive, but they're not going to the postseason and they have enough starting pitching to get them through September.
Recovery time for the ligament replacement surgery is anywhere from 12 to 18 months, and Corbin is at only at about 14 months.
"There's a lot of guys who try to make it back and don't make it," Collins said, "so you might as well make them rest because that's the only way it heals."
The D-backs have had one of those already in Daniel Hudson, who had Tommy John surgery on July 12, 2012, and was back out there on the mound in a Minor League rehab start less than a year later. On June 4, 2013, he was pitching for Double-A Mobile when he felt another pop in the elbow. Two weeks hence, Hudson had to undergo the surgery again.
Hudson, now 28, is back, but in a limited bullpen role, and he allowed a two-run homer off the bat of John Mayberry Jr. in the ninth inning on Thursday.
If that's not a cautionary tale, here's another:
Oakland's Jarrod Parker had his second Tommy John surgery on March 24, 2014. A little more than 13 months later, Parker was throwing a rehab start in Triple-A Nashville when he suffered a medial epicondyle fracture in his right elbow
Parker fell off the mound in agony, clutching his arm much like Dave Dravecky of the Giants in 1989, making his second comeback start from cancer in Montreal's Olympic Stadium. Like Parker, Dravecky fractured his arm, throwing a pitch. Dravecky ultimately lost his left arm at the shoulder.
For Parker, he had surgery on May 18 to repair the fracture, and he said he hopes to pitch again.
In stark contrast, over in Anaheim, Angels left-hander Tyler Skaggs had Tommy John surgery this past Aug. 10 and general manager Jerry Dipoto emphatically said last week that Skaggs would not pitch competitively this season aside from work in instructional ball this fall. When Skaggs returns for Spring Training, it will be nearly 20 months since he last appeared in a big league game. He's only 23.
The Mets obviously think that's the way to go and are taking the Harvey tact with 25-year-old right-hander Zach Wheeler, who had the surgery on March 25. Obviously, Wheeler will not pitch at all this season and his return right now is at best tentative.
"That is exactly the plan," Collins said. "We'll worry about it next year when he gets to Spring Training, but I wouldn't look for Wheeler right out of the gate. When we see where he's at, we'll make a determination of when he'll be ready to go full bore. We're certainly not going to rush."
Harvey may not have been too happy about it at the time, but he said on Thursday night that he feels about the same as before he sustained the elbow injury. And he is certainly throwing like it. No one can ask any more than that. The Mets were right all along about being cautious, and they absolutely should continue to go with what has worked.
Barry M. Bloom is a national reporter for MLB.com and writes an MLBlog, Boomskie on Baseball. Follow @boomskie on Twitter. This story was not subject to the approval of Major League Baseball or its clubs.