Stephenson among top prospects in Minors Thursday
Reds No. 1 prospect strikes out 7, allows 1 hit in 8 innings for Double-A Pensacola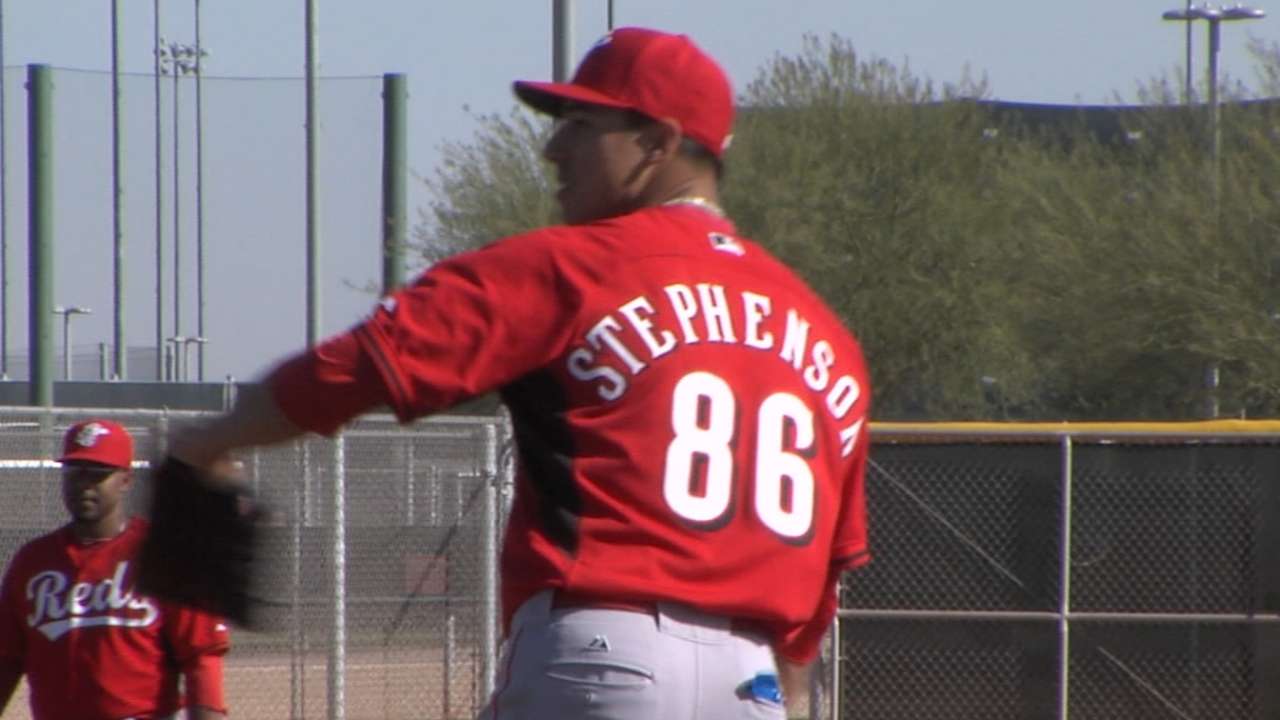 Robert Stephenson has officially turned his season around.
Cincinnati's No. 1 prospect (No. 21 overall) dominated on Thursday night, leading Double-A Pensacola to a 3-1 victory over Mobile. The 22-year-old right-hander gave up one hit and one unearned run in eight innings, striking out seven and walking none in the process.
After a rough start to the season (0-4, 6.85 ERA through five outings), Stephenson has gone 3-0 while cutting his ERA to 3.81. He has yet to give up an earned run since May 23 and has struck out 17 batters and walked two in that time.
The former first-round Draft pick has yet to have a winning season since his 2012 Minor League debut, but his recent run of strong outings suggest a reversal of that trend this year.
More standout performances from Top 100 prospects on Thursday
• Phillies No. 2 prospect (No. 33 overall) Aaron Nola was excellent for Double-A Reading. The right-hander gave up five hits and one run in seven innings to earn his seventh win of the year. Over the past two starts (14 total innings), Nola has given up two earned runs and one walk while striking out 11 batters. He's 7-3 with a 1.76 ERA this season.
• White Sox No. 3 prospect (No. 82 overall) Frankie Montas is doing everything he can to get his first win of the year. The Double-A Birmingham right-hander was in position to pick it up after scattering five hits in six shutout innings Thursday, but the Barons' bullpen blew the lead. Montas has yet to give up more than three earned runs in a start this season and is 0-1 with a 2.87 ERA in nine starts.
Other notable performances from around the Minor Leagues
• Angels No. 9 prospect Chris Ellis is back under a 4.00 ERA for the first time this season after carrying a no-hitter into the seventh inning. The Class A Advanced Inland Empire hurler finished the game with the following line: seven shutout innings, one hit, two walks, six strikeouts. He got the win and is now 4-5 with a 3.88 ERA this year.
• Astros No. 12 prospect A.J. Reed hit his third home run in six games and has claimed sole possession of the Minor League home run lead. The Class A Advanced Lancaster first baseman smacked his 15th homer of the season and knocked in four runs as part of a 3-for-5 night. He's batting .294/.403/.588 with 46 RBIs this year.
• Athletics No. 4 prospect Renato Nunez and No. 21 prospect Jaycob Brugman teamed up to lead Double-A Midland to an extra-innings win. Brugman was 0-for-5 entering the 14th inning when he slugged a grand slam as part of a six-run frame. Nunez had a two-run homer of his own on Thursday -- his second in as many games -- and Midland pulled away for a 9-3 victory.
• Athletics No. 8 prospect Yairo Munoz went yard for the second straight night. The Class A Beloit shortstop went 3-for-4 with a solo shot and two RBIs Thursday and has seven dingers with 31 RBIs on the year.
• Braves prospect Jake Brigham took a perfect game into the ninth inning for Double-A Mississippi. The bid was broken up with a leadoff double by Jackson's Dan Paolini, but Brigham still picked up the victory in a brilliant complete game. He allowed one hit, one run, did not issue a walk and struck out 10 for the Braves. The 6-foot-3 right-hander has not lost since April 28 and stands 5-2 with a 3.42 ERA.
• Cubs No. 21 prospect Christian Villanueva continues to light up the Pacific Coast League. The Triple-A Iowa slugger homered in his fourth straight game on Thursday, a two-run shot that helped the Cubs to an 8-2 win over Albuquerque. He's racked up 12 RBIs over the past four contests and has seven dingers and 25 RBIs on the year.
• Dodgers No. 17 prospect Cody Bellinger went 2-for-5 with a two-run shot for Class A Advanced Rancho Cucamonga. He leads the team with 11 home runs.
• Giants No. 6 prospect Adalberto Mejia returned from a 50-game suspension to help Double-A Richmond defeat Portland, 4-3. The southpaw, who tested positive for a banned stimulant last year, recorded four no-hit innings in his first action since last August.
• Mariners No. 16 prospect Dan Altavilla set a season-high with nine strikeouts for Class A Advanced Bakersfield. The righty gave up five hits and two runs while walking one batter, and now stands at 2-5 with a 3.60 ERA this year. Altavilla's nine strikeouts also tied his Minor League career-high.
• Marlins No. 6 prospect Trevor Williams scattered seven hits in seven shutout innings for Double-A Jacksonville. The righty struck out four and has a 2-6 record with a 4.53 ERA.
• Orioles No. 6 prospect Tim Berry snagged his first win of the season for Double-A Bowie. He lasted 6 2/3 innings, giving up three hits and an earned run. The lefty is 1-4 with a 6.28 ERA in 11 starts this year.
• Padres No. 19 prospect Gabriel Quintana saved his best for last on Thursday. After going 0-for-3 against Chris Ellis in the first game of a twin bill, Quintana showed off his power in the finale. The third baseman went 2-for-3 and launched his sixth home run of the year. Quintana helped the Storm split the doubleheader and knocked in two runs in his team's 5-2 win.
• Pirates No. 9 prospect Cole Tucker hit his second home run of the season and first since May 4. The Class A West Virginia shortstop went 2-for-5 with a two-run shot that helped the Power defeat Rome, 6-5. Tucker is hitting .266/.289/.325 with 16 RBIs this year.
• Rangers No. 9 prospect Ryan Rua swatted a homer for Triple-A Round Rock. He had four hits in 18 at-bats with the Rangers before landing on the disabled list with a fractured bone in his foot. He began his rehab assignment Thursday night and went 1-for-2. Rua scored two runs for the Express and hit his first home run this year in the third inning -- a two-run blast.
• Rays No. 5 prospect Casey Gillaspie hit his 10th homer of the year for Class A Bowling Green. The first baseman went 2-for-5 with two runs and two RBIs on Tursday and is hitting .272/.337/.489 with 33 RBIs this year.
• Red Sox No. 12 prospect Trey Ball picked up the win for Class A Advanced Salem. The 6-foot-6 left-hander gave up two runs and struck out two in six shutout innings. Ball now stands at 4-5 with a 4.42 ERA.
• Yankees No. 7 prospect Gary Sanchez provided the only runs in Double-A Trenton's 2-0 win over Binghamton. His solo homer put the Thunder up one in the second inning and he added an RBI for good measure in the ninth frame. Sanchez has seven homers and 25 RBIs this season.
• Yankees prospect Jordan Montgomery made an impressive debut for Class A Advanced Tampa. The hurler tossed 6 2/3 no-hit innings for the Yanks. Before his debut with Tampa, he made nine Class A starts in which he went 4-3 with a 2.68 ERA.
Alex M. Smith is a reporter for MLB.com. This story was not subject to the approval of Major League Baseball or its clubs.