Butler leaving lasting impression in Majors
Rays rookie is in middle of key play again vs. Seattle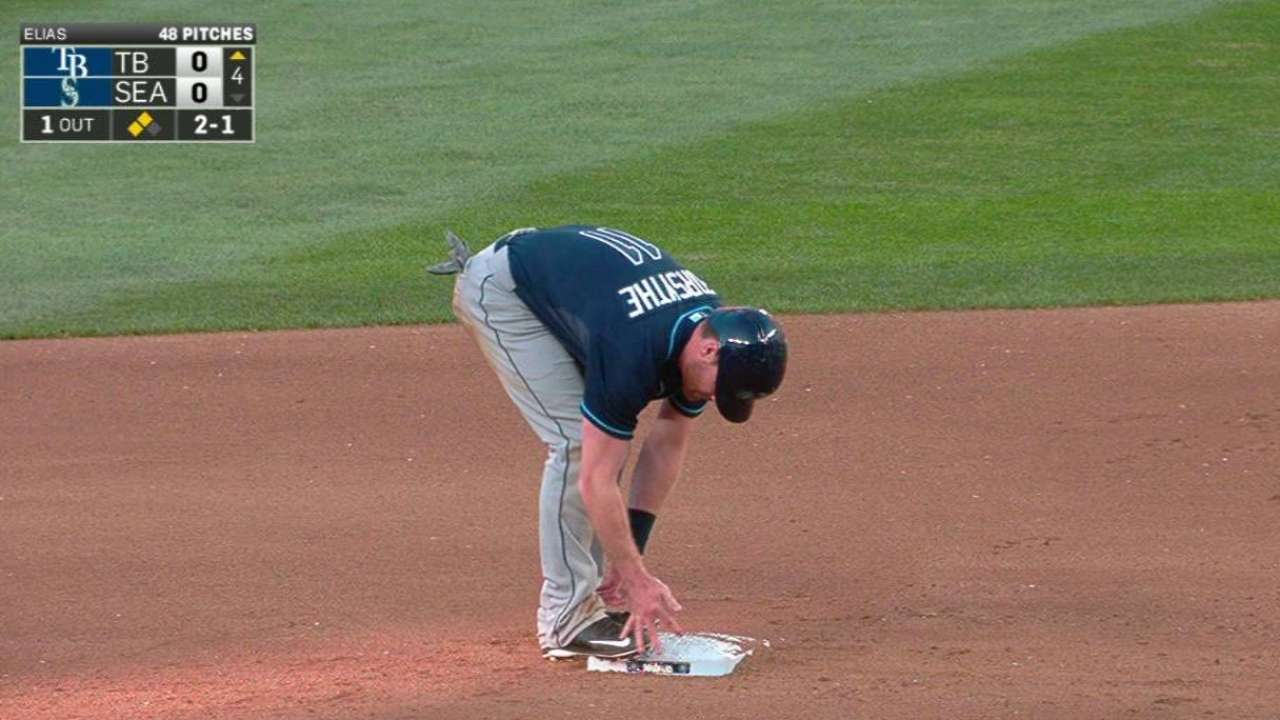 SEATTLE -- Joey Butler is making the most of his opportunity, raking like he's done all along during a prolonged Minor League career.
Thursday night, Butler, 29, made his 22nd start since the Rays selected him from Triple-A Durham on May 3. And he could be found right in the middle of the Rays' only significant offensive moment of a 2-1 win over the Mariners at Safeco Field.
Butler led off the fourth with a single off Roenis Elias and moved to second on Evan Longoria's groundout to second. After Logan Forsythe got hit by a pitch, Butler was on the front end of a double steal.
"He was just real slow to the plate and I saw an opportunity," Butler said. "He wasn't paying me very much attention, so I took it."
That set the table for Steven Souza Jr.'s RBI single. Jake Elmore then grounded into a forceout to drive home Forsythe and put the Rays up 2-0. Butler, who went 2-for-3, is now hitting a team-leading .348.
Butler allowed that, "in a sense," what he's done has validated what he's thought all along about his ability.
"But I don't want to get too high," Butler said. "I just keep trying my best."
Butler's average leads all Major League rookies who have at least 75 plate appearances.
In 763 Minor League games, accrued over parts of eight Minor League seasons, Butler has a .293 batting average with 78 home runs and 390 RBIs. Included in those games was time spent with Rays manager Kevin Cash, who was a teammate at Triple-A Round Rock (Rangers).
"He was impressive," said Cash, who has been touting Butler's hitting ability since Day 1 of Spring Training. "He came up from A ball to fill the void of an injured player [while at Round Rock]. And two weeks later he's hitting third every day in our lineup. There were some good hitters in that lineup. ... He can hit."
Cash has been impressed with the way Butler does a good job of "staying within himself."
"You look at a lot of good hitters -- how many times have we seen Joey in the last month roll over on a ball?" Cash said. "He doesn't roll over on balls. He stays on balls very well. Up the middle.
"He's very committed to his approach. For a guy who hasn't had many opportunities at the big league level, he's very consistent. It's kind of a simple thought process. He's going to let balls get deep. He fouls balls off to right field a lot. He knows the strength of his game and he doesn't get away from it."
Butler said he has tried to establish a good routine by working with coaches Derek Shelton and Jamie Nelson. And he's always believed in himself, so having his time come feels like "a blessing."
"I always felt like I could hit," Butler said. "But to see it all come together here in the big leagues is pretty amazing."
Fellow rookie Souza called what Butler has done "incredible."
"What he's been through, what he means to this ballclub," Souza said. "He's a huge asset to our team. Just to watch him do it. I enjoy playing with him and watching him have success. And I just wish him more success."
Bill Chastain is a reporter for MLB.com. This story was not subject to the approval of Major League Baseball or its clubs.