MLB.com Columnist
Alyson Footer
Elliot brings appetite to 'Express Written Consent'
Master chef dishes on Dodgers' past, Cubs' future and all sorts of ballpark fare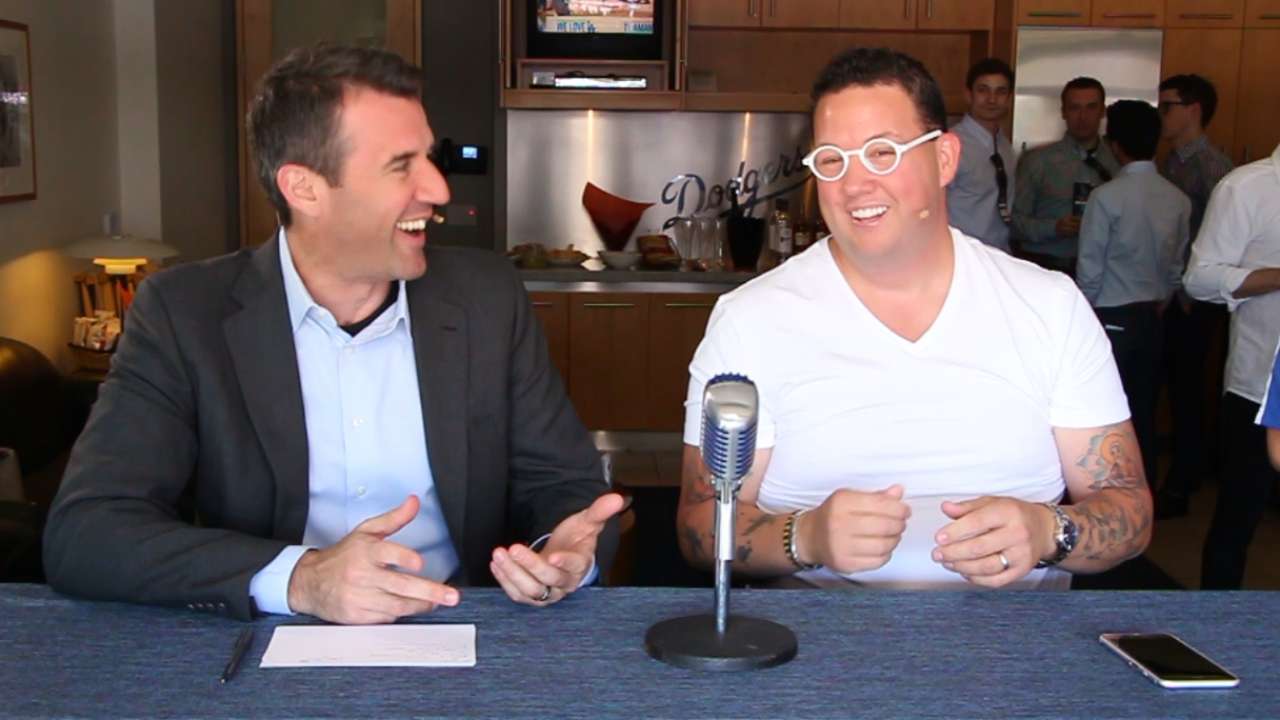 Graham Elliot knows a lot about food, and he also knows a lot about Chicago. So if there was ever an expert from which to exact wisdom about really important topics, like, say, deep dish pizza and the beauty that is the perfectly prepared hot dog, it's probably Elliot.
And while Elliot loves the Windy City, calls it home and runs two successful restaurants there, he has a "beef" about one particular Chicago staple: deep dish pizza.
"It's like a lasagna with a crust," he said while bantering with MLB.com host Jeremy Brisiel during a recent taping of "Express Written Consent." "It's the worst thing ever. It's like Jon Stewart said, 'You don't know whether to eat it or throw a coin in it and make a wish.'"
This particular topic of conversation arose during "Start, Bench, Cut," a staple of EWC where guests are given three items and asked to rank them based on who they'd keep, toss, or save for later.
Needless to say, deep dish pizza was cut. Elliot's preference is the good old fashioned hot dog, with Italian beef running a distant second.
"Everybody speaks hot dog," he said. "It's the international language. Chicago does it better than anyone else. They do it where they drag it through the garden. They've got it where you've got all the veggies and peppers and tomatoes. The key is the steamed bun."
Hungry yet?
Elliot, a master chef, is also a judge on the reality show "MasterChef," along with Gordon Ramsay and Joe Bastianich. They recently wrapped Season 6 of the show and are currently working on Season 4 of "MasterChef Junior," which invites children between the ages of 8 and 13 to apply to become contestants on the series.
Elliot, a father of three boys, loves this particular "MasterChef" spinoff.
"Not only is it amazing to see these kids ... but to feel like you're having an impact on the future of food," he said. "Showing America and kids that food is something important and you need to know how to cook, it's just really, really cool."
While his generation was "born into fast food," Elliot is encouraged by today's young people, who, in his estimation, were born into "great food."
"Understanding that America's a melting pot, different religions, beliefs, ethnicities ... and all of that equals who you are on a plate," Elliot said. "That's where they're finding their own voice."
Now, on to baseball.
Elliot is a fan of both the Dodgers and Cubs, loyal to both of his "home" teams equally (for the most part).
He loves the Dodgers for their history and the legendary players who have graced Chavez Ravine, from Don Drysdale to Orel Hershiser to Fernando Valenzuela to -- of course -- Sandy Koufax.
"I wanted to name my kid Koufax," he joked. "I'm still fighting my wife to see if we can for the next one."
As an adult and a Chicagoan, Elliot grew to revere the historic nature of Wrigley Field -- "It's like going to mecca. You bow down to it and the ivy" -- and feels the Cubbies are close to being a fixture of October baseball.
"I think you're going to see them position themselves to be a frontrunner in the division," Elliot said. "What's great is they've been honest from the get-go for the last two years. They're not saying they're going to the World Series this year. We're setting up the foundation, in that 2-3 [years], we're going to be a contender and we're going to do it."
And, a note to the Ricketts family -- if you're looking to add some flare to the Wrigley Field fare, Elliot will gladly take the call.
"The Giants, Mariners have their own food that speaks to that region," Elliot said. "Chicago doesn't have that. They still have hot dogs and warm beer. If we can somehow elevate it, I would love to be a part of that."
Not a complete overhaul, mind you. Just a little dressing up here and there.
"You look at things people know," Elliot said. "A corn dog -- make it a lobster corn dog. Loaded tater tots. Your own version of a hot dog or nachos. All of the foods that people know, but just tweak it."
Bon appetit!
Alyson Footer is a national correspondent for MLB.com. Follow her on Twitter @alysonfooter. This story was not subject to the approval of Major League Baseball or its clubs.