MLB.com Columnist
Anthony Castrovince
Trading for Hamels can take Astros to next level
Houston has prospects, financial flexibility, need to get lefty from Phillies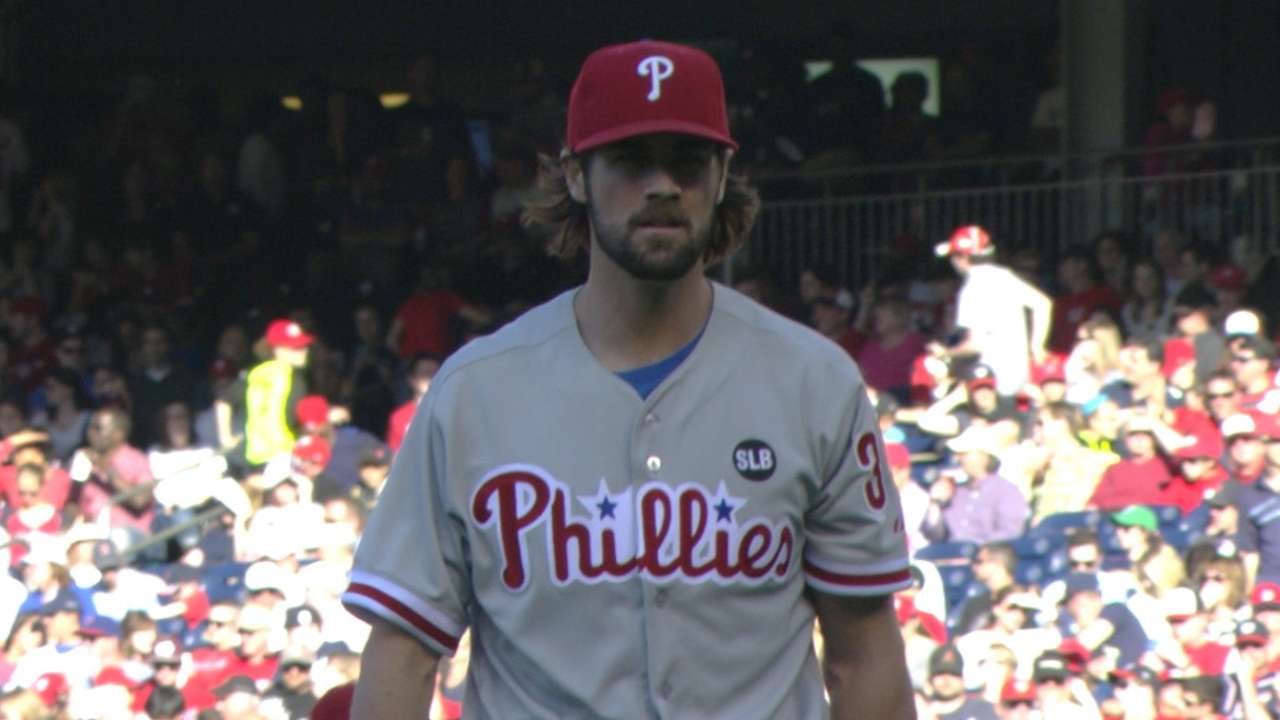 The Houston Astros' 2010 teardown removed the last real remnants of the club's 2005 run to the World Series, and that July overhaul began by sending an established ace by the name of Roy Oswalt to the Philadelphia Phillies.
It would only seem right and fair, then, for the Phillies to flip the script five years later and send the Astros the established ace it might take to get Houston back to the World Series in 2015. Just imagine the Astros adding Cole Hamels to what has already been one of the best stories of the season.
Here are five reasons this blockbuster barter can and should happen:
1. The Astros have the prospects.
Even after the Brady Aiken problem, graduating George Springer to the big leagues and parting with three nice pieces in the Evan Gattis trade, the Astros still have a strong system -- one they can bolster all the more with two top-five picks and four of the first 46 picks in next week's Draft. Houston has five players on MLBPipeline.com's Top 100 Prospects list.
Of course, shortstop Carlos Correa is the most highly regarded of those five, and he's not going anywhere. But the Astros could build a package around Mark Appel and justify it both because of the long-term control of Hamels -- signed through 2018 with a club option for '19 -- and the ol' "there is no such thing as a pitching prospect" mantra. Whatever the exact makeup of the package, Domingo Santana, Vincent Velasquez, Michael Feliz, Colin Moran and Brett Phillips are all names that have to be of interest to a Phils club that needs long-term building blocks in multiple spots.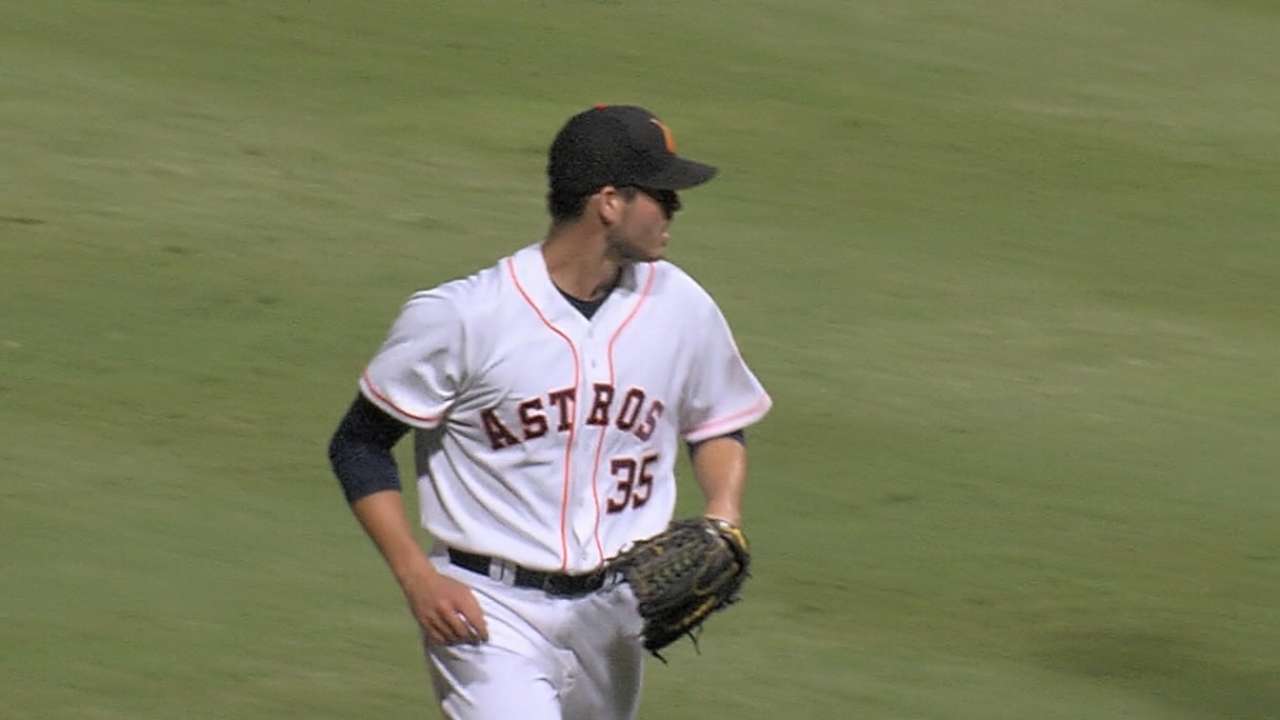 The Astros are one of the few teams that can make a trade of this magnitude and not feel like they're robbing themselves of all future hope.
2. They have the financial flexibility.
Over the winter, the Astros resolved a local TV revenue issue that had been a major competitive disadvantage for them. They proceeded to invest $62 million in free agents and would have spent more had they landed Andrew Miller or David Robertson as hoped. But even after all of that, Houston entered the season with the second-smallest Opening Day payroll in baseball, at just over $70 million.
More to the point? This is a team that, per data on Cot's Contracts, has fewer long-term contractual entanglements than any team other than the A's. The Astros have just $57.6 million in committed salaries from 2016 onward.
Hamels is 31 and owed roughly $106 million between now and the end of 2019 (assuming his '19 option is exercised, which it would likely have to be to get him to waive his no-trade clause). By the standards of the day in free agency, that's actually a reasonable investment -- more reasonable than the Astros are likely to find should they look for a long-term fixture in the offseason open market. And there have been recent reports that the Phillies are willing to absorb some of that cost to get the right prospect value back.
Hey, back in 2010, the Astros ate about $11 million of Oswalt's remaining contract to move him to Philadelphia, so maybe Philly can return the favor.
3. They have the need.
The way 21-year-old Lance McCullers has thrown the ball has been a big boost to Houston's rotation, particularly with Scott Feldman on the disabled list. But although manager A.J. Hinch gave McCullers the opportunity to finish his first game since high school on Wednesday, the fact of the matter is that the young man pitched just 97 innings in Class A Advanced ball last year. So even if he can keep up this instant impact, the Astros are still going to cap his workload.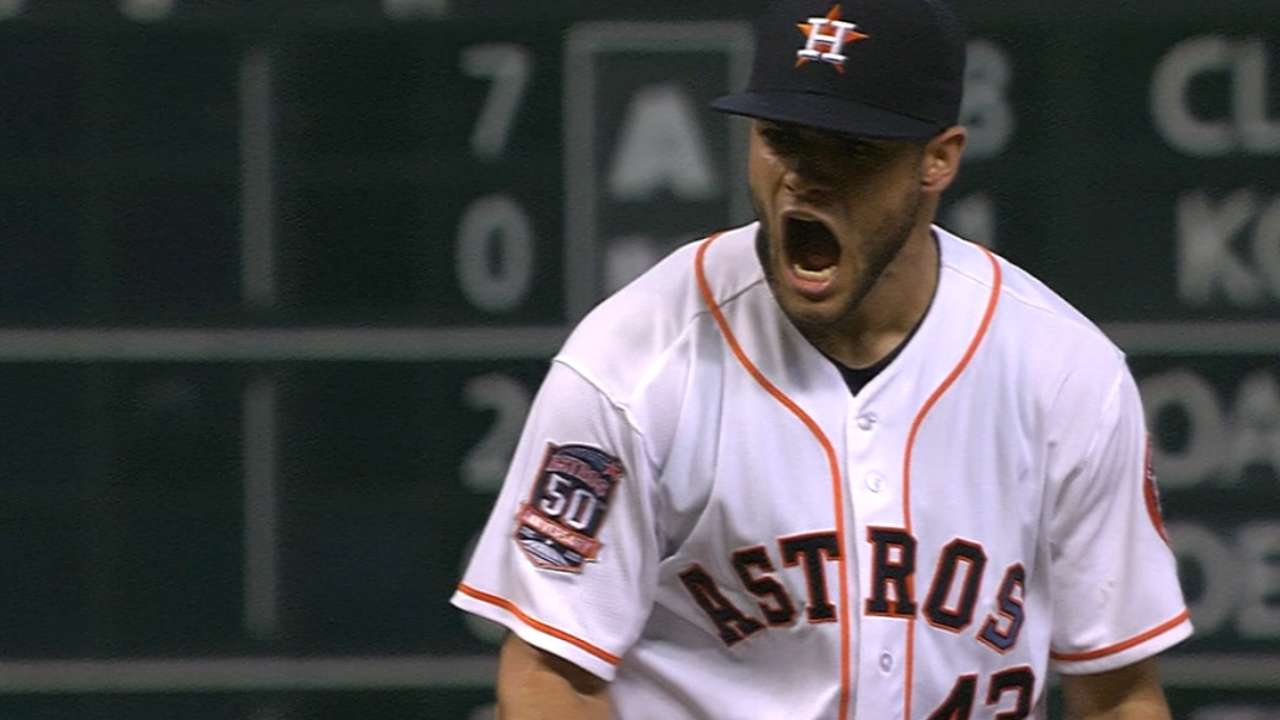 Dallas Keuchel, on the heels of back-to-back American League Pitcher of the Month Awards, is an ace in his own right, but slotting in another established arm would essentially eliminate the inconsistency the Astros have seen from their No. 5 rotation spot. It would shore up their one obvious area of vulnerability.
4. It's about October.
Not just getting there, but succeeding there. As currently constructed (and especially with Correa on the horizon), the Astros might have enough to hold onto the top spot and win what has been a more lackluster AL West than expected and get to October for the first time since '05. Or maybe they could satisfy their rotation need with a shorter-term, more budget-friendly starter.
But no other as-yet-available pitcher and no member of Houston's roster has the postseason pedigree that Hamels does, period. That experience is an asset both down the stretch and on the October stage.
Another thing to keep in mind is that the power-laden but strikeout-prone Astros lineup likely wouldn't be able to bash its way through the October field. Houston would need shutdown innings, and a front three of Keuchel, Hamels and Collin McHugh would appear capable of providing just that.
5. If the Astros get Hamels, the Rangers don't.
The Red Sox and Dodgers can't add Hamels without luxury-tax implications, and the Cardinals aren't given to making investments of such magnitude. It's possible -- emphasis on possible -- that the club best positioned to land Hamels (and one that did have dialogue with the Phils over the winter) is one that also happens to reside in Houston's division. The Rangers, with a loaded (albeit currently injury-riddled) lineup, are starting to look like a serious contender again, and they might view Hamels as a piece that can take them to another level.
But hey, even if that's not the case, Hamels can take Houston to another level. There would be concern about his current career-high home run rate, especially because Minute Maid Park is one of the top-10 homer-happy parks this season and the Astros will be moving in the fences next year. But 80 percent of Hamels' homers allowed this season came before a current six-start stretch in which he's posted a 1.83 ERA and a .194 opponents' batting average. Whatever issues Hamels had with leaving the ball up appear to be behind him. If you can succeed in Citizens Bank Park, you can succeed anywhere.
The Astros essentially initiated their rebuild by dealing away an ace to Philadelphia. They can seal their return to prominence with the addition of an ace from Philly.
Anthony Castrovince is a reporter for MLB.com. Read his columns and follow him on Twitter at @Castrovince. This story was not subject to the approval of Major League Baseball or its clubs.