Young takes second straight defeat in stride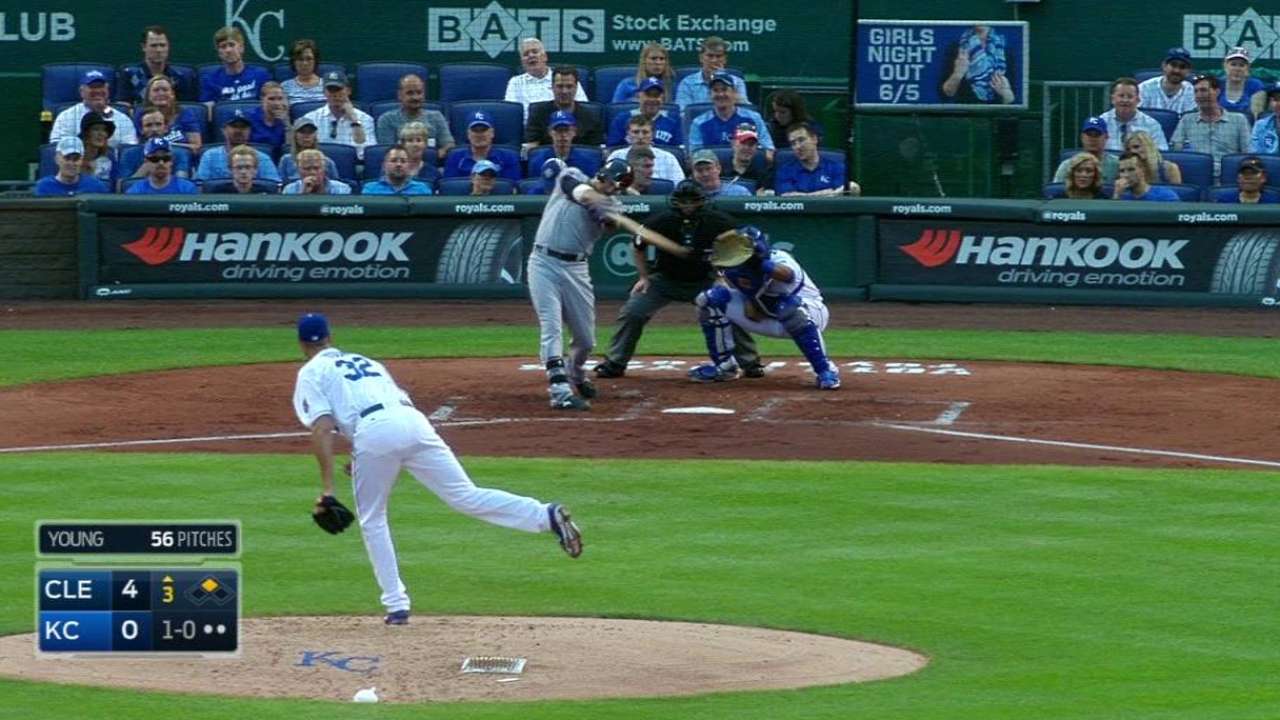 KANSAS CITY -- Even Royals right-hander Chris Young knew he'd eventually go through a rough patch as a starter.
After four straight sensational starts, Young has lost two straight, the latest a rain-shortened 6-2 loss to the Indians on Thursday night at Kauffman Stadium.
Young has given up 10 runs in his last two outings. On Thursday, the Indians roughed him up for eight hits and six runs in five innings.
But Young took the outing in stride.
"You give them credit, too," he said. "I wasn't as sharp as I wanted to be. When I made good pitches, they kept fouling them off. That's baseball. They were better than me tonight. I wish I could have kept our team closer. Wasn't my night."
Young gave up four runs in the third, two on a double by David Murphy.
"They hit good pitches, too," Young said. "The ball Murphy hit was up and he's a high-ball hitter. Maybe I should have thrown it higher. If he takes it for a ball, I'm behind in the count. Some nights those pitches are popups, sometime they're not.
"I just couldn't get a put-away pitch going. They kept fouling them off."
Young also lost a battle with Brandon Moss, the Royals killer, who homered on a 3-2 pitch in the fifth.
"You play a team that's hot and locked in like they are, they are going to foul off good pitches," Young said. "That's just the way baseball is -- that's why you play so many games. Over the course of a season, you're going to have some games like this. I don't read into this too much.
"Again, I made some great pitches to Moss and he fought them off. Even the pitch he hit wasn't a horrible pitch. It was up and away. If he takes it, it's a ball. But he got the head of the bat out and pulled it. He's strong. And he's aggressive and has a good eye. He's just a really good hitter and he's locked in."
Jeffrey Flanagan is a reporter for MLB.com. Follow him on Twitter at @FlannyMLB. This story was not subject to the approval of Major League Baseball or its clubs.