Moss continues to feast on Royals' pitching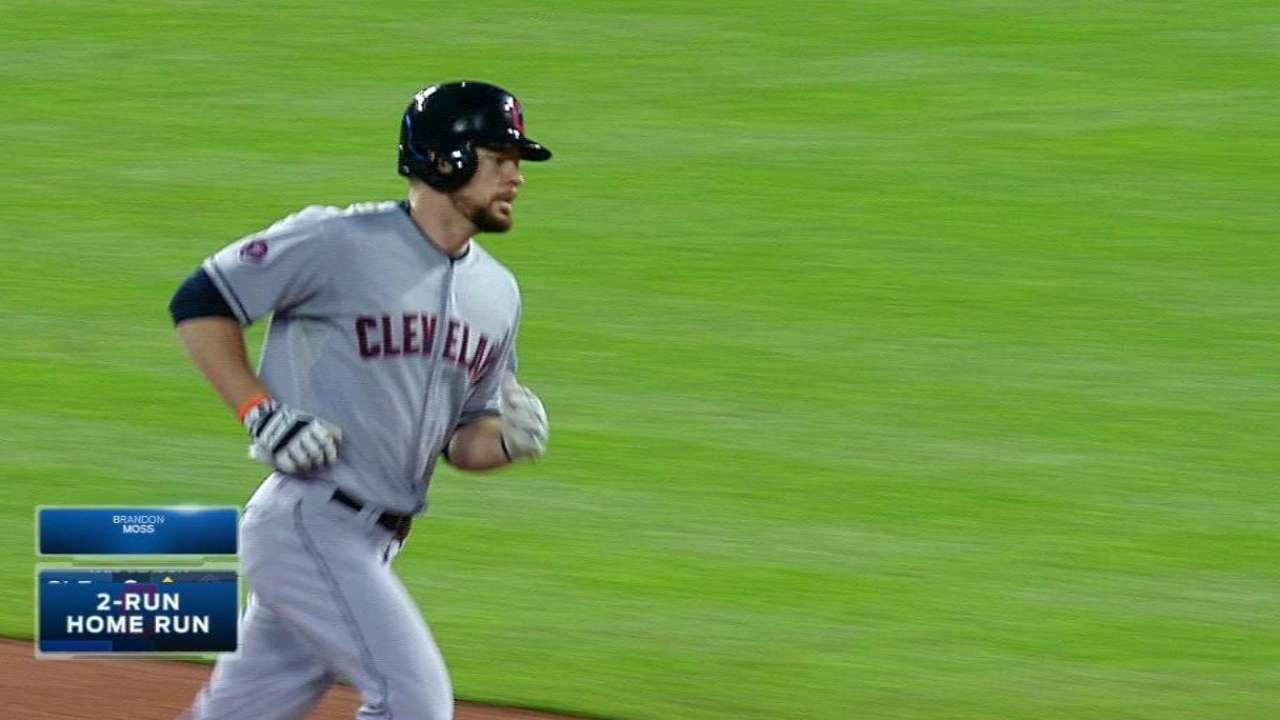 KANSAS CITY -- If an award was given to the player most likely to send a Royals pitch over the fences, Indians right fielder Brandon Moss would be a popular candidate.
Twice in the three-game series, Moss made Royals pitchers pay for giving him the right stuff -- the latest a two-run shot in the fifth inning that padded the Tribe's lead in an eventual rain-shortened 6-2 win in Thursday night's rubber game.
"Again, I made some great pitches to him and he fought them off," said Royals starter Chris Young, who was tagged for all six runs in five innings. "Even the pitch he hit wasn't a horrible pitch. It was up and away. If he takes it, it's a ball. But he got the head of the bat out and pulled it. He's strong. And he's aggressive and has a good eye. He's just a really good hitter and he's locked in."
Moss now has four homers and 10 RBIs against the Royals this season and used Thursday night to extend his hitting streak to five games.
But the Royals recognized Moss as a threat months before he arrived in Cleveland.
While playing for Oakland last season, Moss drilled two homers against Kansas City in last year's American League Wild Card Game -- a two-run shot and a three-run blast. In both instances, he helped the A's grab the lead before the Royals rallied for a 9-8 walk-off win in 12 innings.
Including that game, Moss now has three homers in six games at Kauffman Stadium. Since the start of 2014, he is batting .424 (14-for-33) in regular-season games at the Royals' home park.
"There are plenty of stadiums that you go to that are smaller, and you see guys that do really well there, but you go in there and you feel rushed," Moss said. "But here, I just see the ball really well."
Jordan Wilson is an associate reporter for MLB.com. This story was not subject to the approval of Major League Baseball or its clubs.