Phillies option Diekman to Triple-A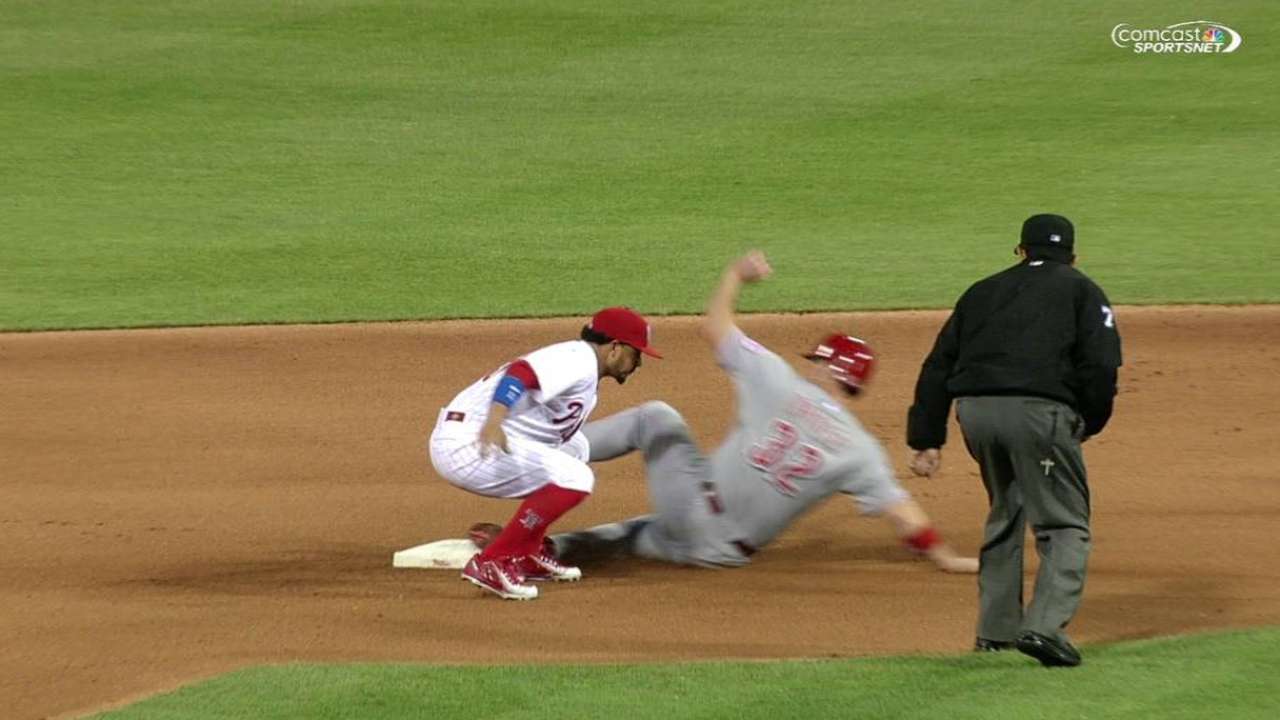 PHILADELPHIA -- Phillies left-hander Jake Diekman figured this might be coming for the past couple weeks.
It finally happened Thursday night following a 6-4 loss to the Reds at Citizens Bank Park. The Phillies optioned him to Triple-A Lehigh Valley with the hope that time in the Minor Leagues can get him back on track.
"You always know how many options you have left," Diekman said. "It just got frustrating. I need to get out of my own way. I'm just in my way. I just harp on things too much. I just over-think [stuff]."
Diekman is 0-1 with a 6.75 ERA in 25 appearances. He has a 2.02 WHIP. He has walked 17 and struck out 29 in 21 1/3 innings. He posted a 3.80 ERA in 73 appearances last season, striking out 100 batters in 71 innings.
"He just needs to work on some things," Phillies manager Ryne Sandberg said. "We just talked to him, and he agreed. There are some things that he needs to fine-tune and be more consistent with. He's going to go there and work and be back as soon as possible and hopefully have some things ironed out."
The Phillies had high expectations for Diekman and the rest of the Phillies' bullpen. They expected closer Jonathan Papelbon, Ken Giles and Diekman to be a formidable trio in the late innings. But because of Diekman's struggles he had been used in low-stress, mop-up situations recently.
"I've just got to go down and work on stuff," Diekman said. "Get better at first-pitch strikes and executing pitches when they don't have to be in the zone. Controlling the running game."
"I think he will be [a big part of this bullpen]," Sandberg said. "I think he's a big part going forward. He's a good part of the bullpen when he's right. This is for him, for his betterment and for the team's betterment going forward that he goes and brushes up on some things. He gains some confidence and comes back ready to go."
The Phillies called up right-hander Dustin McGowan to replace Diekman on the 25-man roster. McGowan opened the season with the team before being outrighted to Triple-A. He had a 5.79 ERA in 10 appearances with the Phillies, walking 16 batters in 14 innings. He did not allow a run in 7 1/3 innings with the IronPigs. He allowed three hits, two walks and struck out six.
Todd Zolecki is a reporter for MLB.com. Read his Phillies blog The Zo Zone, follow him on Twitter and listen to his podcast. This story was not subject to the approval of Major League Baseball or its clubs.