MLB.com Columnist
Jim Callis
5 best Draft decisions of all-time
Mariners listen to scouting director, spark franchise turnaround by taking Griffey, A-Rod with No. 1 picks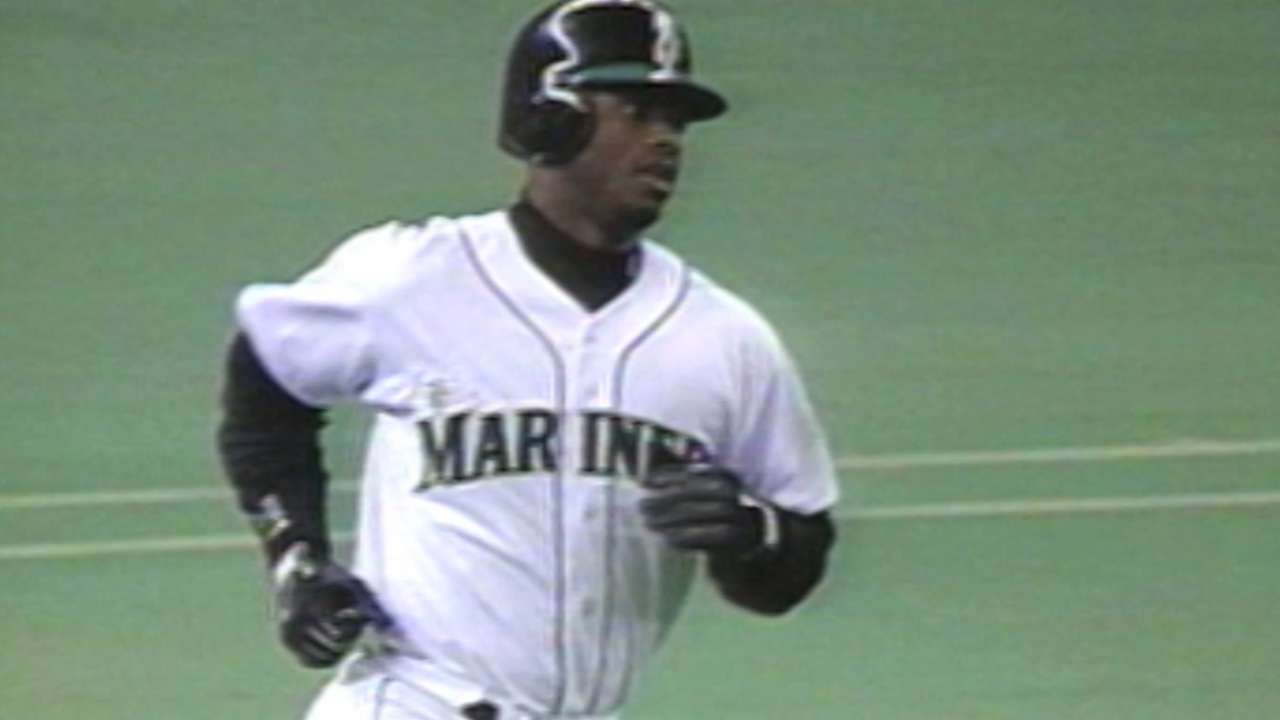 For the first decade of their existence, the Mariners were a hapless franchise. They never managed a winning record and annually placed near the bottom of the attendance standings as well.
The Mariners eventually got their act together, reaching the playoffs four times in seven years starting in 1995 and mustering a diehard fan following that allowed them to escape the Kingdome for Safeco Field. During that time, Ken Griffey Jr. and Alex Rodriguez spurred the blossoming of baseball in Seattle.
If not for Roger Jongewaard, who oversaw Seattle's Drafts from 1986-2003 as scouting director and club vice president, the two best No. 1 overall picks in Draft history wouldn't have become Mariners.
Getting Griffey in 1987 was the tougher battle. Meddling owner George Argyros lived in Orange County, Calif., and preferred local right-hander Mike Harkey from Cal State Fullerton. Argyros also wasn't a fan of spending money. When the Mariners had the No. 1 overall choice in 1981, his first year as owner, they took Mike Moore out of Oral Roberts in part because he didn't have an agent and would sign for a below-market $100,000.
Jongewaard persuaded Argyros to take Griffey, who would command $160,000, the highest bonus ever given to a high school No. 1 overall selection at the time. He proved well worth it, reaching Seattle at age 19 and claiming an American League MVP Award in a career that should make him a first-ballot Hall of Famer in 2016. Harkey won 36 games in eight years in the Majors.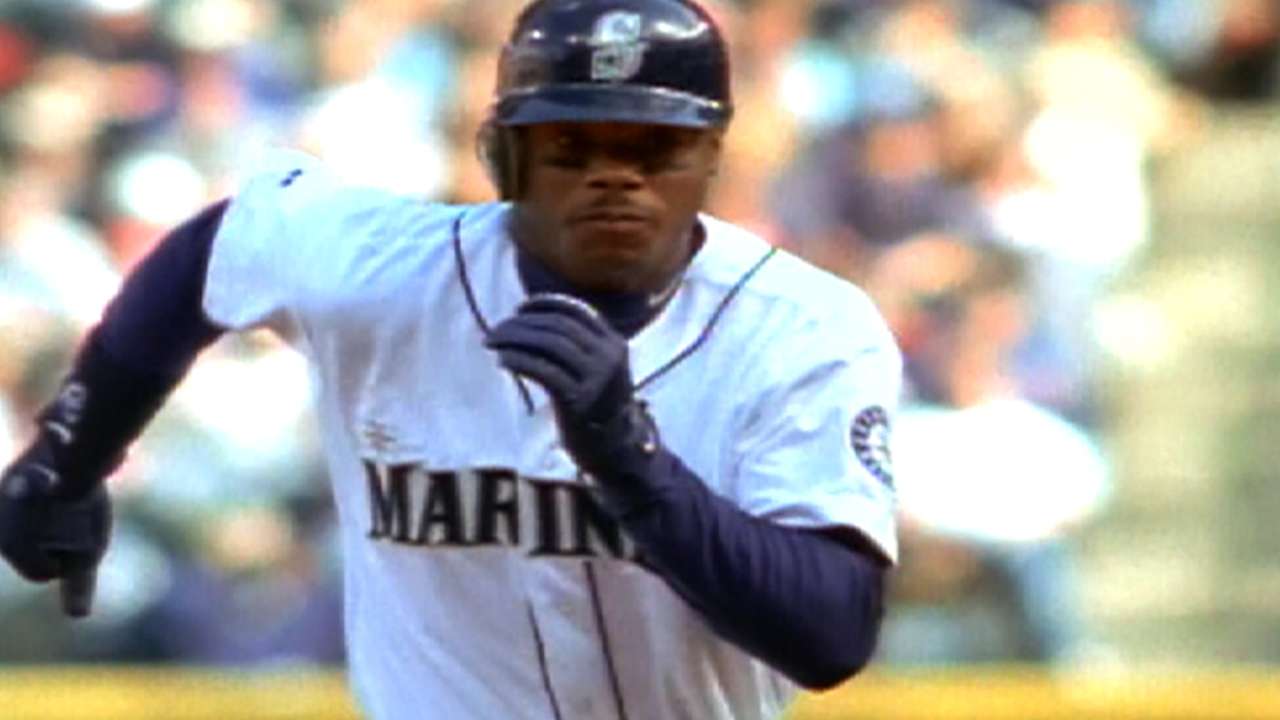 Argyros sold the club before it had the No. 1 overall pick again in 1993, but financial issues still would be a concern. The day before the Draft, Rodriguez announced Scott Boras would be his adviser and set an asking price of $2.5 million -- nearly $1 million more than the then-record $1.55 million bonus Brien Taylor received as the top choice in 1991.
Further complicating matters, manager Lou Piniella coveted a college arm who could make an immediate big league impact, and there was an obvious one available in Wichita State's Darren Dreifort, who would go straight to the Majors with the Dodgers after they chose him at No. 2. Piniella eventually came to agree with Jongewaard and the scouting department.
Undaunted by Rodriguez's demands, Seattle selected him and signed him three months later for a big league contract worth $1.3 million, at that point the second-largest guarantee in Draft history. Rodriguez eclipsed Griffey with three AL MVP Awards, 14 All-Star selections and 665 homers and counting, while Dreifort earned just 48 victories in nine seasons.
Jongewaard's insistence on Griffey and Rodriguez rank as the most astute decisions in the history of the Draft. (His knack for inspired No. 1 overall choices extended beyond the Mariners, as he was the Mets area scout responsible for signing Darryl Strawberry in 1980.)
Here are some other inspired choices that paid huge dividends:
2. Braves pass on Van Poppel
Todd Van Poppel was the talk of the 1990 Draft, with some scouts calling him the best pitching prospect they had ever seen. But he also publicly stated his desire to attend college at Texas and pitch in the 1992 Olympics, interpreted by some clubs as sincere and others as a bargaining ploy.
The Braves targeted Van Poppel with the No. 1 overall pick very early in the Draft process. There are different versions of why they passed, with some saying Atlanta GM Bobby Cox was spooked by the pitcher's makeup and others saying he declined a seven-figure offer the day before the Draft.
In any case, Atlanta opted for Florida prep infielder Chipper Jones and signed him immediately for $275,000. Jones would claim a National League MVP Award and make eight All-Star teams. He'll likely be a first-ballot Hall of Famer in 2018, while Van Poppel logged a 5.58 ERA in 11 years after sliding to the Athletics at No. 14 and signing an unprecedented $1.2 million big league contract.
3. Mets enter (and win) Seaver lottery
The Braves took Tom Seaver out of USC with the 20th overall pick in the secondary phase of the January 1966 Draft and landed him a month later with a $40,000 bonus. However, the Trojans started their season before he turned pro, a violation of MLB's college rule. Commissioner William Eckert nullified the deal and the NCAA declared Seaver ineligible.
Eckert then decided to hold a lottery for Seaver's rights, with any team willing to match the $40,000 eligible to participate. Only the Indians, Mets and Phillies accepted that offer, and when the Commissioner pulled the Mets' name out of a hat, the franchise began its transition from laughingstock to relevance. Signed for $51,000, Seaver won a World Series, two pennants and three NL Cy Young Awards, and he opened his career with seven straight All-Star seasons in New York en route to the Hall of Fame.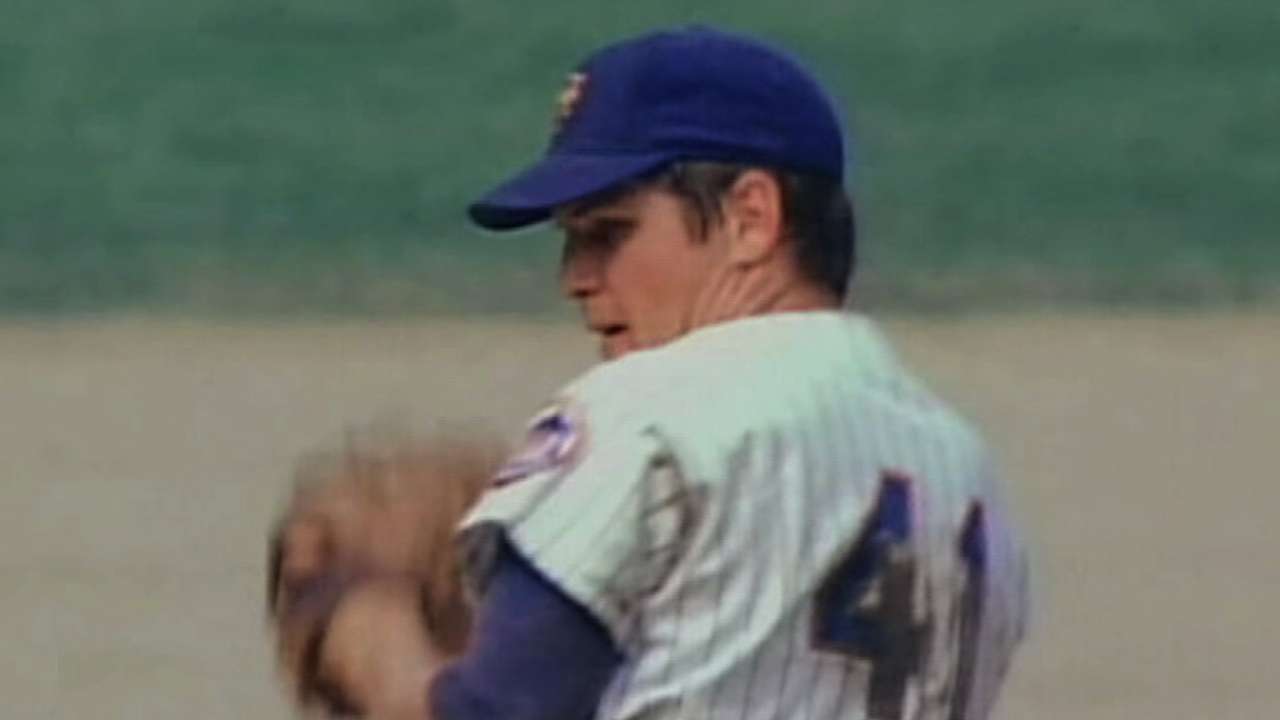 4. Tigers get their man in Gibson
Atlanta had the No. 1 overall pick in 1978, and thought Michigan State outfielder Kirk Gibson was the top talent available, as did several other teams. But he was also a star wide receiver for the Spartans and a lock to go in the first round of the 1979 NFL Draft. Dallas Cowboys personnel director Gil Brandt called Gibson the best athlete in college football, and most clubs believed he preferred the gridiron to the diamond.
The Tigers loved Gibson, too, and they learned he was willing to sign with his home-state team if he got a record bonus and could play his final season of college football. Detroit agreed to both stipulations and signed him for $150,000 six days after selecting him with the 12th overall choice. (Bob Horner, whom the Braves took No. 1, eclipsed Gibson's mark the next day with a $162,000 bonus.)
Despite battling injuries throughout his career, Gibson led the Tigers to a World Series title in 1984 and the Dodgers to another in '88, when he also won the NL MVP Award.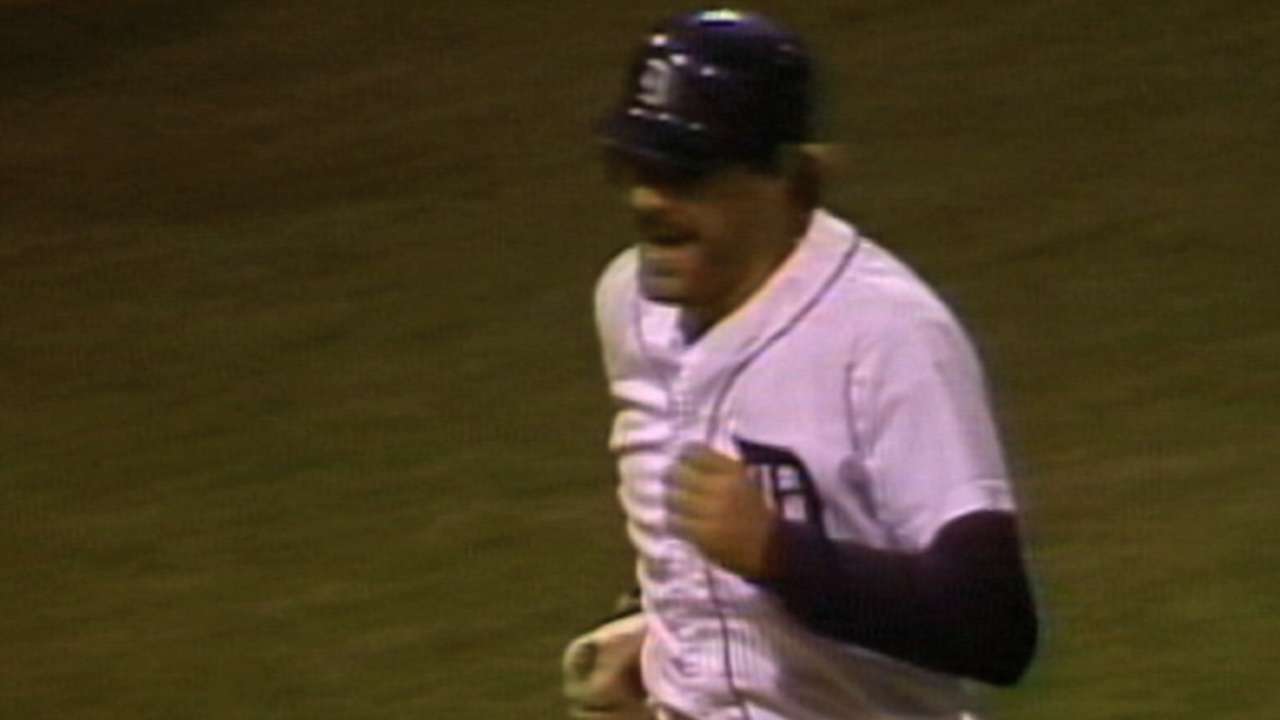 5. Royals know Bo
Bo Jackson turned down a $250,000 bonus out of high school as a second-round pick of the Yankees in 1982, and he spurned the Angels when they took a 20th-round flier on him in '85. He won the Heisman Trophy that fall, then went No. 1 overall to the Tampa Bay Buccaneers in the 1986 NFL Draft. The Bucs offered Jackson a five-year, $7.5 million contract -- the largest ever for a rookie -- so there didn't seem to be any point in taking him in the 1986 MLB Draft.
The Royals popped Jackson in the fourth round anyway, then shockingly signed him to a record three-year, $1,066,000 big league contract. After the Los Angeles Raiders took him in the seventh round of the 1987 NFL Draft, he worked out a deal that allowed him to play football as well. Jackson's sheer athleticism made him a legend from the day he arrived in the Majors that September, and he seemed on the verge of superstardom in both sports before a routine tackle ruined his hip in January 1991.
Jackson never played football again and only parts of three more baseball seasons. While his performance on the diamond can't match that of Griffey, Rodriguez, Jones, Seaver or Gibson, his legacy extends beyond that. Jackson's signing was a coup for baseball, showing that it could attract elite athletes from other sports, and ushered in an era when teams invested more heavily in the Draft after realizing it was the most cost-effective way to build a winner.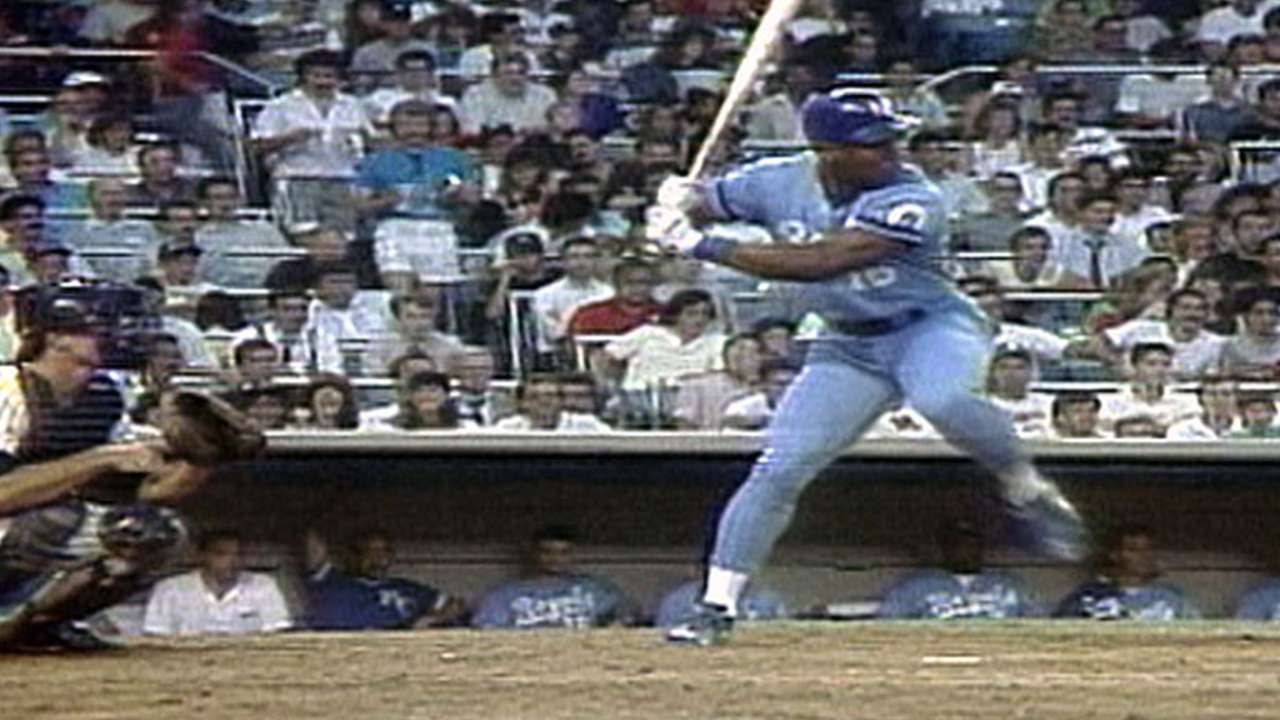 The 2015 Draft will take place from Monday through Wednesday, beginning with the Draft preview show on MLB.com and MLB Network on Monday at 6 p.m. ET. Live Draft coverage from MLB Network's Studio 42 begins at 7 p.m., with the top 75 picks being streamed on MLB.com and broadcast on MLB Network. MLB.com's exclusive coverage of Day 2 begins with a live Draft show at 12:30 p.m. on Tuesday, with exclusive coverage of Day 3 beginning at 1 p.m. on Wednesday.
MLB.com's coverage includes Draft Central, the Top 200 Draft Prospects list and Draft Tracker, a live interactive application that includes a searchable database of over 1,700 Draft-eligible players. Every selection will be tweeted live from @MLBDraftTracker, and you can also keep up to date by following @MLBDraft. And get into the Draft conversation by tagging your tweets with #mlbdraft.
Jim Callis is a reporter for MLB.com and writes a blog, Callis' Corner. Follow @jimcallisMLB on Twitter. This story was not subject to the approval of Major League Baseball or its clubs.