Mauer surprised by bunt sign, but succeeds
Sacrifice results in go-ahead run on Red Sox error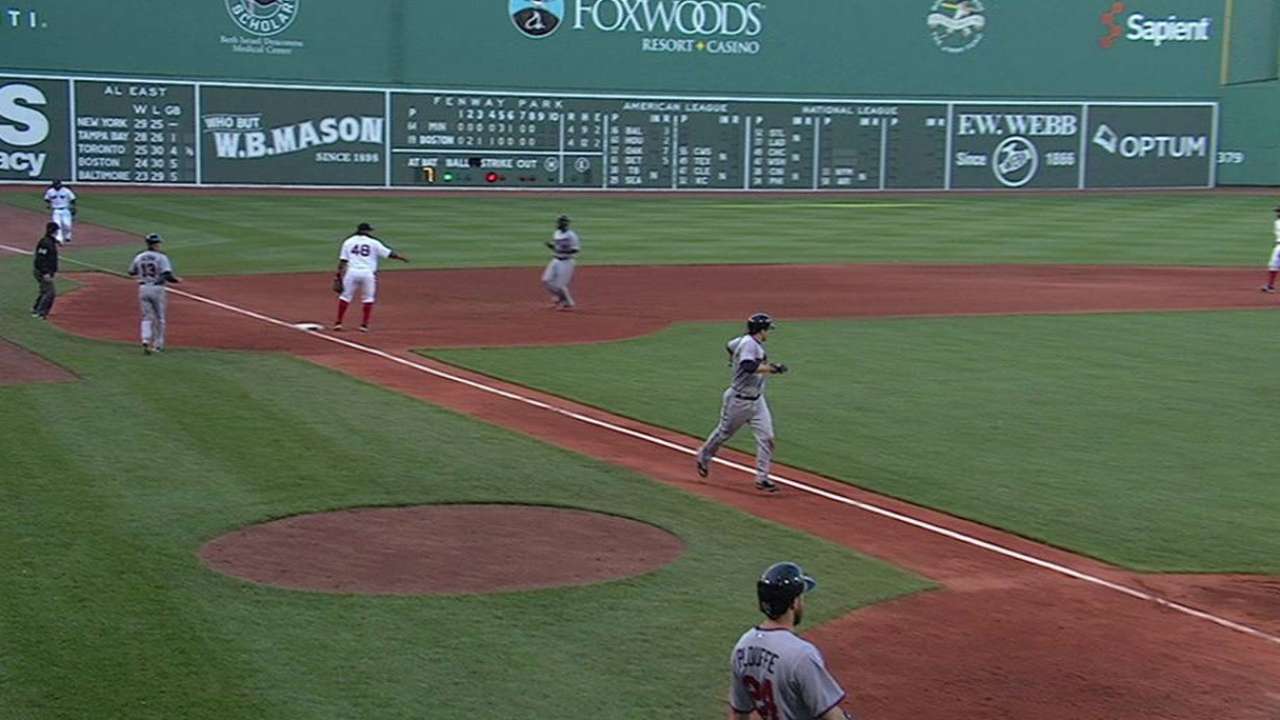 BOSTON -- For the second time in as many days, the Twins used a timely bunt to help secure victory, this time in Thursday's 8-4 win over the Red Sox. That the pivotal run scored after Joe Mauer laid one down in the ninth inning, however, surprised nearly everyone in attendance at Fenway Park.
You can count Mauer himself among them.
"I think that surprised me a little bit when I got [the sign]," Mauer said. "But it was good timing, a good place in the game to give it a try."
With the game tied and no outs, Mauer stepped into the batter's box with Torii Hunter on first and Brian Dozier on second. Twins manager Paul Molitor had every intention of moving both runners into scoring position to set up a scoring situation for hot-hitting third baseman Trevor Plouffe, who stood ready in the on-deck circle.
"[The Red Sox] might not be looking for it, but realistically when you're bunt defense, you're mostly looking to just get an out," Molitor said. "I felt good about Plouffe's matchup. If somehow we could get second and third there, they might have walked him."
Mauer's bunt turned out to be enough. Though the ball only rolled a few feet away from catcher Blake Swihart, the rookie's low throw sailed through the legs of third baseman Pablo Sandoval and allowed Dozier to score Minnesota's third unearned run of the day.
"I don't know if I'd have been safe if it was a good throw," Dozier said. "Once I realized I wasn't going to be safe, I tried to slide, guessed he was going to stretch out. I was trying to break up a double-play situation."
The Twins (32-21), who have pulled off 11 comeback victories, went on to plate three more runs before Glen Perkins worked a scoreless ninth to earn a series split. And after dropping the first two games in frustrating fashion, Molitor praised his team's ability to erase an early four-run deficit and rally for the win.
"Those who have seen us have seen how we've responded when we've either lost a game, or in this case two games," Molitor said. "They haven't had their confidence shaken by a game or a couple games. That's a good sign. Whether it's a good starting performance from your pitcher or an offensive outburst, we've found ways to rebound.
As for Mauer, he'll take the outcome regardless of his bunting prowess.
"It wasn't pretty, but it got the job done," Mauer said.
Alec Shirkey is an associate reporter for MLB.com. This story was not subject to the approval of Major League Baseball or its clubs.