MLB.com Columnist
Lindsay Berra
What a save! College reliever donates bone marrow
Pitching in for boy in need, Boulais was willing to sacrifice baseball and will be honored at Draft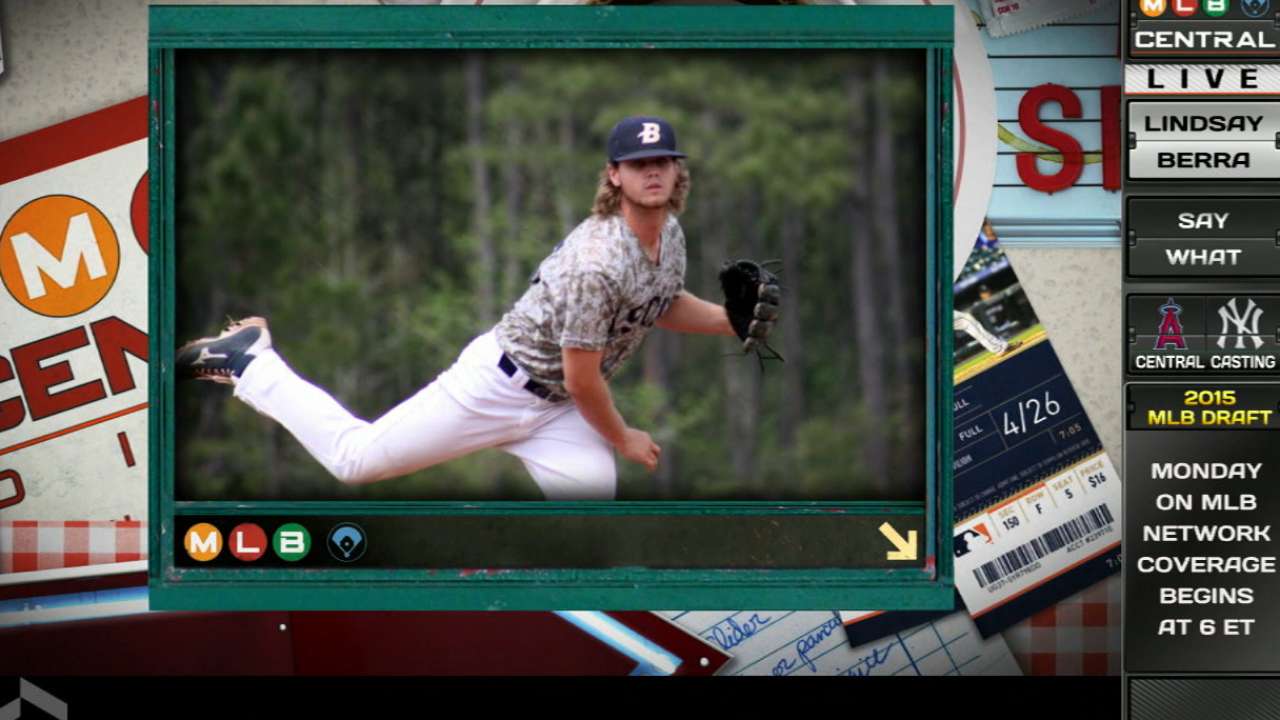 One afternoon in October 2014, Jason Boulais decided to do something out of the ordinary. And it led to something extraordinary.
He was in his apartment at the University of South Carolina at Beaufort, working on a paper. Typically, he'd just print it out at home. But that day, he decided to go for a walk, and set out for the campus library, still wearing his pajamas. Boulais, a senior sidearmer on the school's baseball team, was moving in the private little bubble in which most college kids exist, until a voice pierced his consciousness. It was a volunteer from BetheMatch.org, operated by the National Bone Marrow Donor Program.
"Do you want to save a life?" she asked.
"Heck yeah," Boulais responded, without hesitation. "Why not?"
Odds of actually saving a life are slim. Once in the bone marrow registry, only one in 540 members end up getting a call to donate to a patient in need. A few months later, Boulais would be that one.
When Boulais got the call from "Be the Match" in February, he was resigned to missing the bulk of his senior season to donate his bone marrow, and he felt it was undoubtedly the decision he wanted to make.
"I'm at a point in my baseball career where I've taken to the fact that it's pretty much over for me," Boulais said. "It was my senior year, yes, but I didn't really think anything of it. When 'Be the Match' called, I told them I was 100 percent in. I didn't think twice about it."
Now, on Monday, Major League Baseball will be hosting Boulais at the Draft in New York City to show its appreciation for his act of selflessness that saved the life of a 5-year-old boy in France. Boulais will rub elbows with baseball glitterati in MLB Network's Studio 42. He'll chat with former Boston knuckleballer Tim Wakefield, whom Boulais watched as a Sox fan growing up in Coco Beach, Fla. And he'll tour Yankee Stadium, the home of his beloved team's archrivals. No doubt, he'll be in awe. But the baseball world will also be in awe of Boulais.
Boulais knows only that the French boy has a type of blood cancer that can be fatal. Confidentiality laws prevent "Be the Match" from sharing even the boy's first name. It could be years before Boulais is able to contact the boy, though he says he would love to meet him, especially because Boulais' French heritage and their tissue compatibility suggest he and the boy could be distantly related.
His teammates and coach Bryan Lewallyn were completely supportive. Lewallyn, who is a new father of a 2-year-old girl, empathized with the family of the French boy and completely understood Boulais' decision.
"I've come to realize there are things that are bigger than baseball, bigger than the game and the sport," Lewallyn said. "For Jason to have the chance to save a life and have such a big impact on the boy and his family and parents, there was never a hesitation in my mind that it was the right thing for him to do."
Boulais' teammates even followed his lead, with 20 of 35 adding themselves to the "Be the Match" registry on one of the group's later visits to USCB's campus; they had a tent at a campus health fair and again at the NAIA softball tournament. In fact, nearly 100 USCB students have signed up as new registrants.
"For a campus of just 1,800 students, that's remarkable," says sports information director Justin Jarrett. "Jason did that."
Boulais' surgery -- which involved taking marrow samples from the back of both sides of his pelvis, and 20 days of recovery time -- was originally scheduled for early April, but complications with the French boy's health pushed the date to early May. Subsequently, Boulais only missed the Sand Sharks' very last game of the season. Following the procedure, Boulais says he felt some fatigue and soreness in his back for about a week, but is now completely back to normal.
Boulais' final appearance as a senior baseball player came not as a reliever, but as a pinch-runner.
"We had a couple outfielders go down with injuries, and Jason stepped in, played the outfield and pinch-ran a few times," Lewallyn says. "He actually scored the game-winning run in our last regular-season game as a pinch-runner. He's so competitive and just wants to do whatever he can to help."
That, Boulais has proved, applies in all areas of his life.
"I never expected to get this much attention for just doing the right thing," he said. "But I'm glad the story is getting out there to spread awareness about 'Be the Match,' because anyone anywhere could save a life."
Lindsay Berra is a columnist for MLB.com. This story was not subject to the approval of Major League Baseball or its clubs.