Trumbo sees plenty of potential in Mariners
New acquisition feels at home in Safeco Field, knocks two hits in Seattle debut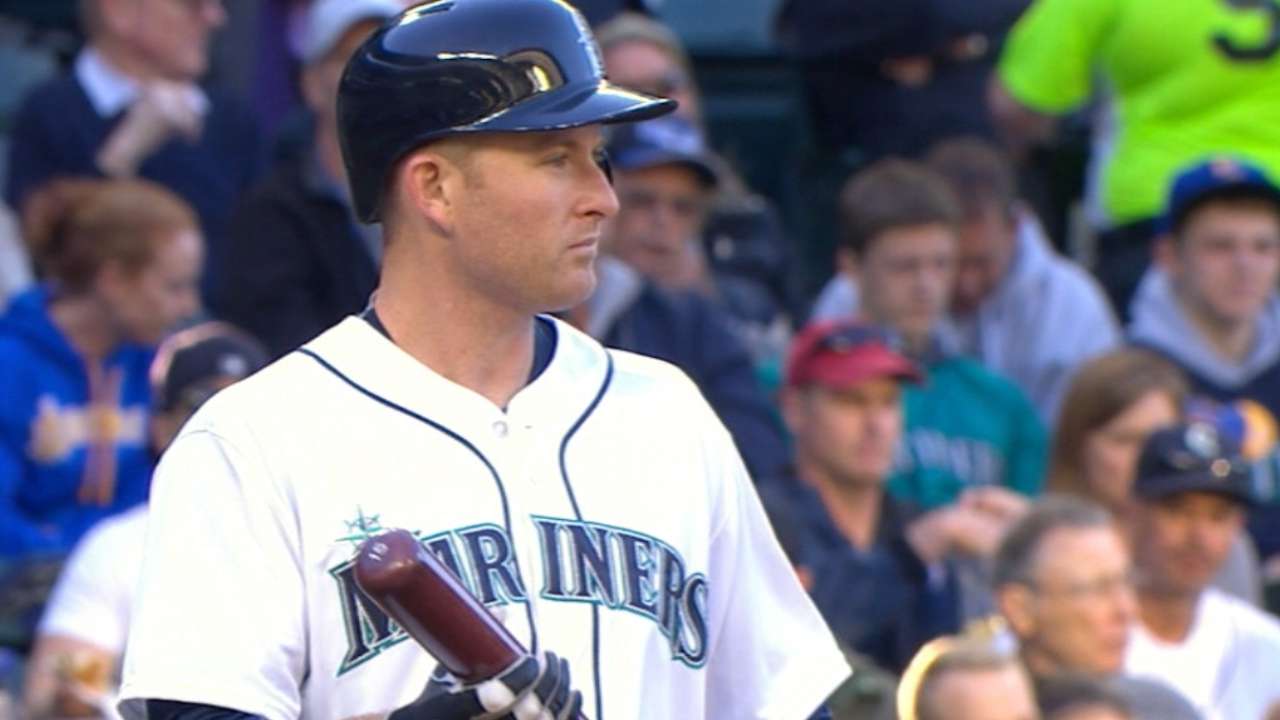 SEATTLE -- Mark Trumbo was acquired to help bolster a Mariners lineup that hasn't lived up to expectations so far this season. But Seattle's newest slugger believes he's joining a group that can still make serious noise in the American League West despite a 2-1 loss Thursday to the Rays that extended the club's losing streak to six games.
"I know playing the Mariners in Spring Training, you look at the potential and possibility and it's pretty jaw-dropping," Trumbo said after arriving at Safeco Field on Thursday. "That being said, you've got to go out there and get it done as well. If we can get things clicking a little bit, and I can contribute in whatever way I can, I think opposing pitchers are going to have to work."
Trumbo singled in his first at-bat with his new team and finished 2-for-4 with a pair of singles.
"It was kind of bittersweet," he said. "It's nice to get that out of the way, but it'd be a lot nicer to get a nice win, too. I guess about all you can ask for is to do what you can."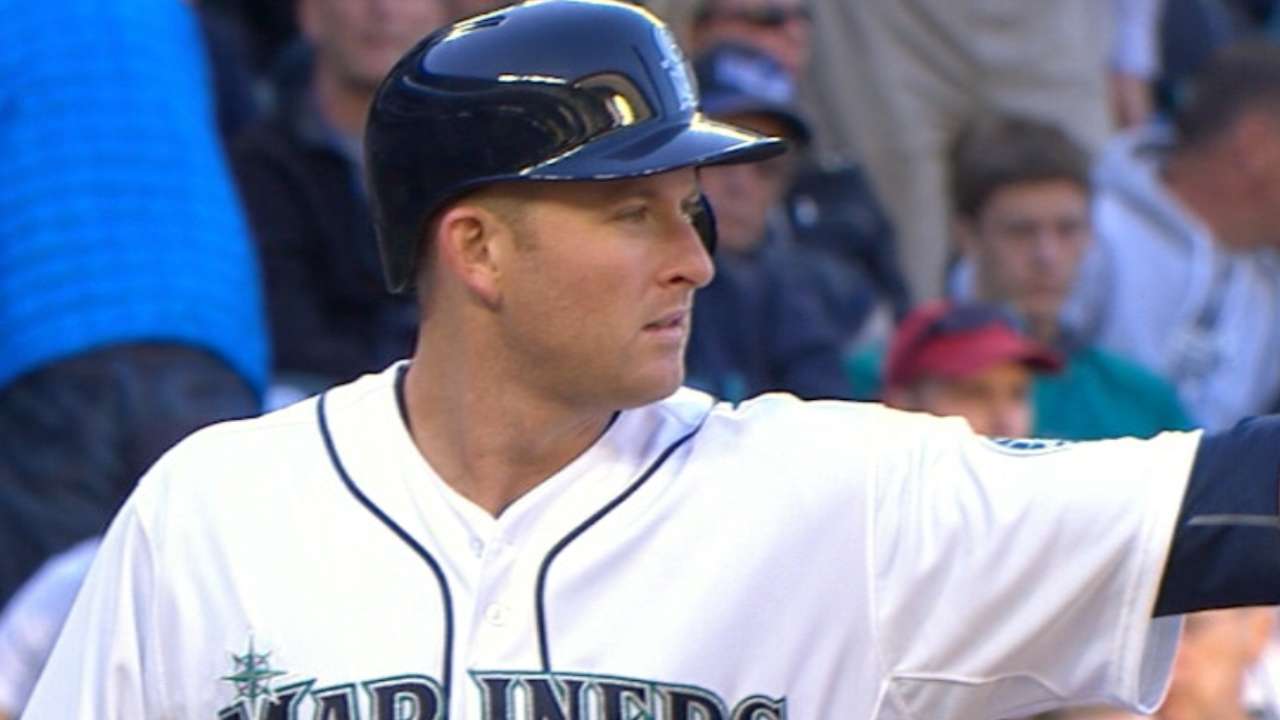 The Mariners traded four players -- Dominic Leone, Welington Castillo and Minor Leaguers Gabby Guerrero and Jack Reinheimer -- to the D-backs on Wednesday for Trumbo and left-handed pitcher Vidal Nuno. Trumbo was immediately penciled into the fifth spot in the lineup as the designated hitter for Thursday's series opener against the Rays by manager Lloyd McClendon. Trumbo took over at first base after Logan Morrison was a late scratch with back spasms.
"During batting practice they said be aware there might be a switch, so I started preparing there a little bit," he said. "I played one game there [with the D-backs this season]. They wanted me to focus primarily on right field. So I'll need to get a little more reacclimated, probably. But no problem. I've played over there for eight or nine years."
Trumbo is doing a lot of quick adjusting since learning of the trade Wednesday afternoon.
"It's a lot to take in initially," Trumbo said of the sudden change in his life. "But when I found out this was the team I was going to, I couldn't have been happier. I've loved coming here when I was with the Angels. It's one of my favorite places in the country, or the world, for that matter. I'm just really excited for the opportunity to start here and contribute to an excellent ballclub."
• Justice: May be shakeup Seattle needs
Trumbo averaged 32 home runs and 94 RBIs in his final three years with the Angels before being traded to the D-backs in 2014. He played only 88 games because of a stress fracture in his foot last year and hit .259 with nine homers and 23 RBIs in 46 games for Arizona this season. His .506 slugging percentage was sixth among National League outfielders.
The 29-year-old has batted .243 with four homers and 11 RBIs in 29 career games at Safeco Field as a frequent visitor during his Angels days, so he's well aware of the park's reputation as a tough place for right-handed hitters.
"I've had no problem with it," he said. "I can see the ball pretty well and ultimately that's what I really care about. At times, I know the perception is it plays pretty big. But I look forward to the challenge of taking it on. I've seen plenty of guys have productive years here."
McClendon said Trumbo will rotate between DH, first base and a corner outfield position. And he likes the idea of hitting him behind Robinson Cano, Nelson Cruz and Kyle Seager, whom he bumped up to the 2-3-4 spots in the order on Thursday.
"Obviously we've added another professional hitter to our lineup," McClendon said. "It stretches our lineup and gives us much, much better balance and some much-needed punch. "
McClendon is also excited about the addition of Nuno to the bullpen, and he's also capable of filling in as a starter. Nuno started 31 games with the Yankees and D-backs in 2013-14, but was being used as a long man by the D-backs since being called up this year and will fill a similar role now.
"That gives us three left-handers in the 'pen and the ability to match up with teams that have those monster left-handers in their lineup," McClendon said. "It also gives us depth if we need another starter. I think our team is obviously different, but better in a lot of areas because of the acquisitions we made."
Greg Johns is a reporter for MLB.com. Follow him on Twitter @GregJohnsMLB, read his Mariners Musings blog, and listen to his podcast. This story was not subject to the approval of Major League Baseball or its clubs.