Rays sneak past Mariners in duel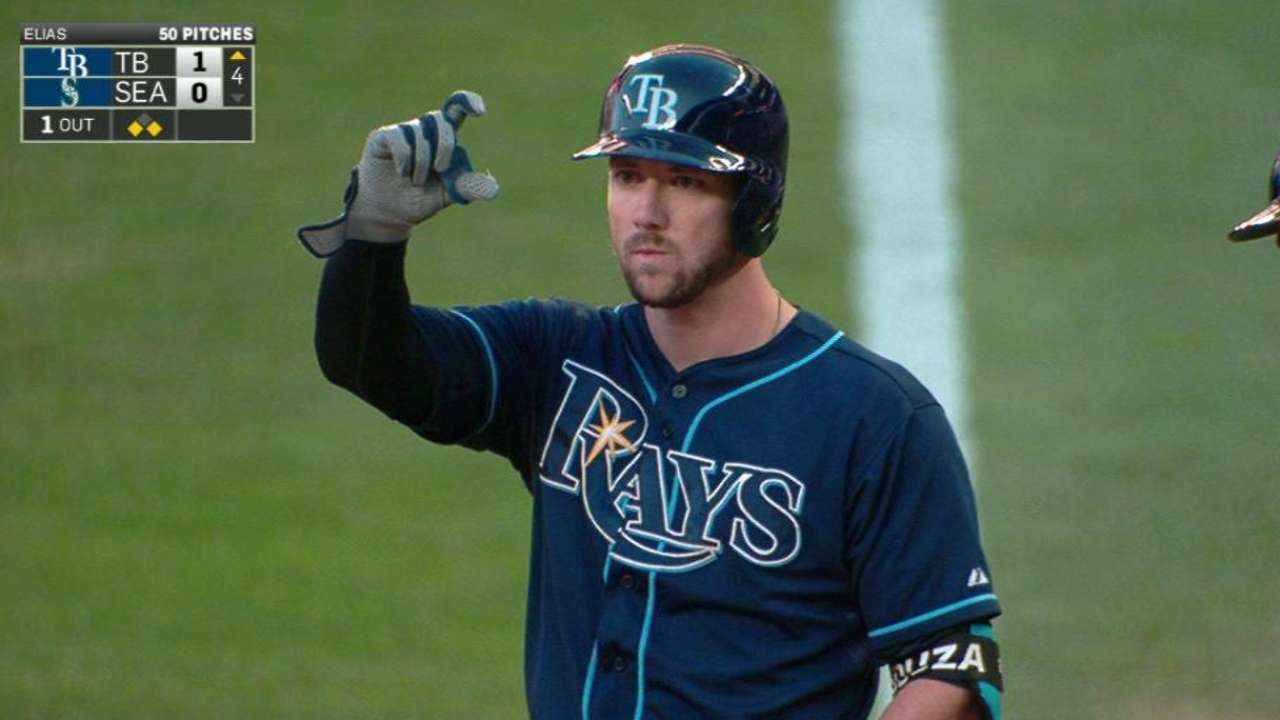 SEATTLE -- Erasmo Ramirez picked up the victory against his former Mariners teammates as the Rays held on for a 2-1 victory in Thursday night's series opener at Safeco Field.
Ramirez continued his recent run of success for the Rays with 5 1/3 innings of one-run ball, as the 25-year-old right-hander scattered seven hits with one walk and five strikeouts. Ramirez is 4-2 with a 5.10 ERA overall, but 4-1 with a 2.86 ERA in five starts since moving into the starting rotation in mid-May.
"It was kind of weird, first time in my life, [facing his former team] in a regular game … they know me, I know them," Ramirez said.
Mariners lefty Roenis Elias (2-3, 2.94 ERA) allowed just two runs on five hits over eight innings, but took the loss as Seattle continued its offensive struggles. The Mariners have totaled just 13 runs during a six-game losing streak as their record has fallen to 24-30. The Rays improved to 5-2 on their 10-game road trip and moved within a half game of the idle Yankees in the American League East at 29-26.
"We have to get better at that," Robinson Cano said, after Seattle stranded 10 runners and went 1-for-11 with runners in scoring position. "We can't point or blame anybody in here. You lose as a team, you win as a team. We have to stay positive and keep grinding."
MOMENTS THAT MATTERED
Leaving 'em standing: The Mariners had their chances early and often, putting runners in scoring position with less than two outs in five of the nine innings. But Seattle's ongoing struggle to come up with timely hits reared its head again as the team saw its batting average with runners in scoring position fall to .215 with the 1-for-11 night, including an 0-for-3 in the fourth when Kyle Seager led off with a double, but Ramirez promptly struck out Mark Trumbo, Seth Smith and Brad Miller.
"I thought the lineup was set up perfectly to have a lot of success tonight," manager Lloyd McClendon said after his team cranked out 10 hits. "Obviously we got them out there, but couldn't get 'em in. I don't wonder. I believe. I believe we're going to bust out and score a lot of runs. Tonight is one that leaves you scratching your head. My guys are certainly capable and we'll get it done."
Erasmo's escape: The Mariners appeared to have Ramirez on the ropes. Cano's one-out single in the fifth drove home a run and left runners at the corners for Nelson Cruz. Shortly thereafter, Ramirez picked off Cano before walking Cruz. Ramirez then retired Seager on a groundout to second to complete the escape and maintain the Rays' lead.
"It was a great pickoff," said Cano. "He was really quick. He got me when I was crossing my feet."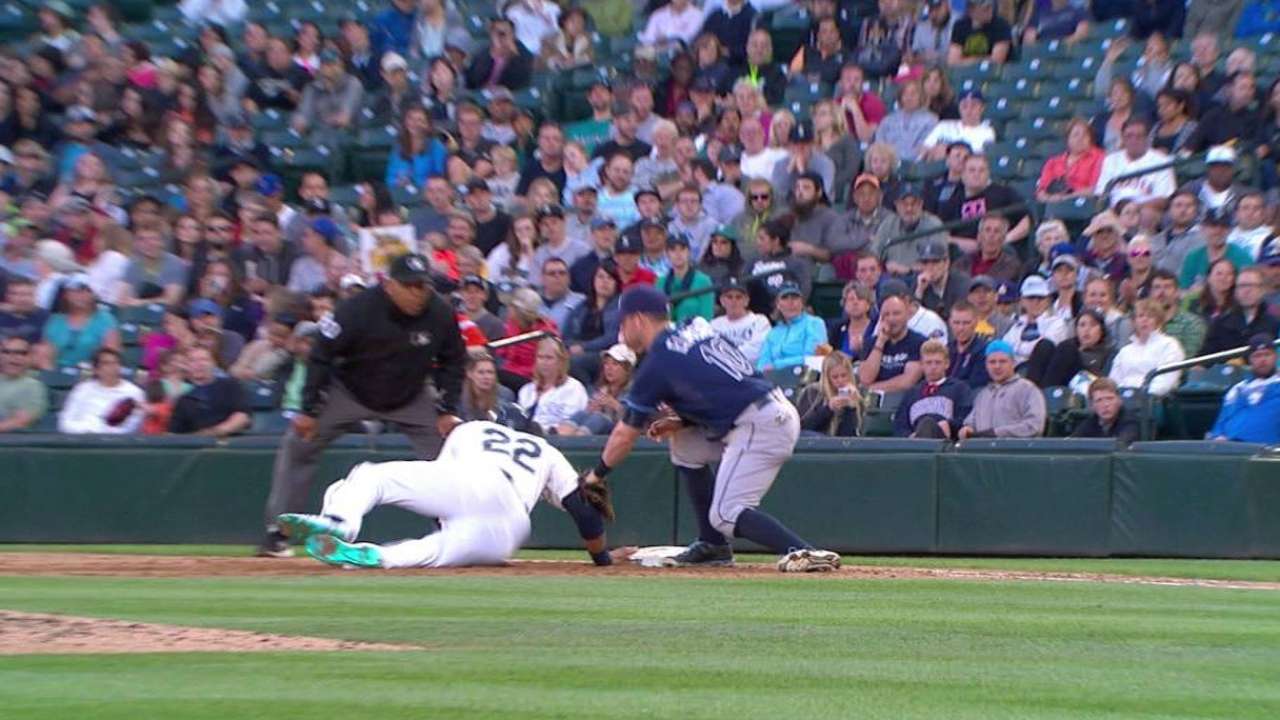 Trumbo checks in: The newest Mariner -- acquired Wednesday afternoon in a trade with the D-backs -- arrived at Safeco Field about an hour before batting practice, introduced himself to his new teammates and then went 2-for-4 with a pair of singles in his Mariners debut. Trumbo was slated be the designated hitter, but was switched to first base when Logan Morrison suffered back spasms during the pregame work. More >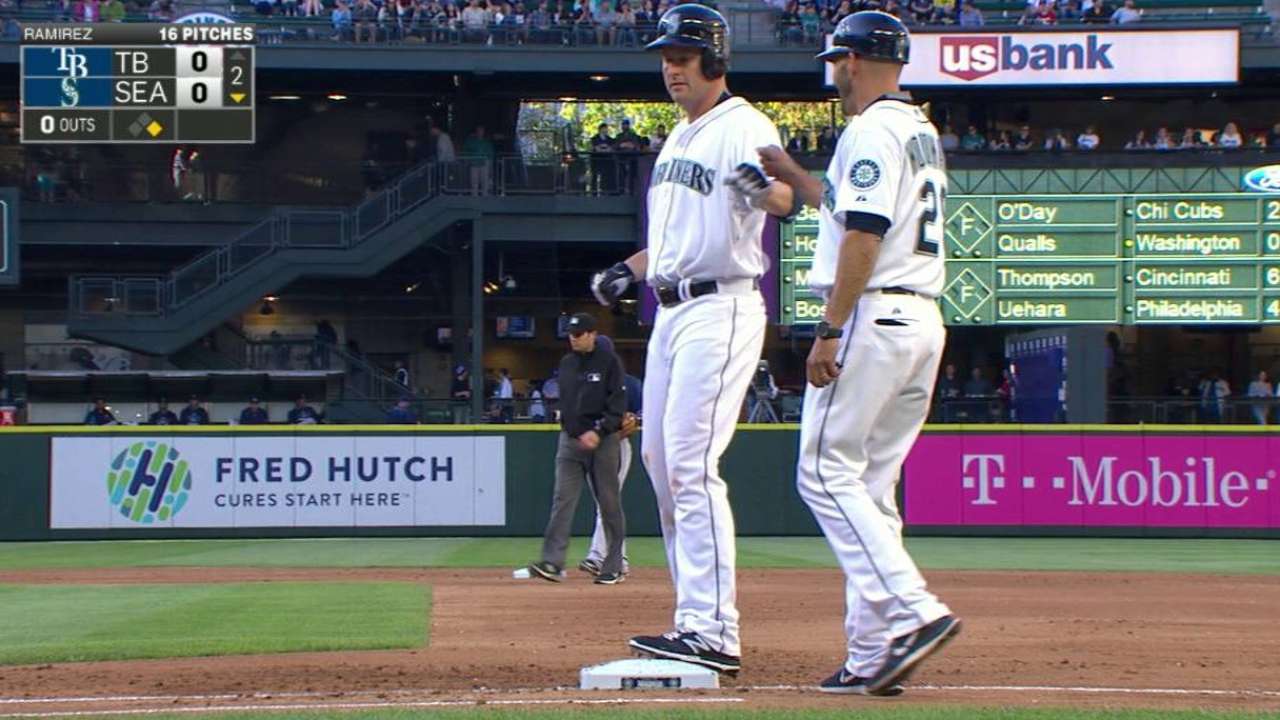 Butler raking: Joey Butler just keeps hitting. So seeing him start things for the Rays in the fourth was anything but a surprise. He singled off Elias to lead off the inning and moved to second on a groundout to second. After Logan Forsythe got hit by a pitch, Butler was on the front end of a double steal that set the table for Steven Souza Jr.'s RBI single. Jake Elmore then grounded into a forceout to drive home Forsythe and put the Rays up 2-1. Butler, who went 2-for-3, is now hitting a team-leading .348. More >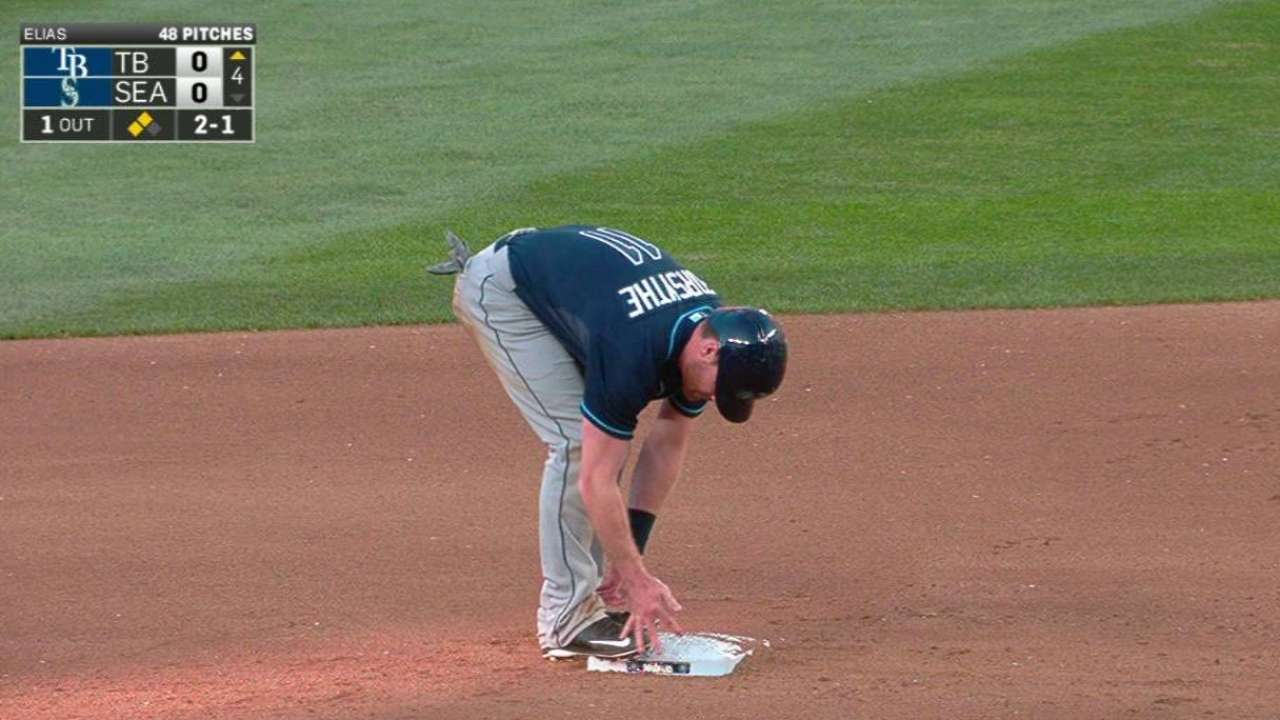 Forsythe saves the day: Forsythe dove to his left to steal a single from Cano with one out in the seventh. Making the play even more remarkable was the way Forsythe got to his feet and managed to throw to second to get the lead runner, Austin Jackson, on a forceout at second.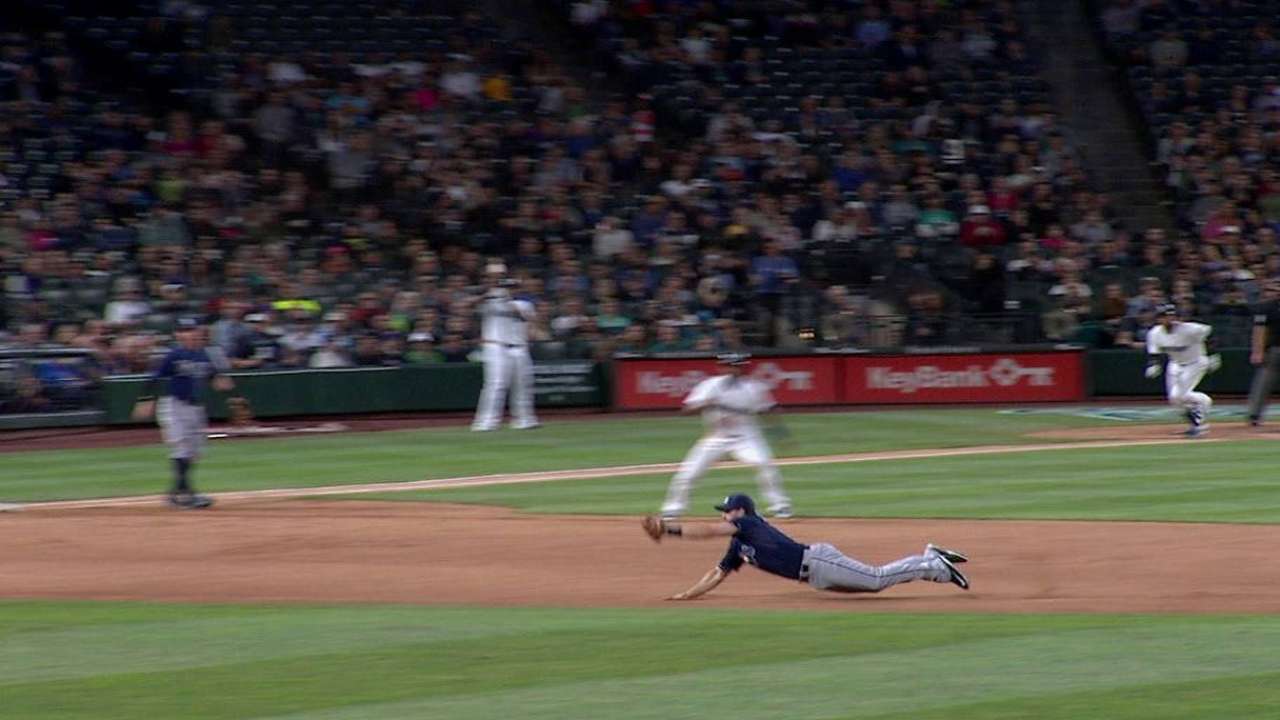 QUOTABLE
"He got a little excited." -- Rays manager Kevin Cash on Kevin Jepsen using a 97-mph fastball to strike out Cano to end the game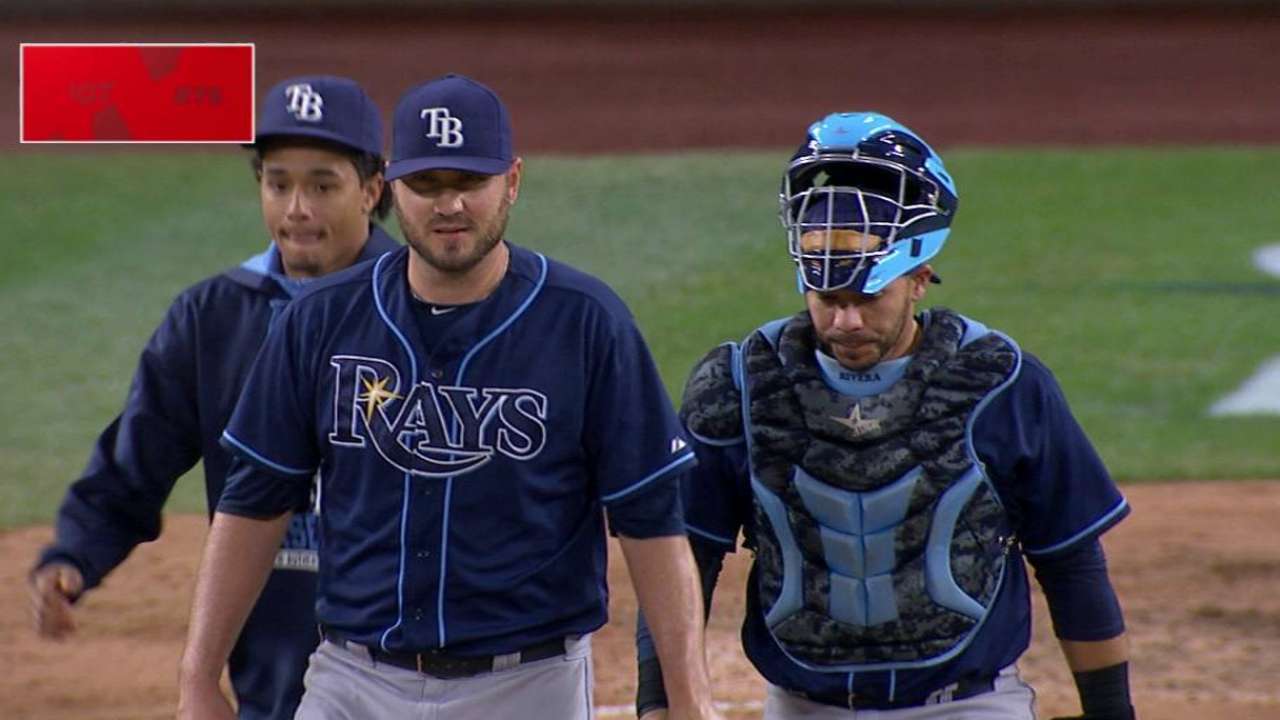 "I feel like every ball I hit hard, it's right at them or somebody makes a nice play. It's part of the game. Not all the time are things going to end up your way. There are guys that play at the Major League level because they can play this game." -- Cano, who is now hitting .248 after a 2-for-5 night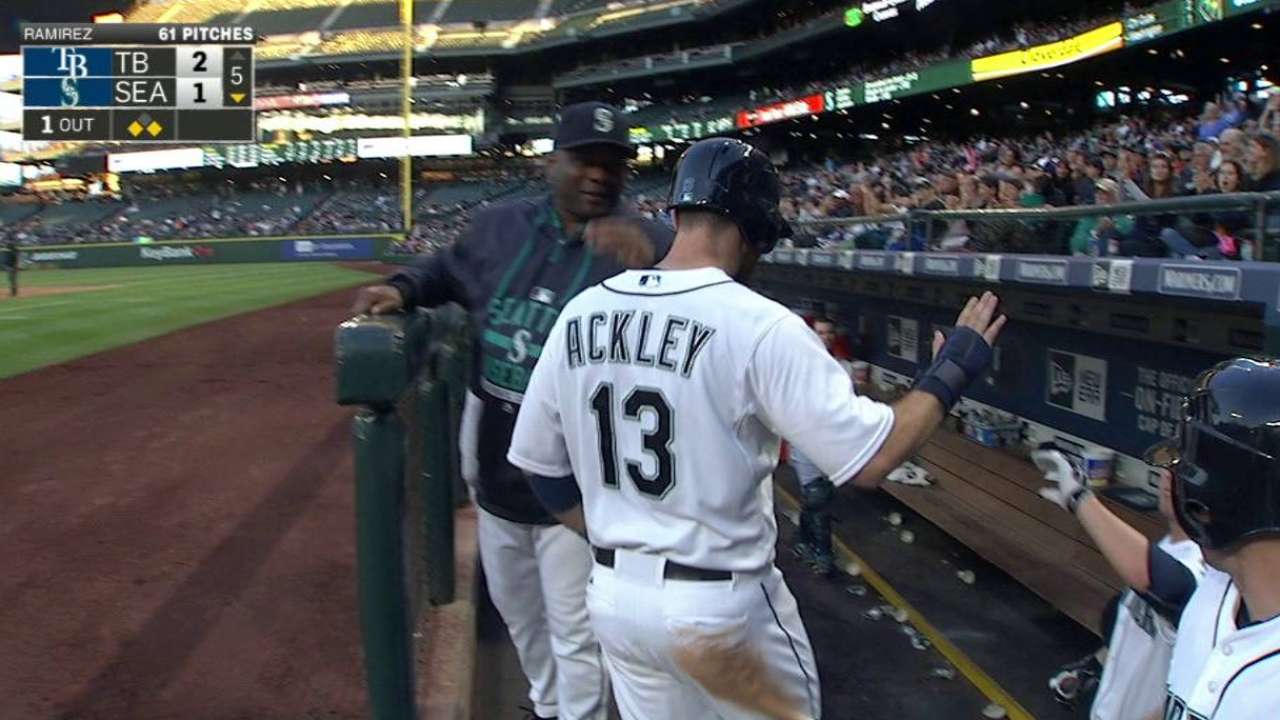 SOUND SMART WITH YOUR FRIENDS
The Rays stole at least three bases in a game for the third time this season.
The Mariners' six-game losing streak is their longest since an eight-game skid from April 15-22, 2014.
REPLAY REVIEW
McClendon successfully challenged a stolen base by Elmore in the fourth inning. Elmore was ruled safe by second-base umpire John Tumpane, but a quick check of the replay showed shortstop Miller applying the tag on Mike Zunino's throw just before Elmore's hands reached the bag and the call was overturned. The out was the third of the inning after the Rays had scored twice and already successfully stolen three bases in the game.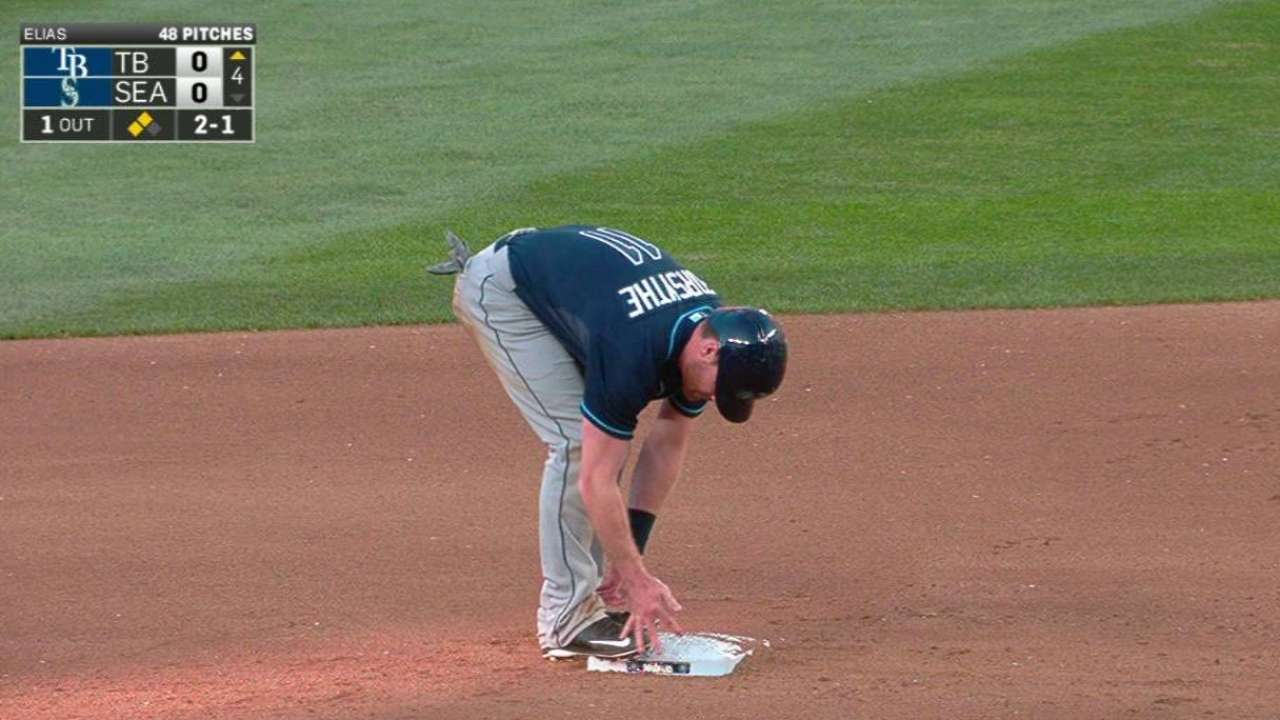 WHAT'S NEXT
Rays: Jake Odorizzi (4-5, 2.61) will start the second game of the four-game series. The right-hander is 1-1 with a 0.69 ERA in two career starts against the Mariners. He has completed at least six innings in all 11 starts this season.
Mariners: Veteran southpaw J.A. Happ (3-1, 3.70 ERA) will be on the mound. Happ is 2-2 with a 5.35 ERA in eight career games against the Rays, including a no-decision in Tampa Bay on May 26, when he gave up seven hits and three runs in six innings.
Watch every out-of-market regular season game live on MLB.TV.
Bill Chastain is a reporter for MLB.com. Greg Johns is a reporter for MLB.com. Read his Mariners Musings blog, and listen to his podcast. This story was not subject to the approval of Major League Baseball or its clubs.