Butler teams with family at charity golf outing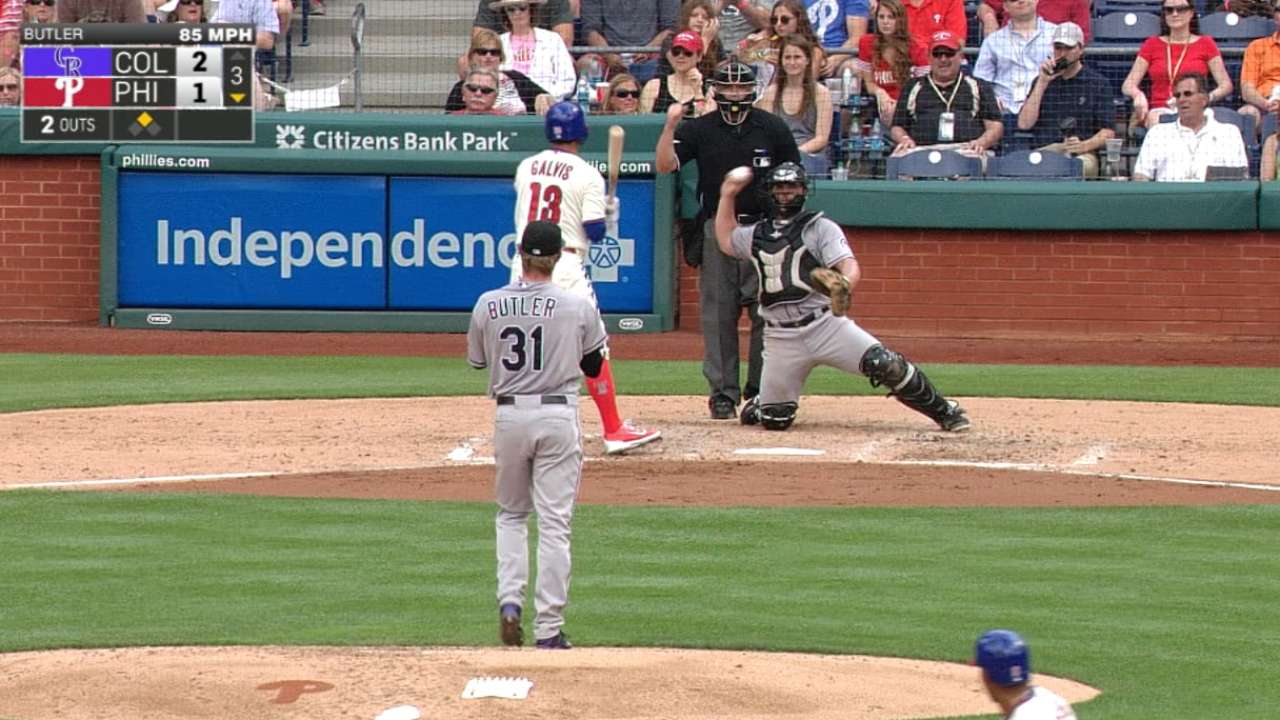 PARKER, Colo. -- At Thursday's 23rd-annual Charity Fund Celebrity Golf Classic, the Rockies' celebrity lineup wasn't hard to distinguish. The participant list had noteworthy names highlighted in purple and other names colored black, showing just how the 48 playing groups were constructed.
The last celebrity listed was Rockies right-hander Eddie Butler, but his three playing mates knew him as well as anybody there. That's because they too were Butlers -- Eddie's parents, Tim and Monica, as well as his brother, Wesley.
"It was a Mother's Day gift for my mom's birthday to come out here -- so kind of a combination," the 24-year-old pitcher said shortly after leading an obligatory "Happy Birthday" rendition for his mom.
"We're going to do dinner afterward, and we'll get some dessert, hang out and have a good day," Butler said.
The Butler quartet can't get together often. Eddie is now an integral part of Colorado's starting rotation, while the other three live more than 1,700 miles away in the Virginia Beach, Va., area.
It's essentially been that way since the Rockies drafted Butler out of Radford University in 2012. Of his four Minor League stops, only one was less than 1,300 miles from his family's home.
"It's great to have all four of us together," Tim said. "Usually, [Eddie] is gone nine to 10 months out of the year, so we'll take every moment we can."
On a flawless afternoon with temperatures hovering in the mid-70s, the Butlers combined their golfing strengths in navigating various holes at The Pinery Country Club.
This course has been a regular host for the event, which is the organization's largest fundraiser for Colorado Rockies Charities.
"It's nice," Eddie said. "Finally got an off-day. With all the rain and doubleheaders, I'm kind of surprised we got a nice day. It's been raining on us every day we've been at home, so I'm just enjoying it and having some fun here with the family."
That included trying to rekindle a former hobby.
"I played a lot [of golf] when I was in Scottsdale, [Ariz.], all offseason," said Eddie, referring to the Rockies' Spring Training hub. "You're talking 75 degrees -- golf courses are perfect out there. When you're shooting every day or every other day, you start shooting really well.
"But then you take three months off, and you can't hit a ball more than 50 yards."
Fortunately, his family helped pick up the slack -- even under imperfect circumstances. The Butlers showed up right at the end of registration, so any practice time on the driving range was out of the question.
As for the first hole?
Not a bad start for the three Butlers and their "celebrity."
"We got a par," an elated Tim and Monica said almost simultaneously, "with no warmups."
Dargan Southard is an associate reporter for MLB.com. This story was not subject to the approval of Major League Baseball or its clubs.