Strong pitching has A's playing to potential
Persistent bats offer much support as Hahn sets stage for fourth straight win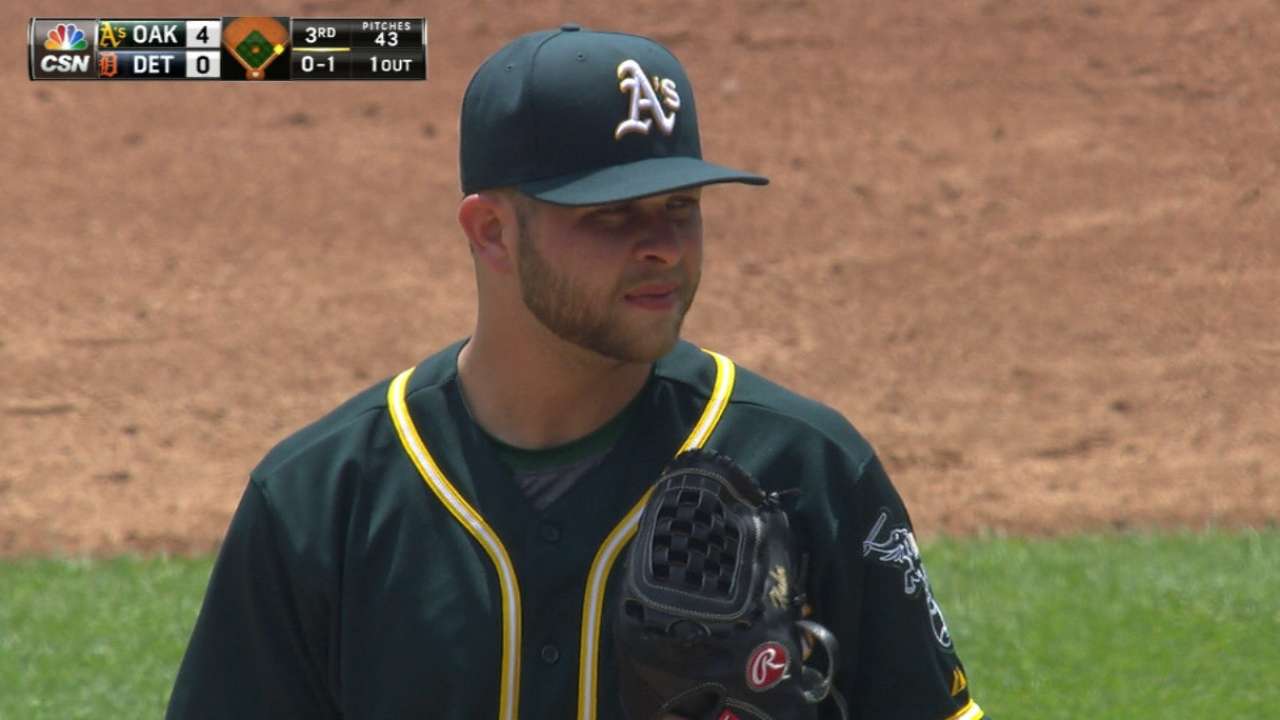 DETROIT -- The A's just keep chugging along.
Winners of four straight games and nine of their last 12, behind typically stellar starting pitching and an offense that's keeping pace, the A's have quietly gained a heap of momentum, even if they haven't picked up much ground in the American League West.
After completing a three-game sweep of the Tigers with Thursday's 7-5 win, the A's (23-33) remain 11 1/2 games behind the division-leading Astros. But that can't be of their concern.
"We're just trying to win as many games as we can and think more about climbing back toward .500," said A's manager Bob Melvin, "and then you worry about where you are in the standings."
The AL West has parity, and if the A's continue rattling off games like the ones they've put together of late, they believe there's no reason they can't still contend.
A's starters are 8-2 with a 1.35 ERA in their last 12 games, following Jesse Hahn's seven-inning, one-run performance on Thursday.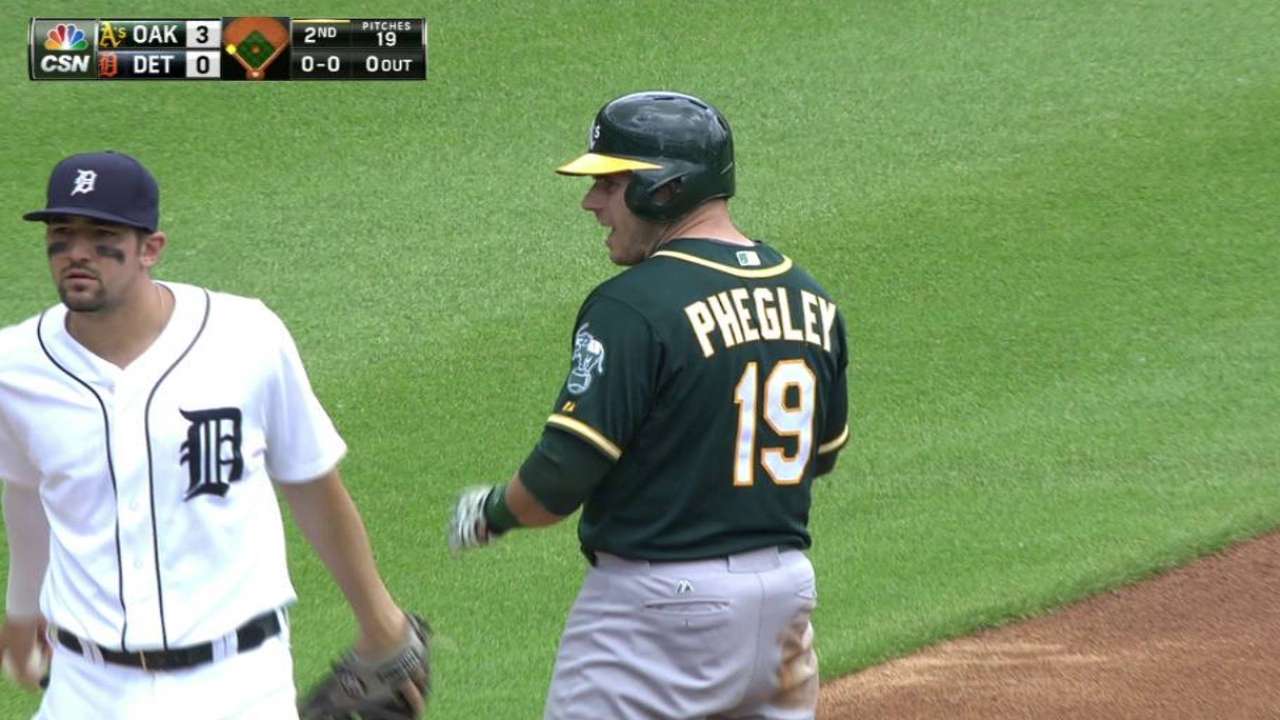 "You get those guys early leads, and you feel real confident, not only with the offense swinging the bats a little better, but you're able to add on," said Melvin. "Certainly, those guys are going to take you deep enough into the game to get it to guys who usually put it away for you."
For the second time in as many games, the offense provided three second-inning runs for its starter. The A's added on in three of the next five frames, and Tyler Clippard notched his ninth save after Dan Otero allowed four runs in one-third of an inning.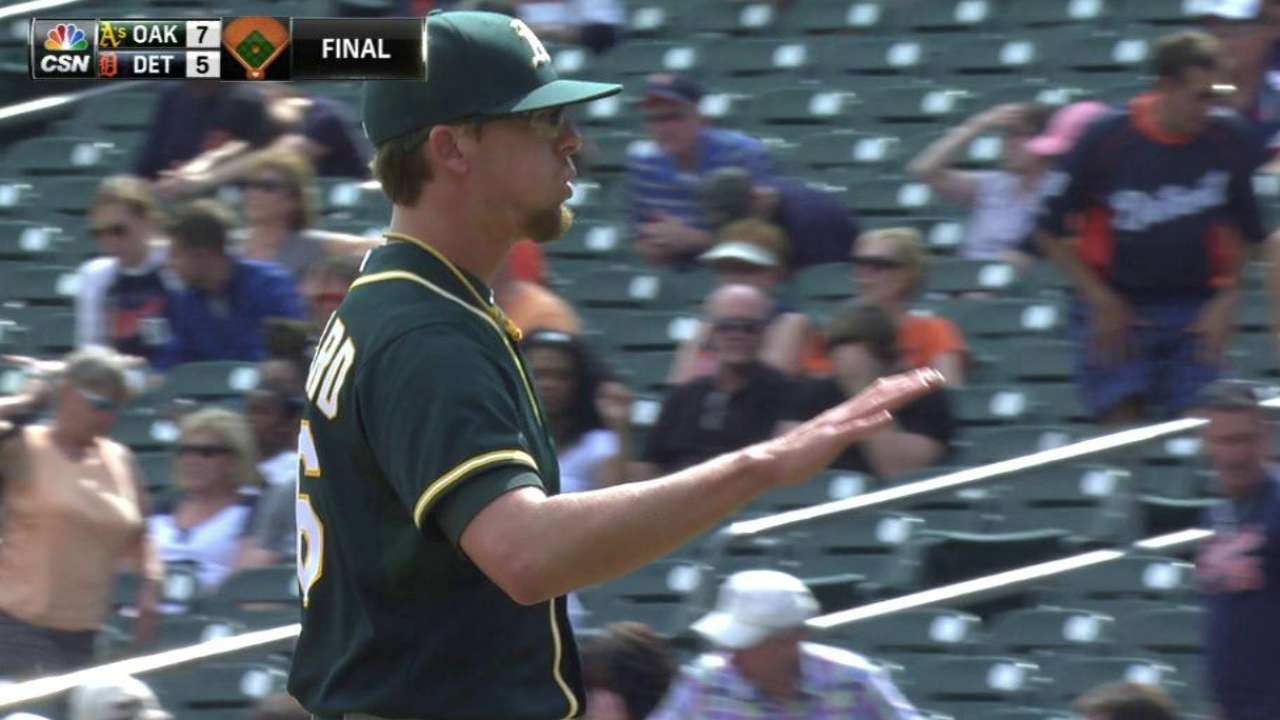 "When we put up a couple of early runs, the pitching staff gets to calm down a little and just execute pitches, and with the way they've been throwing, our offense has been able to relax and swing the bats," said Josh Phegley, who ripped a two-run triple in the second. "It's working two-sided, and you can see how good we are when we play like that."
"You look at the way Jesse came out and threw the ball and the way we were able to get key hits at big times," said Stephen Vogt, who hopes to play in Boston on Friday after exiting in the ninth inning with right leg cramps. "We're just playing really good team baseball for us right now, and I think that's what's going well for us during this stretch. It's been exciting. Taking two series in a row is huge for us."
Jane Lee is a reporter for MLB.com. This story was not subject to the approval of Major League Baseball or its clubs.