Duffy, Medlen feeling good about sim games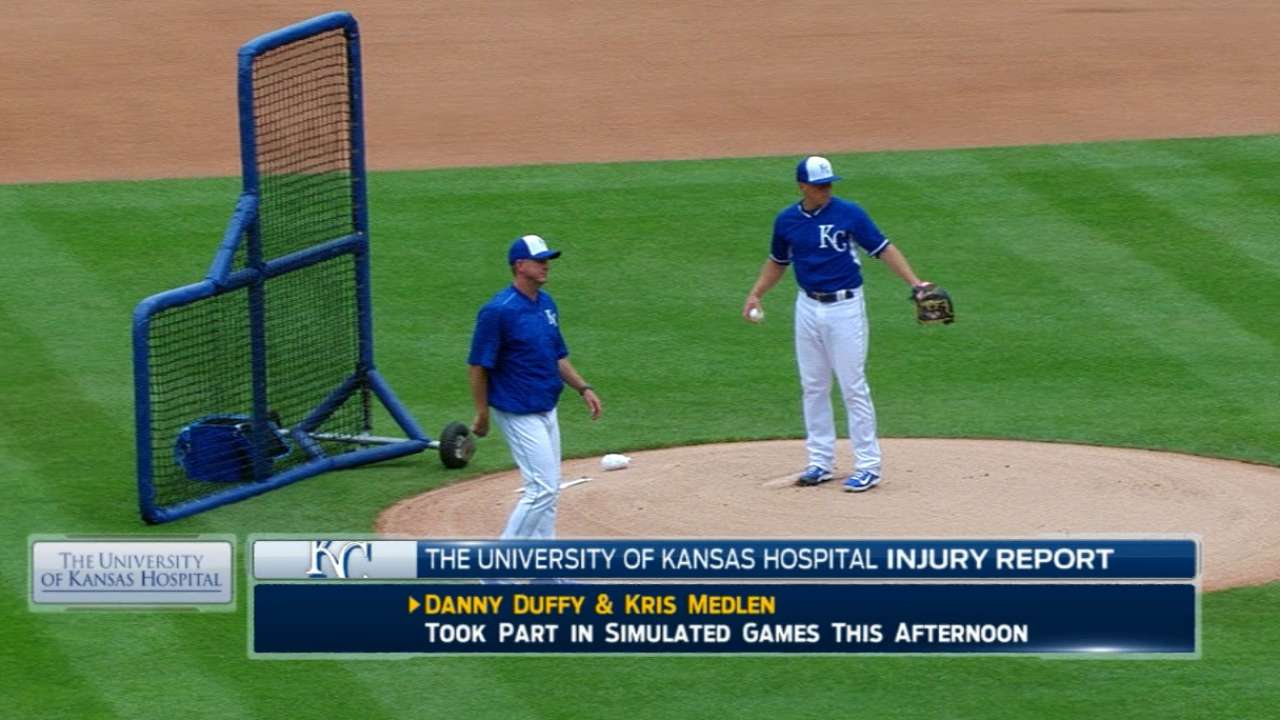 KANSAS CITY -- Forgive Royals right-hander Kris Medlen for having a little fun: After his simulated game on Thursday, Medlen walked toward the dugout and tipped his cap for several seconds to an empty stadium.
"Didn't you see the standing ovation?" Medlen joked afterward.
Medlen then added, "I'm just happy to be pitching again with no pain in there. It all felt pretty good today."
Medlen, who has undergone two Tommy John surgeries, was signed to a two-year deal in the offseason. He continues to work his way back and Thursday was another positive step -- a 45-pitch sim game.
Medlen likely will throw again this weekend under the Royals' coaching staff's supervision and then return to Arizona for more extended spring training. In about two weeks, Medlen could be sent out on a rehab assignment.
"Best he's felt since this process started," manager Ned Yost said.
Meanwhile, left-hander Danny Duffy, on the disabled list [sore shoulder], also threw a sim game of 45 pitches.
"Ball exploded out of Duffy's hand," Yost said. "He commanded the ball. Had a good breaking ball."
Duffy likely will throw another side session this weekend and then, Yost indicated, could be sent out on a rehab assignment.
Duffy said he not only threw all his pitches where he wanted them, he also tweaked his delivery a little bit, swinging his hands over his head during his motion.
"I changed up my delivery a little bit to stay over the rubber a little bit more," Duffy said. "Going to use my hands over my head a little bit more. It was a tweak to help me throw more strikes. Anything you can do to stay fluid through the delivery, you do it.
"Today was definitely a win. As of right now, [the pain is] out of there. Now it's just getting the arm strength up."
Jeffrey Flanagan is a reporter for MLB.com. Follow him on Twitter at @FlannyMLB. This story was not subject to the approval of Major League Baseball or its clubs.