Removal of 'unique' Tal's Hill excites hitters
Astros outfielder Marisnick: 'Moving the fences in is always a good thing'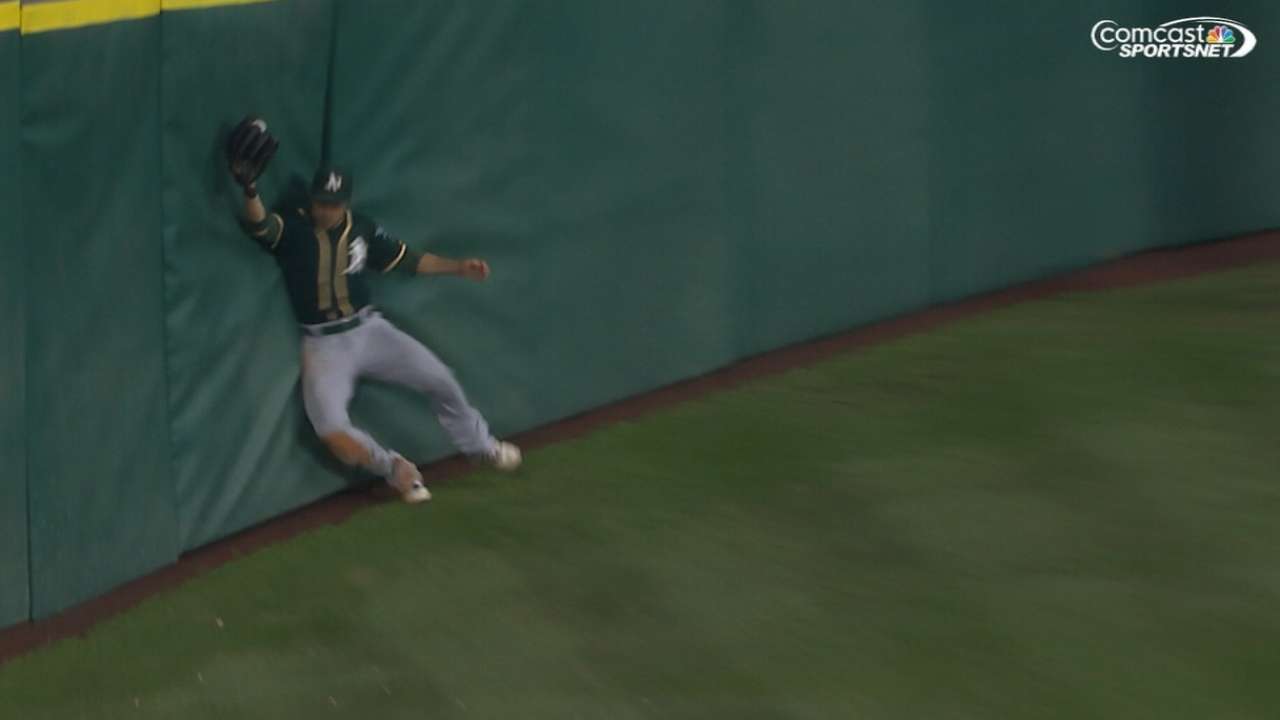 HOUSTON -- The news that Tal's Hill will be removed from Minute Maid Park following the 2015 season elicited diverse reactions from Astros outfielders after their 3-2 loss to the O's on Thursday.
"I guess for this park, it's going to change it up a little bit," outfielder Colby Rasmus said. "It's been kind of a quirky thing coming here and seeing. When I came here at first and saw the hill, [I was] thinking, 'That's kind of strange.'"
The $15 million renovations, slated to begin following the 2015 season and scheduled to be finished by Opening Day 2016, will move the center-field fence from 436 feet in to about 409 feet, remove the hill and create field-level seating.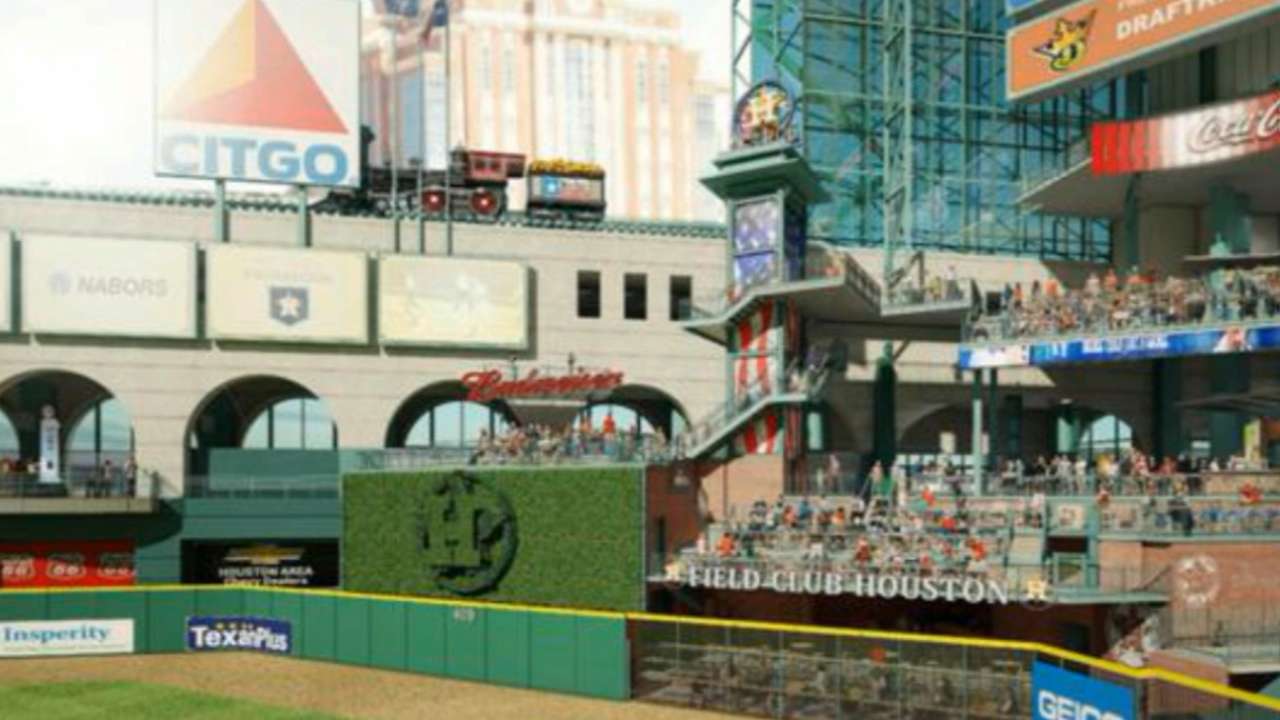 Though the renovations will make navigating the outfield a different challenge for the Houston defense, a few of the players were excited by the more hitter-friendly confines it could create.
"Guys will probably try to use the middle of the field a little bit more," Preston Tucker said. "I think it's definitely to the hitter's advantage. We're going to see a lot more balls go out to center field next year, so a lot of guys are probably excited for it."
"It was definitely unique and fun to run around on it," Jake Marisnick added. "But as a hitter, moving the fences in is always a good thing."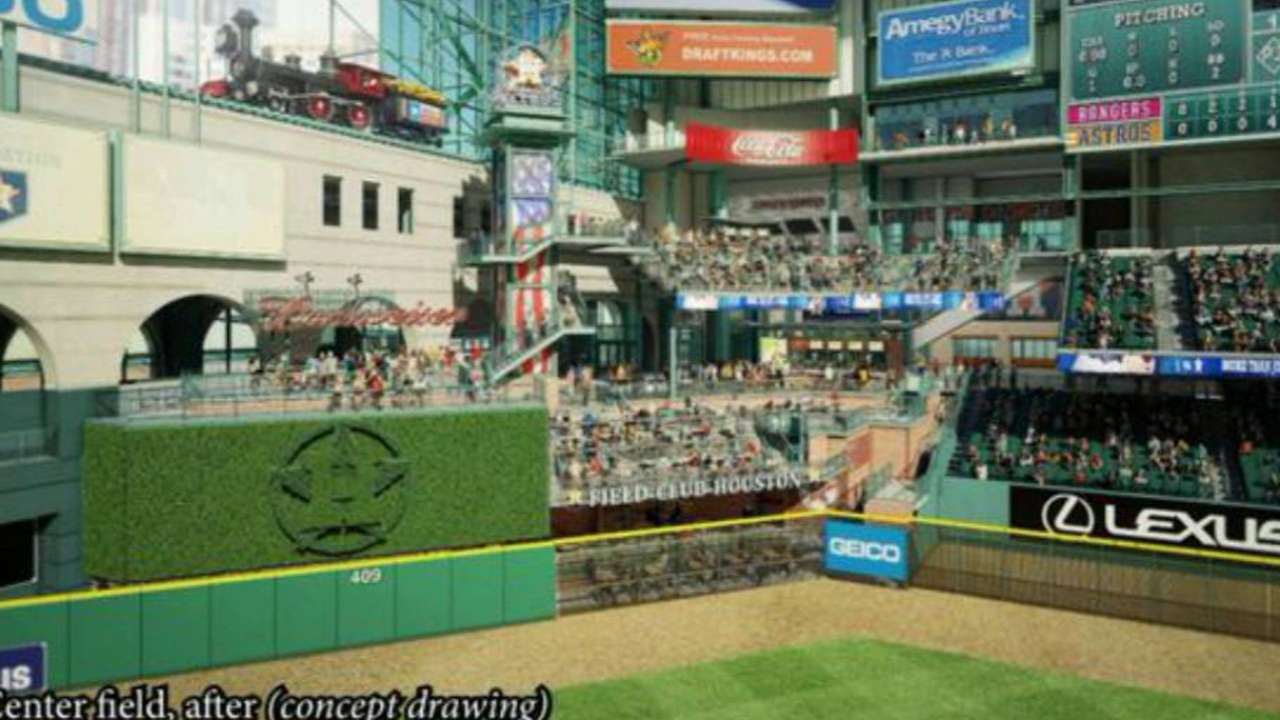 Marisnick, tasked with navigating the hill alongside Rasmus for most of this season, said he was indifferent on the club's decision, but brought up safety concerns. He added, though, that playing at Minute Maid Park every day and getting acclimated to the hill was a luxury.
"I mean, it's kind of unique to the field and it's kind of something that's been out there," Marisnick said. "Safety is definitely an issue going up on the hill. There's nowhere else you can do that -- and with that pole out -- but we haven't seen too many balls up there. I don't think it's too much of an issue, but it will be good."
Rasmus said he won't worry about the hill's departure until it actually happens.
When it does go, though, the approach won't change.
"I don't think about the wall or anything really," Rasmus said. "I try to play the game as it comes to me and catch the ball, kind of like a lab at the beach. Just get out there and run the ball down the best I can and not let the surroundings affect me."
Chandler Rome is an associate reporter for MLB.com. This story was not subject to the approval of Major League Baseball or its clubs.