Rangers play host to kids from Rae's Hope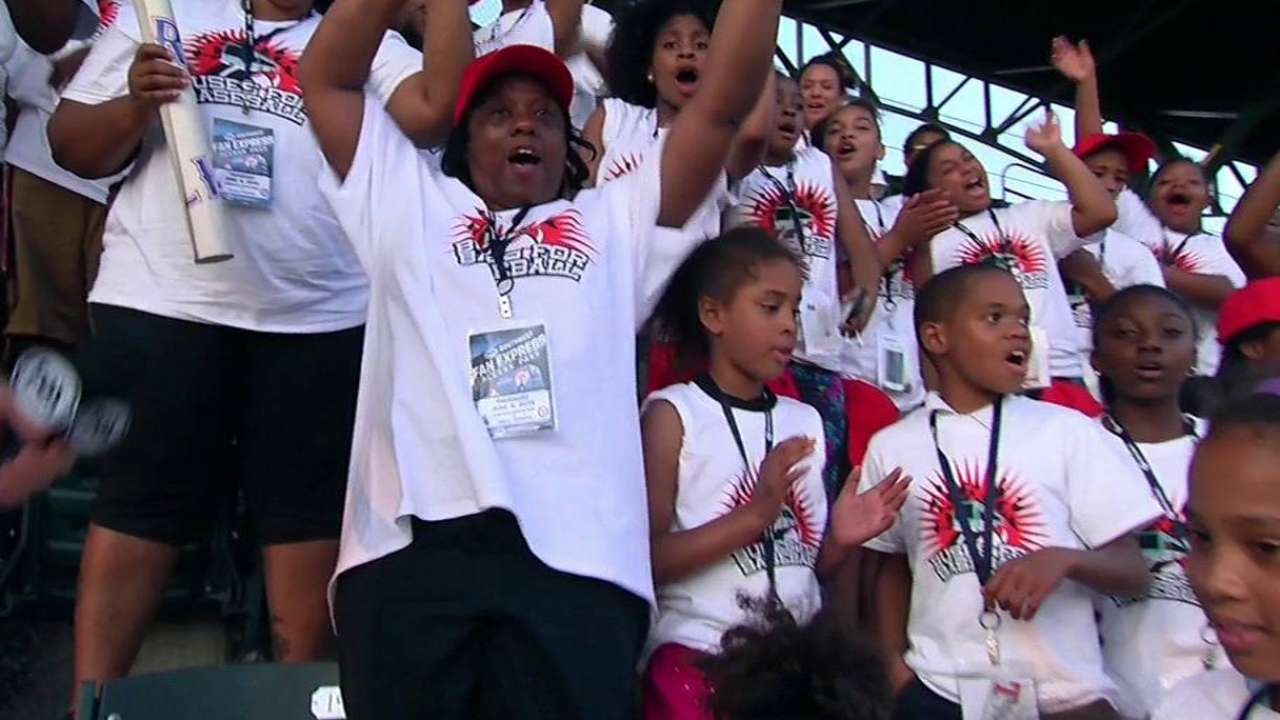 ARLINGTON -- About 50 Dallas-area at-risk children had a night they will never forget at Globe Life Park on Thursday, as they rode to the game on a Rangers bus, met several players and collected autographs on the field during batting practice.
Ranging in age from kindergarteners to high schoolers, the kids, mostly girls, were from Rae's Hope, a charity whose goal is to improve the lives of girls from South Dallas.
The visit was part of the Major League Baseball Players Trust's "Buses for Baseball" program, an endeavor that spans 15 ballparks this season. At each event the program provides underprivileged children with transportation, game tickets, souvenirs, food and drinks -- and, of course, time with players.
"It felt like we were queens of the world" on the bus, emblazoned with a Rangers logo, said Diamond Roberson, 14. "This is great."
Roberson and her friends met Adrian Beltre first, then Prince Fielder, Elvis Andrus, Leonys Martin, Ross Ohlendorf, Sam Freeman and other Rangers.
"I enjoy doing this," Beltre said. "I can see how happy they get when we're around them, when we talk to them and take pictures. I remember when I was back in the Dominican when I used to see Major League players, how excited I'd get. For me to give back, makes me feel even better."
Beltre appreciates his and his teammates' status as role models.
"We talk to them, they can see a different world," he said. "You can tell them that this can be them. If they go down the right path and do things right, they can become anything."
Freeman grew up in Carrollton, a Dallas suburb, and hopes to have a positive impact on area children's lives.
"Having some exposure to this and seeing it up close, they can see possibilities about working hard, following their dreams and never giving up and perseverance," Freeman said.
Antwan Love of Dallas, who had three daughters and one son with him on the field before the game, said that Rae's Hope emphasizes youth sports as a way to learn life skills. Rae's Hope offers programs focusing on healthy living, physical fitness and education, and also helps kids stay in school and develop important life and financial skills.
"Playing sports is good," Love said. "It's good for your body, good for your mind, and it gives you goals."
By the end of the season, some 750 children from such organizations as Rae's Hope, Special Olympics, Big Brothers Big Sisters and Volunteers of America will have participated in the Buses for Baseball program.
Before she and her friends left the field and headed to their seats on Thursday night, 12-year-old Anna Bailey summed up how the attendees felt.
"It's brilliant," Bailey said. "If they win, everybody's going to be happy."
Dave Sessions is a contributor to MLB.com. This story was not subject to the approval of Major League Baseball or its clubs.