Orioles escape pair of jams, get 5-out save
Chen, O'Day strand baserunners, while Britton finishes off series finale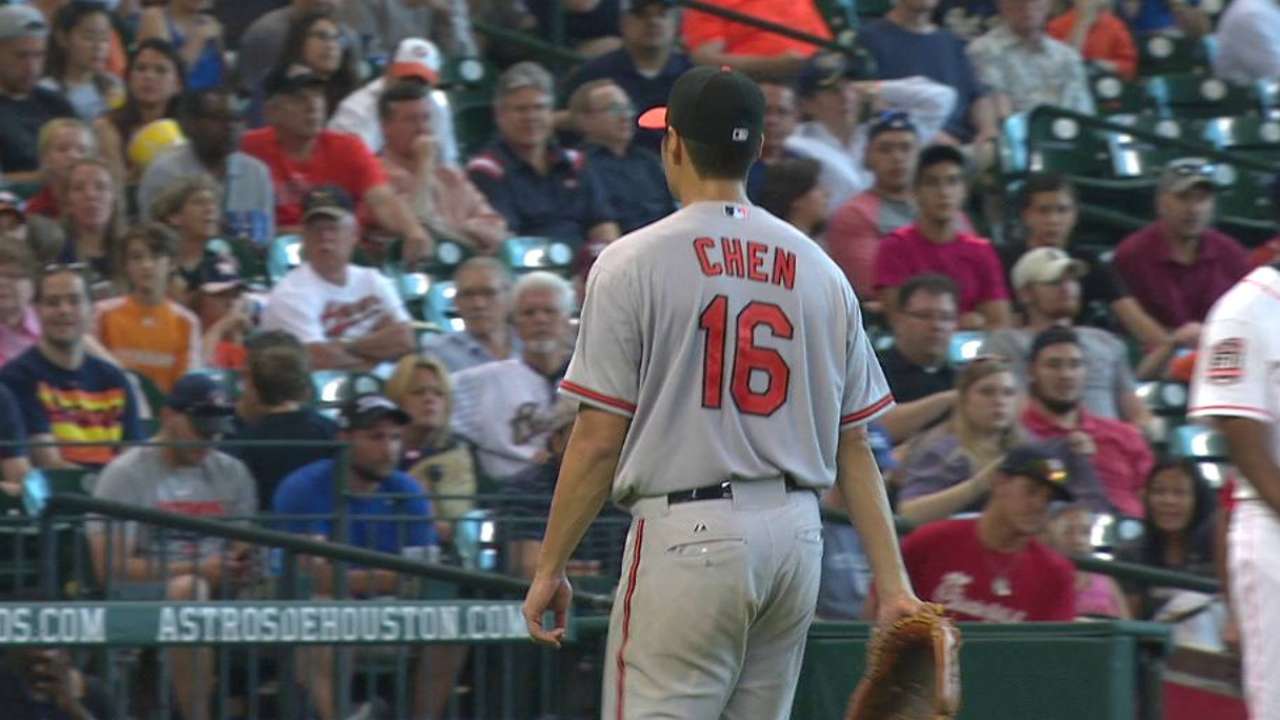 HOUSTON -- The Orioles used some strong pitching to snap a five-game losing streak and beat the Astros, 3-2, in the series finale on Thursday afternoon.
Starter Wei-Yin Chen, who struck out nine, pitched around a pair of baserunners in the sixth. The lefty allowed a leadoff walk and a double in the seventh, and his outing ended one out later, with righty Darren O'Day coming on to face pinch-hitter Colby Rasmus. O'Day walked Rasmus, but he wiggled free of the jam on a strikeout and flyout.
"I obviously didn't want to give him a ball to hit there," O'Day said of Rasmus, who walked to load the bases. "I felt good about walking him, just because it's a force out there, a double play. So I was lucky to get a strikeout and a little fly ball. Situations like that, I wouldn't say I'm comfortable in them, but I don't mind pitching in them. Like I said before, the hitter is just as anxious as you are to succeed, so if you can control that, I think you have the advantage."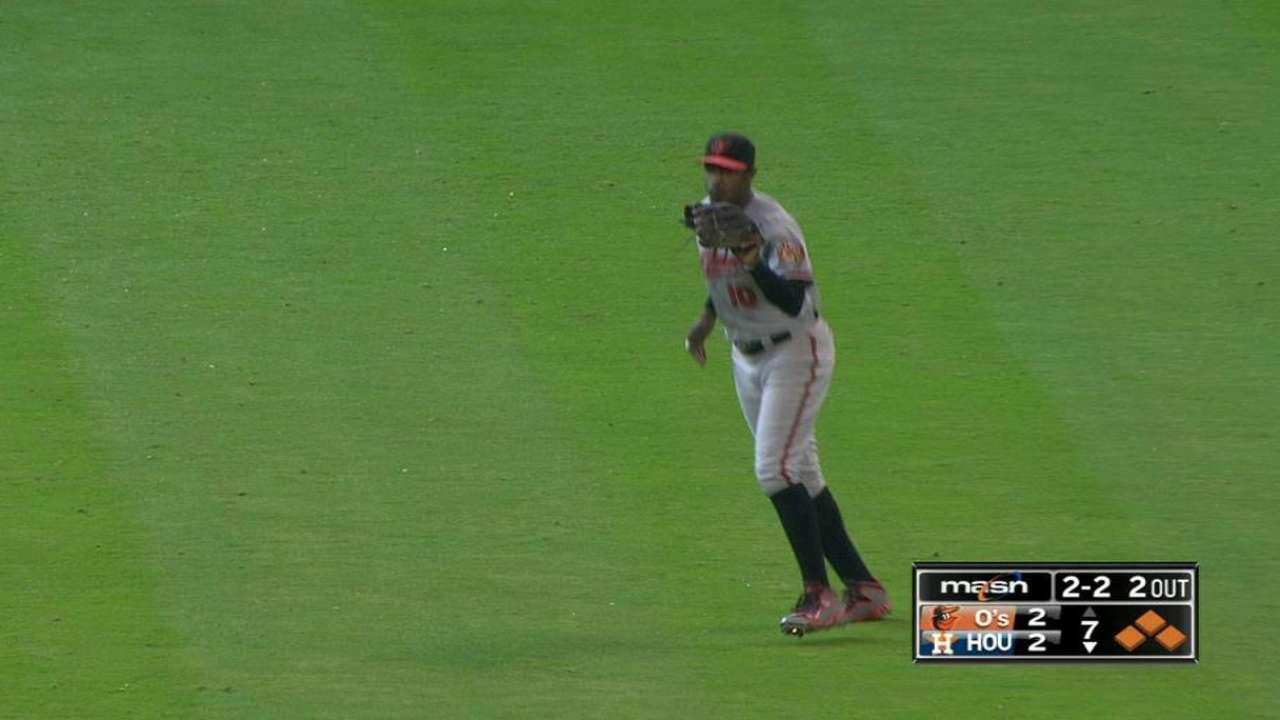 O'Day has posted scoreless outings in each of his last seven appearances and 19 of 22 on the season. He owns a 0.89 ERA, which ranks fourth-best among American League relievers. O'Day's outing also helped ensure Chen's quality start wouldn't go to waste.
"The first time with two men on base, I tried to keep the ball down and get some grounders. I was happy I was able to get out of that," Chen said through his interpreter. "The second time [in the seventh], I've got to say, O'Day did an amazing job."
O'Day was followed by lefty Zach Britton, who recorded five outs for his 14th save.
"You have to pitch like that when you are facing [Astros starter Dallas] Keuchel, and those three guys did," Orioles manager Buck Showalter said.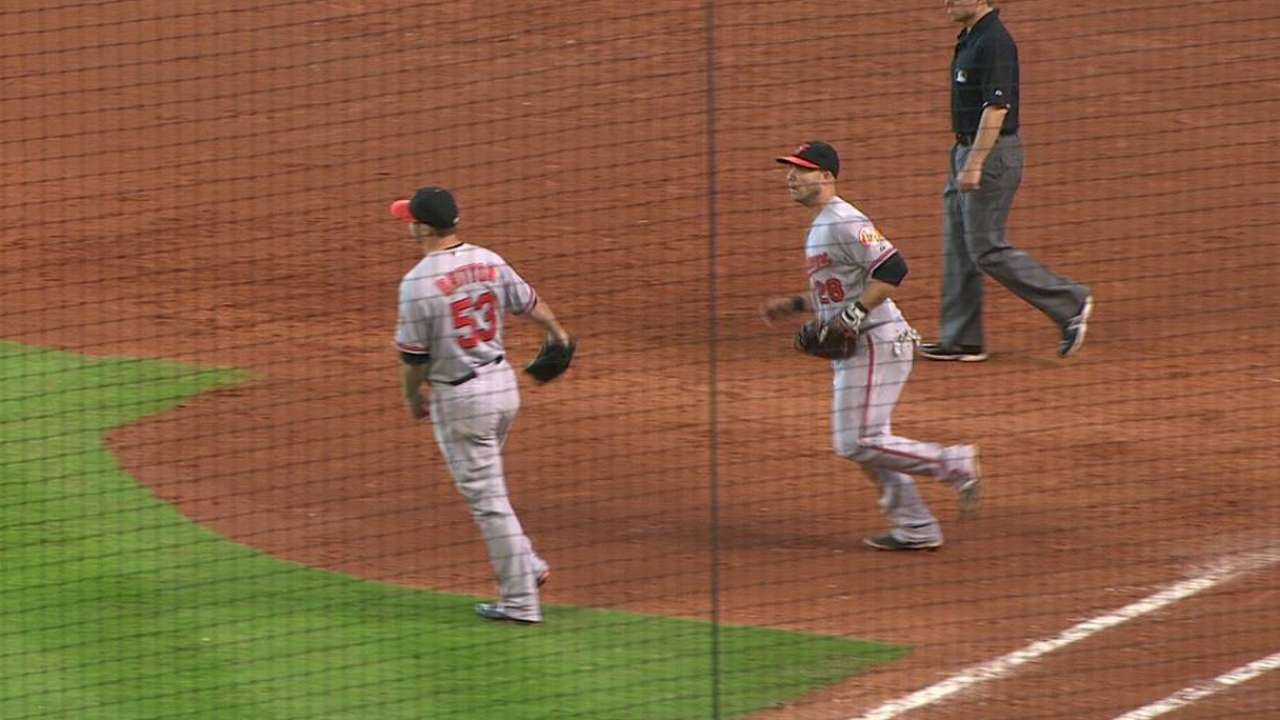 Brittany Ghiroli is a reporter for MLB.com. Read her blog, Britt's Bird Watch, and follow her on Facebook and Twitter @britt_ghiroli. This story was not subject to the approval of Major League Baseball or its clubs.