Reds to try Mesoraco out in left field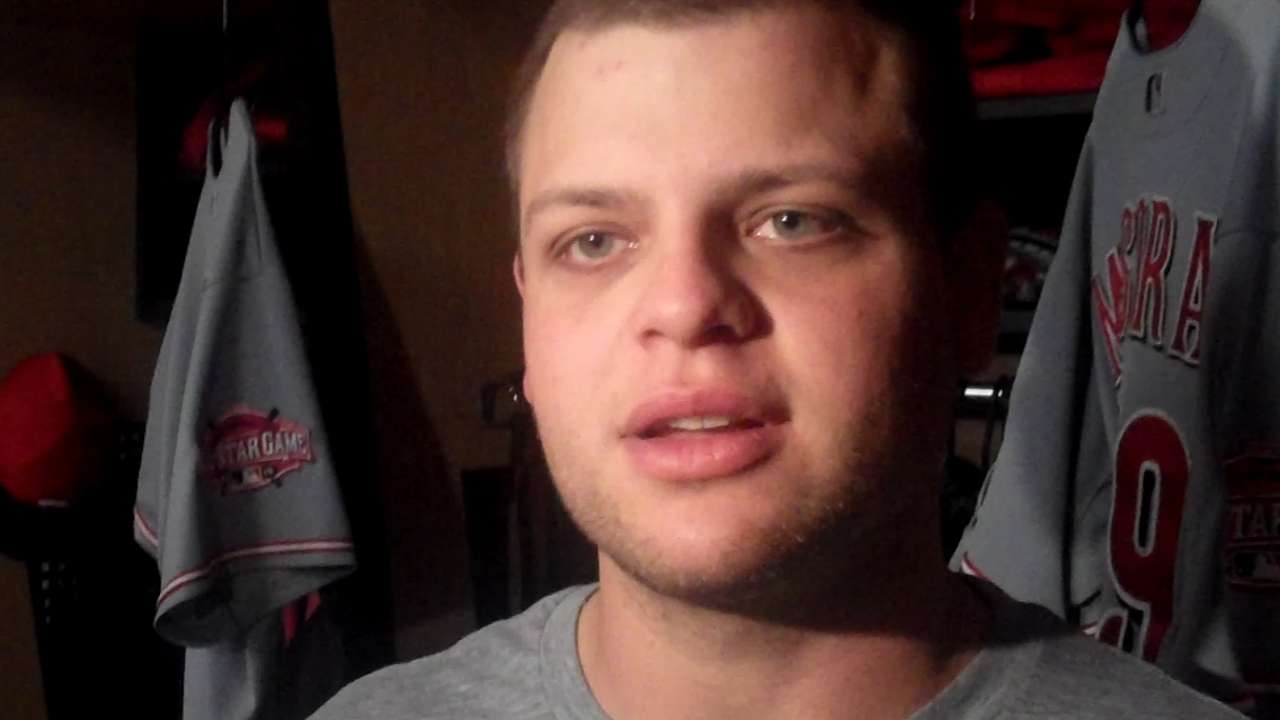 PHILADELPHIA -- There is no chance that the Reds will have Devin Mesoraco as their catcher again this season because of his left hip impingement. And they don't want him to come off of the disabled list solely to be a pinch-hitter. But the club has not written off Mesoraco for the rest of 2015.
Hoping he can still contribute, the Reds will see if Mesoraco can play left field.
"If he can play the outfield a bit capably, it's a way to get him in the lineup every now and again. Let his bat have some influence for our club," Reds manager Bryan Price said on Thursday.
Mesoraco has caught only six games this season, with his last being on April 12. Until he went on the 15-day DL on May 25, he had 28 plate appearances as either a pinch-hitter or designated hitter.
Besides being examined by team medical director Dr. Tim Kremchek, Price said that Mesoraco was also seen by a hip specialist in New York recently. While it's still a strong possibility he will need surgery to fix his issue, it's believed that the surgery can be done after the season and still not affect Mesoraco's ability to be ready behind the plate for the 2016 season.
Even if Mesoraco had a flawless experience in left field, there are no plans for the position switch to be a permanent change.
"This is not a transitional time for Devin to become an outfielder," Price said. "It's a way to help the 2015 team with the long-term goal of getting his hip to the point where he can be back catching regularly in 2016. And from my understanding, we can accomplish both within that time frame."
Mesoraco, who did not travel with the club and is currently rehabilitating in Cincinnati, would work with the big league coaching staff to see if he can play in the outfield. He took some fly balls in left field already before he went on the DL.
If Mesoraco is deemed able to play left field, and his hip is still well enough, he would go on a Minor League rehab assignment to get some games at the position.
"I think he has a confidence that he can do it," Price said. "I think that's where this whole idea initiates. It's the fact he believes he can do it. If we were talking about first base or third base, I think there might be more reluctance on his part. I think left field is something he feels he can play, if given the opportunity to practice a little bit. We'll see."
Worth noting
• Reds left fielder Marlon Byrd, who suffered a right wrist fracture when hit by a pitch on Tuesday, will be in a soft brace for seven-to-10 days and then be re-evaluated. An exam in Cincinnati deemed the fracture to be a new one, rather than pre-existing. How long Byrd will be out of action remains unknown.
Mark Sheldon is a reporter for MLB.com. Read his blog, Mark My Word, follow him on Twitter @m_sheldon and Facebook and listen to his podcast. This story was not subject to the approval of Major League Baseball or its clubs.