Giants look to build on excellent Draft record
SF's homegrown players include starting infield, Posey, Bumgarner, Cain, Lincecum, Romo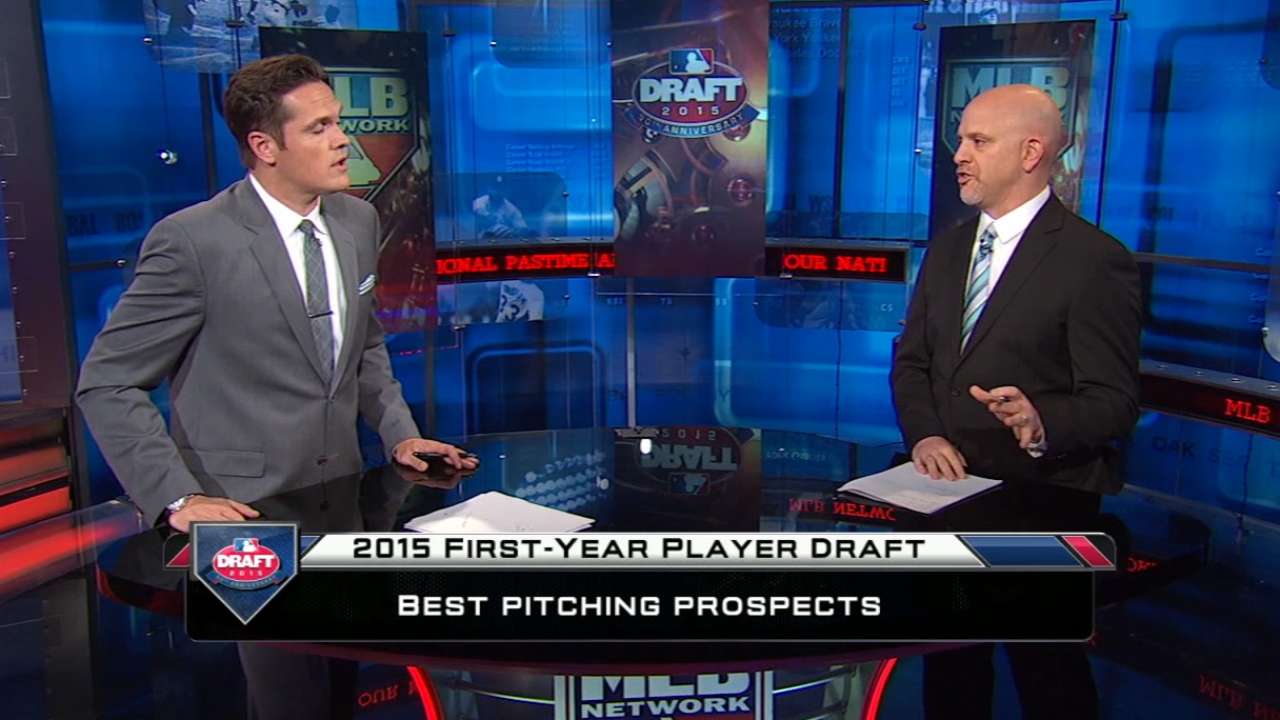 SAN FRANCISCO -- The 2015 Draft will take place from Monday through Wednesday, beginning with the Draft preview show on MLB.com and MLB Network on Monday at 3 p.m. PT. Live Draft coverage from MLB Network's Studio 42 begins at 4 p.m., with the top 75 picks being streamed on MLB.com and broadcast on MLB Network. MLB.com's exclusive coverage of Day 2 begins with a live Draft show at 9:30 a.m. on Tuesday, with exclusive coverage of Day 3 beginning at 10 a.m. on Wednesday.
MLB.com's coverage includes Draft Central, the Top 200 Draft Prospects list and Draft Tracker, a live interactive application that includes a searchable database of over 1,700 Draft-eligible players. Every selection will be tweeted live from @MLBDraftTracker, and you can also keep up to date by following @MLBDraft. And get into the Draft conversation by tagging your tweets with #mlbdraft.
Here's how the Draft is shaping up for the Giants, whose first selection is the 18th overall pick.
In about 50 words
Due to a compensatory pick they received for losing Pablo Sandoval to Boston in free agency, the Giants will have three of the first 61 selections. They had a similar bonanza in 2007, when circumstances rewarded them with six of the top 51 picks. San Francisco used its No. 1 selection on left-hander Madison Bumgarner, whose value has become incalculable. The Giants' next draftee was right-hander Tim Alderson, whom they traded to Pittsburgh for second baseman Freddy Sanchez, a key contributor to the 2010 World Series-winning team. So the Giants hope history comes close to repeating itself.
The scoop
The Giants have rarely felt compelled to make a high-profile Draft decision based solely on need. They figure they can use anybody. For example, one year after drafting Buster Posey fifth overall in 2008, they selected high school catcher Tommy Joseph in the second round. Posey had already merged onto the fast track to the Majors, but that didn't make Joseph irrelevant. He sweetened the package of players the Giants sent to Philadelphia at the 2012 non-waiver Trade Deadline for Hunter Pence. Thus, Joseph proved to be an ideal selection.
First-round buzz
Trying to predict the Giants' top picks is often a futile exercise. Two years ago, for instance, they confounded the baseball world by drafting high school infielder Christian Arroyo in the first round. This time, experts almost unanimously believe that San Francisco will select a right-handed pitcher. The Giants reportedly have their eyes on collegians (such as UCLA's James Kaprielian and Louisville's Kyle Funkhouser) as well as high schoolers (like Nolan Watson from Indianapolis and Mike Nikorak from Stroudsburg, Ala.). But Giants scouting director John Barr cautioned against assuming anything, because the Giants could be surprised by who might be available to them.
"There's so much uncertainty on who's going to be taken in the Top 10 or 15," Barr said.
Money matters
Under the Collective Bargaining Agreement, each team has an allotted bonus pool equal to the sum of the values of that club's selections in the first 10 rounds of the Draft. The more picks a team has, and the earlier it picks, the larger the pool. The signing bonuses for a team's selections in the first 10 rounds, plus any bonus greater than $100,000 for a player taken after the 10th round, will apply toward the bonus-pool total.
Any team going up to 5 percent over its allotted pool will be taxed at a 75 percent rate on the overage. A team that overspends by 5-10 percent gets a 75 percent tax plus the loss of a first-round pick. A team that goes 10-15 percent over its pool amount will be hit with a 100 percent penalty on the overage and the loss of a first- and second-round pick. Any overage of 15 percent or more gets a 100 percent tax plus the loss of first-round picks in the next two Drafts.
The Giants have been assigned a signing bonus pool of $7,515,500, which ranks 10th in the Majors, including $2,333,800 for their first slot. San Francisco has had little trouble in recent years with luring players into the fold; that can be attributed at least in part to its run of World Series success. The Giants have also maintained a knack for persuading college-bound draftees to join the organization. Witness 2013, when infielders Arroyo and Ryder Jones, San Francisco's top two picks, spurned the University of Florida and Stanford, respectively, to sign with the Giants.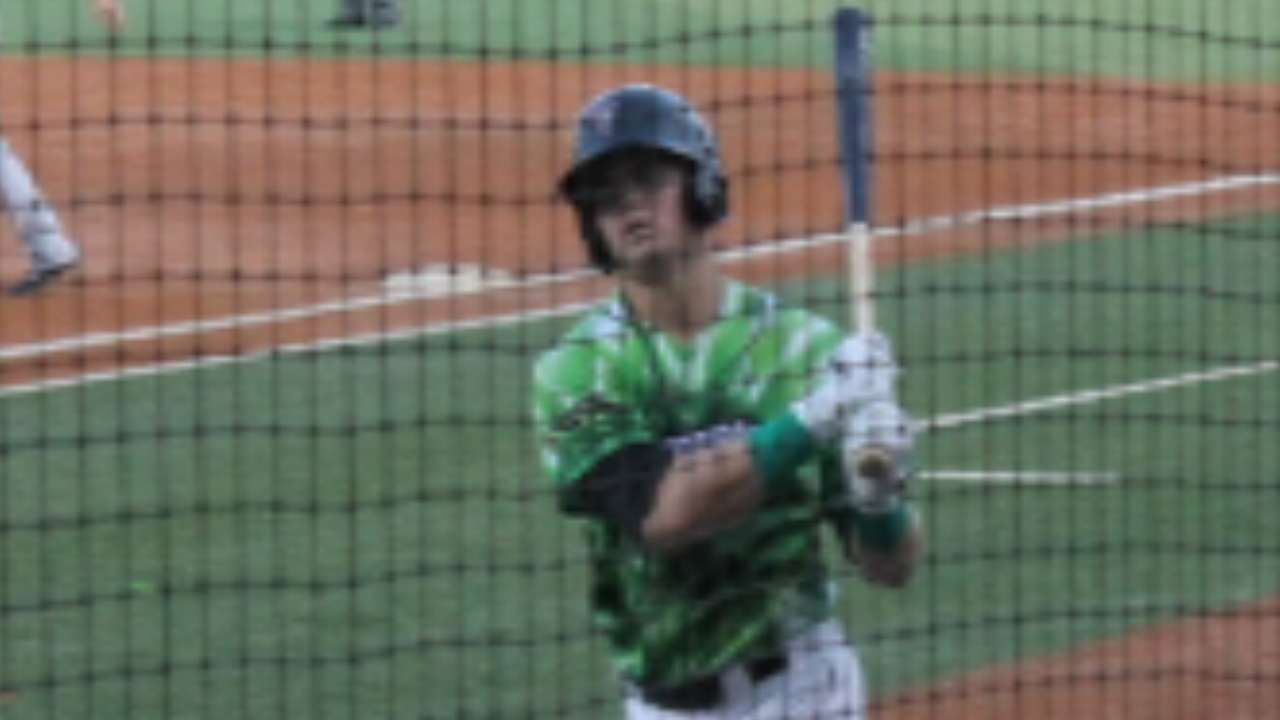 Shopping list
As mentioned earlier, the Giants tend to avoid filling quotas at various positions. However, they always seem to address pitching. And they do so in consistent fashion, drafting 21 pitchers in each of the previous three Drafts. Playing home games in pitcher-friendly AT&T Park has forced the Giants to realize that they probably won't find a position player who can conquer the bayside ballpark's dimensions frequently enough to become a legitimate Major League power hitter. So they look for hitters with gap power who ideally won't get discouraged when they launch a drive that's caught at the 421-foot marker.
Trend watch
Observers tend to regard the Giants as synonymous with pitching. But since Barr became the club's scouting director before the 2008 Draft, San Francisco has drafted four position players No. 1, compared to three pitchers. Five of those picks attended college, reflecting the Giants' preference for mature, relatively experienced prospects.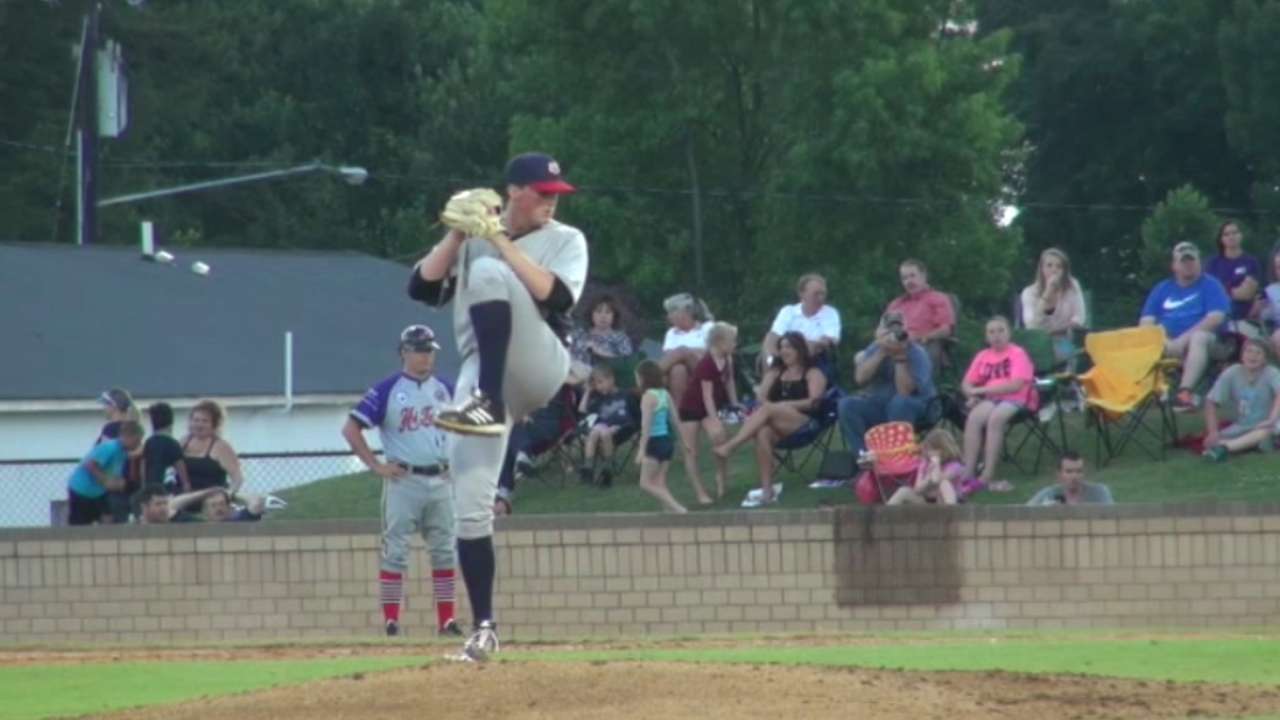 RECENT DRAFT HISTORY
Rising fast
After batting a combined .225 last year at Rookie-level Salem-Keizer and Class A Augusta, Jones is beginning to feel at home professionally. His batting average has hovered around .300 for most of the season at Class A Advanced San Jose, and he's driving in runs at a greater clip. Now that Jones is playing third base, however, he'll be expected to maintain his production, or even improve it.
Cinderella story
Sergio Romo was prepared to join the Navy when he convinced his father to allow him to attend community college. Within a couple of years, he was at Mesa State College in Grand Junction, Colo., where he went 14-1 and broke six school records in 2005. That prompted the Giants to draft Romo, though it didn't happen until the 28th round. He began his professional career as a starting pitcher before switching full-time to relief in 2007. Whatever Romo's role was, he always could throw strikes. That skill helped him ascend the Minor League ladder until he reached the big leagues to stay in 2009.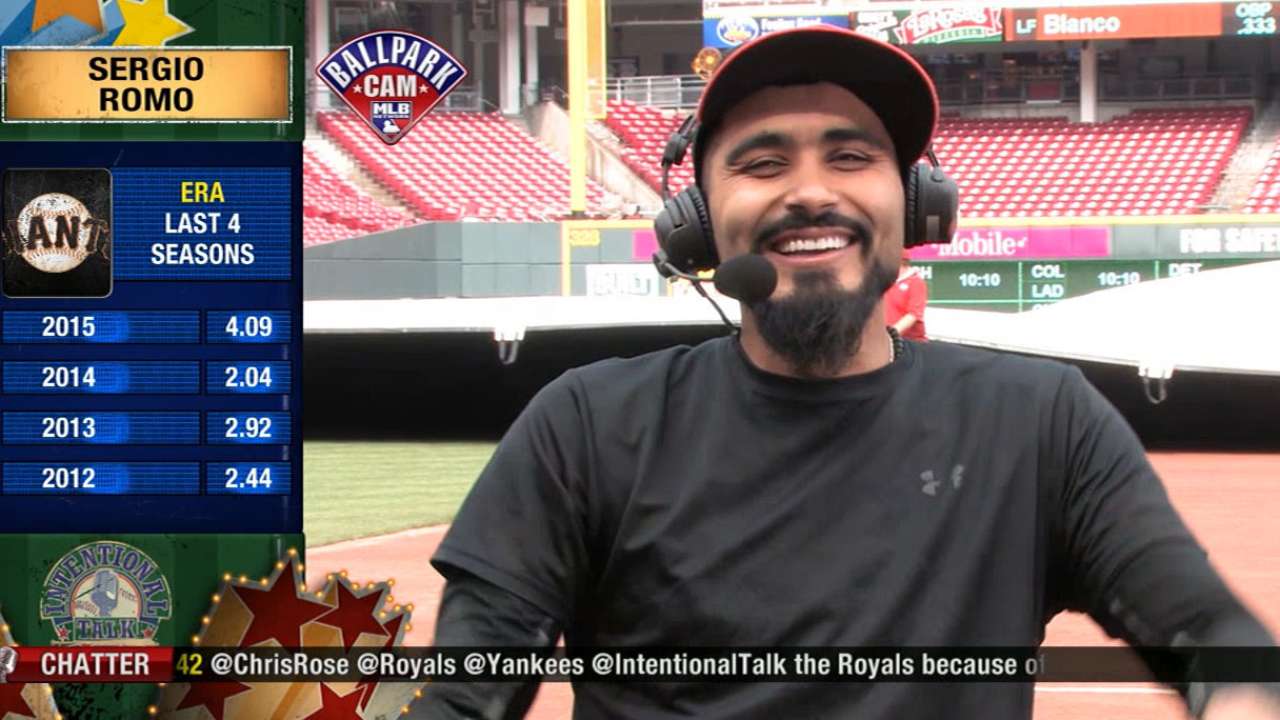 In The Show
The influence of players drafted and developed by the Giants is widespread. The entire infield is homegrown (first baseman Brandon Belt, second baseman Joe Panik, shortstop Brandon Crawford and third baseman Matt Duffy), as well as catchers Posey and Andrew Susac. Pitchers who rose to the Majors through the organization include Bumgarner, Romo, Tim Lincecum, Matt Cain, Chris Heston, Ryan Vogelsong and Hunter Strickland.
The Giants' recent top picks
2014: Tyler Beede, RHP, Class A Advanced San Jose
2013: Arroyo, SS/2B, Class A Advanced San Jose
2012: Chris Stratton, RHP, Double-A Richmond
2011: Panik, 2B, San Francisco
2010: Gary Brown, OF, Triple-A Salt Lake (Angels)
Chris Haft is a reporter for MLB.com. This story was not subject to the approval of Major League Baseball or its clubs.