Angels aim to restock with seasoned talent
Draft strategy is to take best available player, with focus on offense over pitching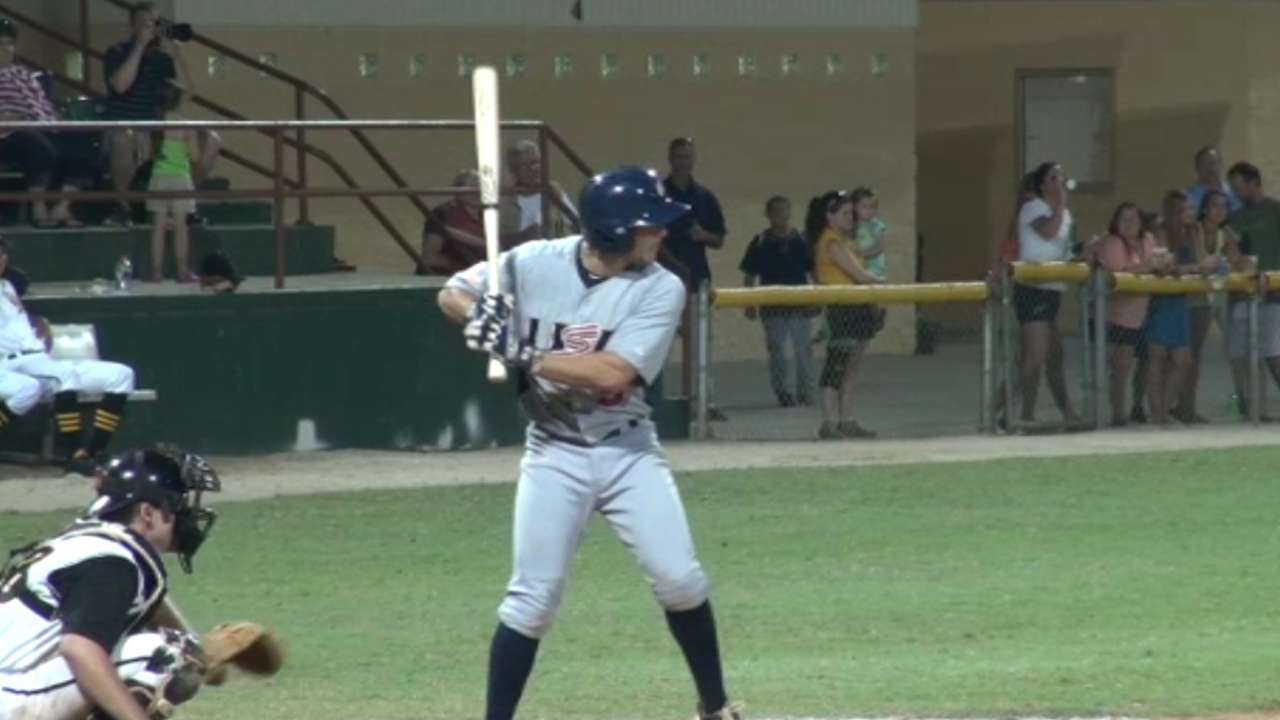 The 2015 Draft will take place from Monday through Wednesday, beginning with the Draft preview show on MLB.com and MLB Network on Monday at 3 p.m. PT. Live Draft coverage from MLB Network's Studio 42 begins at 4 p.m., with the top 75 picks being streamed on MLB.com and broadcast on MLB Network. MLB.com's exclusive coverage of Day 2 begins with a live Draft show at 9:30 a.m. on Tuesday, with exclusive coverage of Day 3 beginning at 10 a.m. on Wednesday.
MLB.com's coverage includes Draft Central, the Top 200 Draft Prospects list and Draft Tracker, a live interactive application that includes a searchable database of over 1,700 Draft-eligible players. Every selection will be tweeted live from @MLBDraftTracker, and you can also keep up to date by following @MLBDraft. And get into the Draft conversation by tagging your tweets with #mlbdraft.
Here's how the Draft is shaping up for the Angels, whose first selection is the 26th overall pick.
In about 50 words
Back-to-back pitcher-heavy Drafts have restocked the Angels' farm system with some talented arms. But now they're sorely lacking in position-player talent, especially in the outfield. Look for the Angels to target plenty of bats this year. They always seek up-the-middle players -- catcher, shortstop, second base, center field -- but will also try to find some raw power.
The scoop
When Jerry Dipoto took over as general manager after the 2011 season, the Angels' farm system was in need of replenishment. They began with starting pitching, because it's the most valuable commodity in the game and it takes a little bit longer to develop.
Now the Angels can move on to position players.
"We have built that depth," Dipoto said. "Now we have to go back in, by choice, and start addressing other areas of need. So no longer are we going to go in and just take pitcher after pitcher after pitcher. We're still going to take pitchers, like we do every year, but there will be more of a premium placed on offensive players, in this Draft and as we move forward. Now we can be a little more balanced."
First-round buzz
Although the Angels will end up taking mostly position players in this Draft, they'll still take the best talent available in the first round. MLB.com Draft expert Jonathan Mayo has the Angels taking Louisiana-Lafayette shortstop Blake Trahan in his latest mock draft, while colleague Jim Callis has them taking right-hander Phil Bickford, out of the College of Southern Nevada.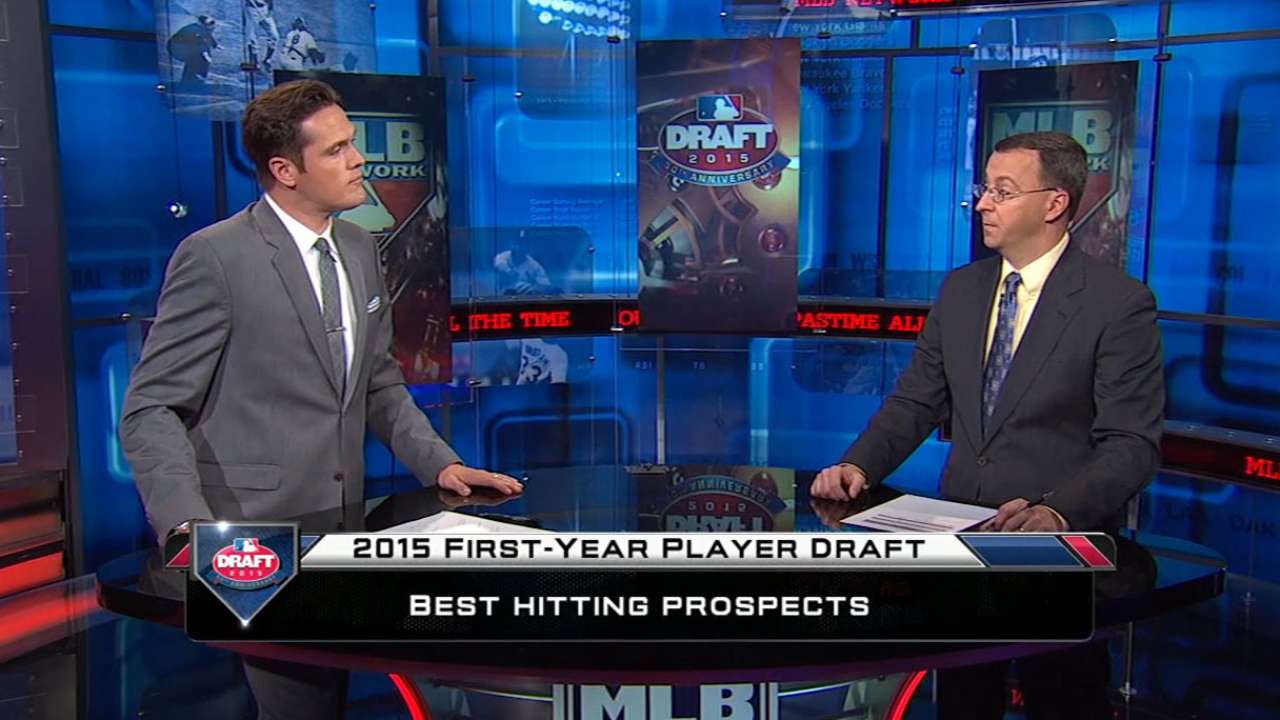 Money matters
Under the Collective Bargaining Agreement, each team has an allotted bonus pool equal to the sum of the values of that club's selections in the first 10 rounds of the Draft. The more picks a team has, and the earlier it picks, the larger the pool. The signing bonuses for a team's selections in the first 10 rounds, plus any bonus greater than $100,000 for a player taken after the 10th round, will apply toward the bonus-pool total.
Any team going up to 5 percent over its allotted pool will be taxed at a 75 percent rate on the overage. A team that overspends by 5-10 percent gets a 75 percent tax plus the loss of a first-round pick. A team that goes 10-15 percent over its pool amount will be hit with a 100 percent penalty on the overage and the loss of a first- and second-round pick. Any overage of 15 percent or more gets a 100 percent tax plus the loss of first-round picks in the next two Drafts.
The Angels have been assigned a pool of $5,050,100, which ranks 26th in the Majors. The value assigned to their first-round pick is $2,034,500.
Shopping list
This offseason, the Angels could have as many as five holes to fill in their lineup -- catcher, third base, second base, left field, designated hitter. And there aren't many players in their system ready to come up and fill those spots. Outfield is the biggest need, though the presence of center fielder Mike Trout (controllable through 2020) and right fielder Kole Calhoun ('19) buys some time for players to develop.
Trend watch
The Angels drafted at least 15 players from high school every year from 2006-10, with Eddie Bane as their scouting director. In '11, the first year Angels scouting director Ric Wilson ran the Draft, that number dropped to seven. In '12, with Dipoto in his first year as GM, it was five. In '13, it was four. In '14, it was three. The Angels won't be so focused on the toolsy high-school kid with high upside but lots of risk that they overlook collegiate players with skills that can translate to the big leagues.
Recent Draft history
Rising fast
Sean Newcomb, the 15th overall pick last June, represents the best homegrown pitching prospect the Angels have had since Garrett Richards. Newcomb ranks second in the Angels' system and 62nd overall, according to MLBPipeline.com. The 21-year-old left-hander can sit in the mid-90s with relative ease, throws a plus slider and has a decent curveball and changeup. Newcomb dominated Class A Burlington to start this season -- 1.83 ERA and 45 strikeouts in 34 1/3 innings -- and earned a promotion to Class A Advanced Inland Empire after seven starts.
Cinderella story
In six years, Matt Shoemaker went from being undrafted out of Eastern Michigan University to finishing second in American League Rookie of the Year Award voting. On Friday, the bearded right-hander had his own bobblehead giveaway. Shoemaker was signed as an amateur free agent in 2008 and was the Texas League Pitcher of the Year while in Double-A in 2011. He struggled in the Pacific Coast League from 2012-13, with a combined 5.16 ERA, but burst onto the scene with the Angels in '14, going 16-4 with a 3.04 ERA and a 5.17 strikeout-to-walk ratio.
In The Show
Trout and Richards are the stars of the Major League team. Longtime ace Jered Weaver (12th overall pick in 2004) and longtime shortstop Erick Aybar (signed out of the Dominican Republic in '02) are still integral parts. Hard-throwing right-hander Cam Bedrosian (29th overall pick in 2010) has carved out a role in the bullpen and Calhoun (eighth round, '10) epitomizes the skilled collegiate players who can rise quickly and carry minimal risk that this front-office group seeks in the Draft
The Angels' recent top picks
2014: Newcomb
2013: Hunter Green, LHP, extended spring camp
2012: R.J. Alvarez, RHP, Oakland Athletics
2011: C.J. Cron, 1B, Triple-A Salt Lake
2010: Kaleb Cowart, 3B, Class A Advanced Inland Empire
Alden Gonzalez is a reporter for MLB.com. Read his blog, Gonzo and "The Show", follow him on Twitter @Alden_Gonzalez and listen to his podcast. This story was not subject to the approval of Major League Baseball or its clubs.