The only result that counts with Shields is wins
Padres are 9-3 in games started by 7-0 Shields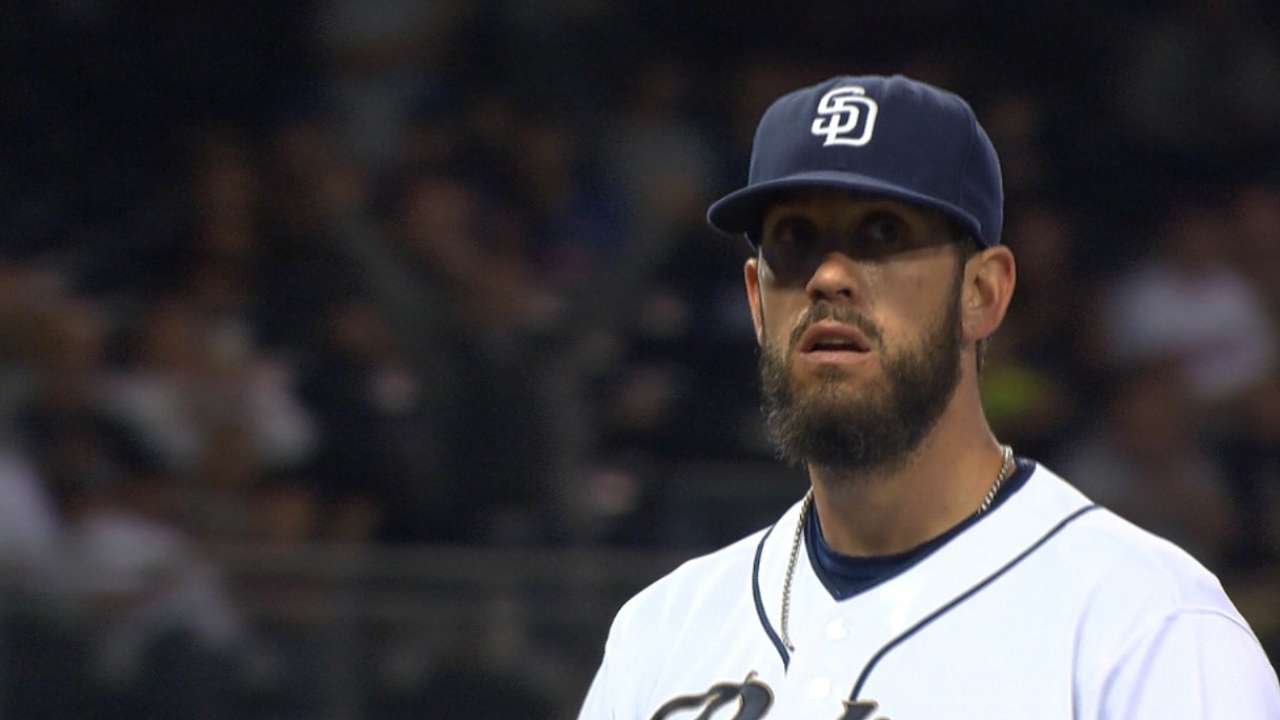 Bill Center, longtime sportswriter for U-T San Diego, is an employee of the Padres.
James Shields doesn't have the world's greatest earned run average. His 3.58 ERA is three-quarters of a run per game outside of the National League's top-10 ERAs.
But Shields leads the Major Leagues in one very important mark. He is the only pitcher with a 7-0 record. And the Padres are 9-3 in games started by Shields -- including winning each of his past seven starts.
Yes, San Diego is scoring runs for Shields in amounts the club hasn't matched for Andrew Cashner and Tyson Ross. But there is more to Shields' record than run support.
"He pitches to win," Padres manager Bud Black said recently of Shields.
In other words, Shields pitches to the situation. He doesn't give up leads.
And this isn't just a coincidence. Shields has a history in this area.
For example, Shields is 4-0 this season in the final game of a series. He is 49-24 -- a .671 winning percentage -- in the final game of a series in 104 such starts in his career.
Shields allowed two runs on six hits and two walks in the rubber match of the three-game series with the Mets on Wednesday. The Padres won and never trailed as Shields opened with five straight scoreless innings as San Diego was building a 7-0 lead. Shields is only the second pitcher in Padres history to open a season with a 7-0 record. Andy Hawkins was 11-0 to start the 1985 season.
From the scorebook
• By taking two of the three games from the Mets, the Padres improved to 26-14 (.650) against the Mets in San Diego since Petco Park opened in 2004. That is their best all-time winning percentage against any NL opponent at Petco Park. The Padres are 10-1-2 in 13 series against the Mets at Petco Park.
• Third baseman Will Middlebrooks has three three-RBI games this season. And all have come in his last eight games. Middlebrooks has hit safely in 15 of his last 20 games, going 23-for-75 (.307) with three doubles, four homers and 12 RBIs. He is 10-for-28 in his last eight games, with two doubles and two homers.
• Center fielder Will Venable is hitting .316 (25-for-79) in 23 games since May 18. His two-run single in the fourth inning Wednesday boosted his batting average with runners in scoring position to .474 (9-for-19) this season.
• Wednesday's win brought the Padres to 7-4 over their last 11 games as they prepare to embark on a seven-game road trip to Cincinnati and Atlanta. Forty-seven of San Diego's first 55 games have been against clubs with a winning record -- the highest total in the Majors by 10 games. The Reds will be only the fourth team with a losing record that the Padres have faced this season.