Rebuild looming, Crew likely eyeing arm in 1st round
Scouting director expected to follow top-talent-available approach of predecessor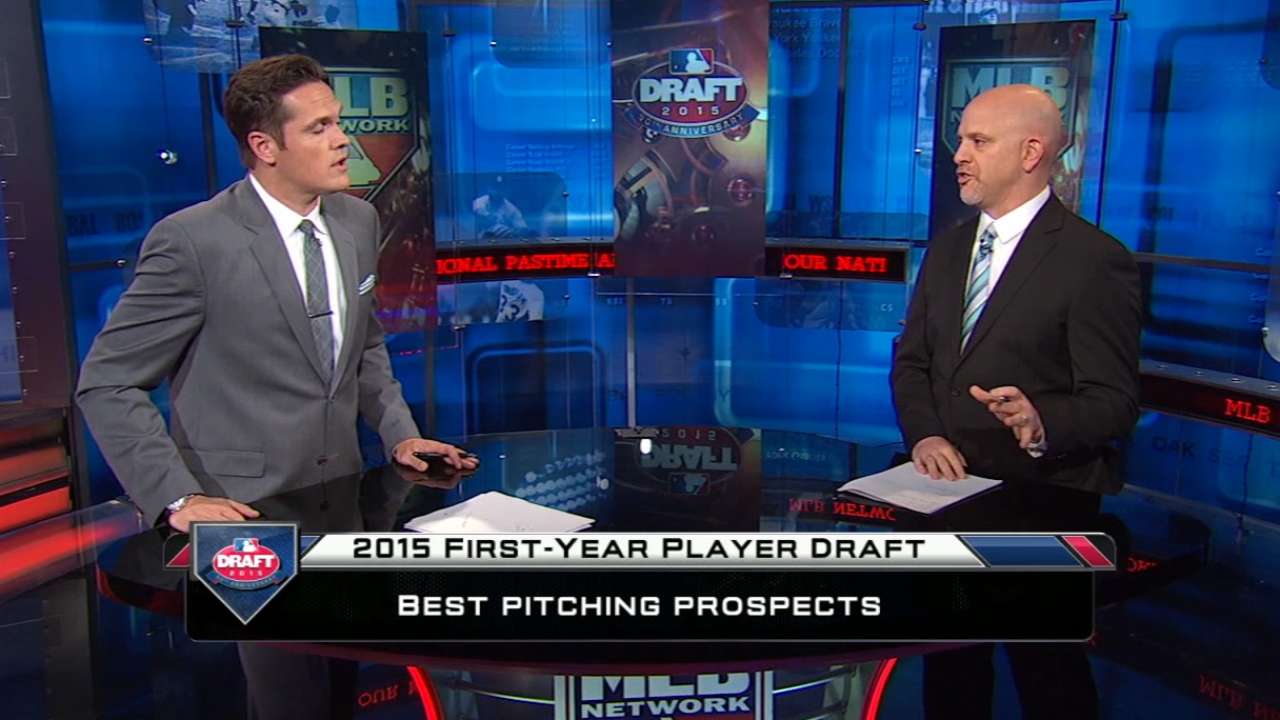 MILWAUKEE -- The 2015 Draft will take place from Monday through Wednesday, beginning with the Draft preview show on MLB.com and MLB Network on Monday at 5 p.m. CT. Live Draft coverage from MLB Network's Studio 42 begins at 6 p.m., with the top 75 picks being streamed on MLB.com and broadcast on MLB Network. MLB.com's exclusive coverage of Day 2 begins with a live Draft show at 11:30 a.m. on Tuesday, with exclusive coverage of Day 3 beginning at noon on Wednesday.
MLB.com's coverage includes Draft Central, the Top 200 Draft Prospects list and Draft Tracker, a live interactive application that includes a searchable database of over 1,700 Draft-eligible players. Every selection will be tweeted live from @MLBDraftTracker, and you can also keep up to date by following @MLBDraft. And get into the Draft conversation by tagging your tweets with #mlbdraft.
Here's how the Draft is shaping up for the Brewers, whose first selection is the 15th overall pick.
In about 50 words
With the big league club struggling for victories and the potential for a "reset" or rebuilding period looming, new amateur scouting director Ray Montgomery will get his first opportunity to add to the organization's talent.
The scoop
Montgomery, a former Brewers area scout crosschecker and assistant scouting director from 2002-10, returned to the organization in December after the sudden death three months earlier of Milwaukee scouting director Bruce Seid.
It's a familiar role for the 45-year-old Montgomery, who spent the past four seasons as amateur scouting director for the D-backs and counted right-hander Archie Bradley (No. 7 overall pick in 2011) among his notable selections.
First-round buzz
As expected for a team picking in the middle of the first round, the Brewers have been tied to a slew of players in mock drafts, mostly pitchers. The most notable by far is 2014 top pick Brady Aiken in MLB.com's latest projection. The left-hander did not sign with the Astros last year because of club concerns about his health, and then he underwent Tommy John surgery in late March. Aiken would be a risky selection for any club, but particularly a team like the Brewers, whose relative payroll constraints make hitting on first-round talent a priority.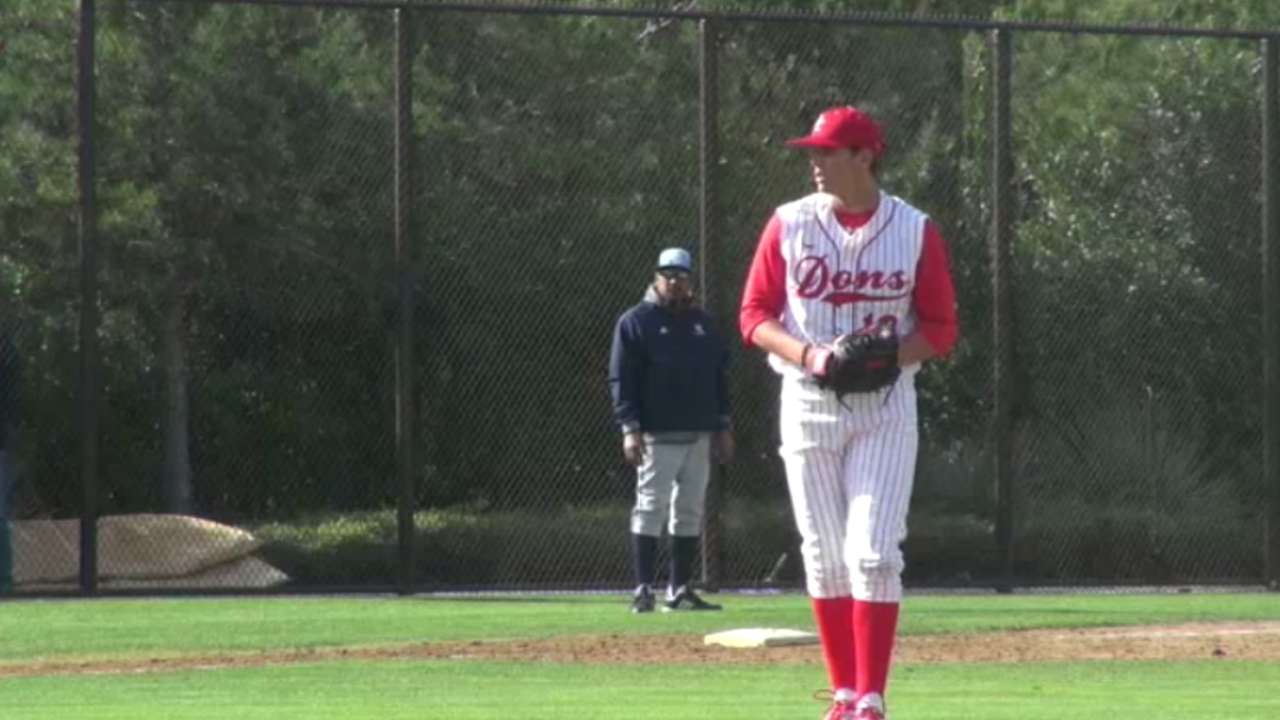 Among the many others linked to Milwaukee are Stroudsburg (Pa.) High School right-hander Mike Nikorak in an SI.com mock draft, Vanderbilt right-hander Walker Buehler at FanGraphs.com and Missouri State right-hander Jon Harris at ESPN.com.
Money matters
Under the Collective Bargaining Agreement, each team has an allotted bonus pool equal to the sum of the values of that club's selections in the first 10 rounds of the Draft. The more picks a team has, and the earlier it picks, the larger the pool. The signing bonuses for a team's selections in the first 10 rounds, plus any bonus greater than $100,000 for a player taken after the 10th round, will apply toward the bonus-pool total.
Any team going up to 5 percent over its allotted pool will be taxed at a 75 percent rate on the overage. A team that overspends by 5-10 percent gets a 75 percent tax plus the loss of a first-round pick. A team that goes 10-15 percent over its pool amount will be hit with a 100 percent penalty on the overage and the loss of a first- and second-round pick. Any overage of 15 percent or more gets a 100 percent tax plus the loss of first-round picks in the next two Drafts.
This year, the Brewers have $7,743,800 allotted for their first 10 picks, the seventh-highest sum of baseball's 30 teams, including $2,692,700 assigned for the 15th overall selection.
Shopping list
Montgomery, like Seid before him, is a disciple of Jack Zduriencik, the former Brewers scouting director who is now GM of the Mariners. Seid was in charge Milwaukee's No. 1 Draft picks from Prince Fielder to Ryan Braun, and he never drafted for need. Instead, Seid preached a "best player available" philosophy, and Brewers officials figured out what to do with that talent once it was in the system. Montgomery is likely to follow a similar plan.
Trend watch
For years, the Brewers focused on position players with their top picks. Then the trend shifted to pitching. In recent seasons, with competitive-balance picks offering more selections at the top of Drafts to teams like Milwaukee, it's been an even mix. Last season, the Brewers selected pitcher Kodi Medeiros and shortstop Jake Gatewood with their first two picks. Two years earlier, it was a pair of position players. A year before that, it was two pitchers.
RECENT DRAFT HISTORY
Rising fast
A running back in high school, Tyrone Taylor has moved quickly since committing to baseball when the Brewers made him a second-round pick in 2012. Last year, as a 20-year-old in the Florida State League, he batted .278/.331/.396 and earned a spot in the Arizona Fall League. This year, Taylor is holding his own at Double-A Biloxi. He's Milwaukee's No. 2 prospect, according to MLBPipeline.
Cinderella story
The last text Brewers GM Doug Melvin received from Seid was, naturally, about a player. Seid was in Nashville, Tenn., watching a Triple-A player under consideration for a September callup. "Jason Rogers crushing the ball," Seid's message read. Rogers got his callup the same day Melvin was stunned to learn that Seid had passed away suddenly at 53. Later that night, Rogers doubled in his first Major League plate appearance, and this year he has spent most of the season playing off Milwaukee's bench.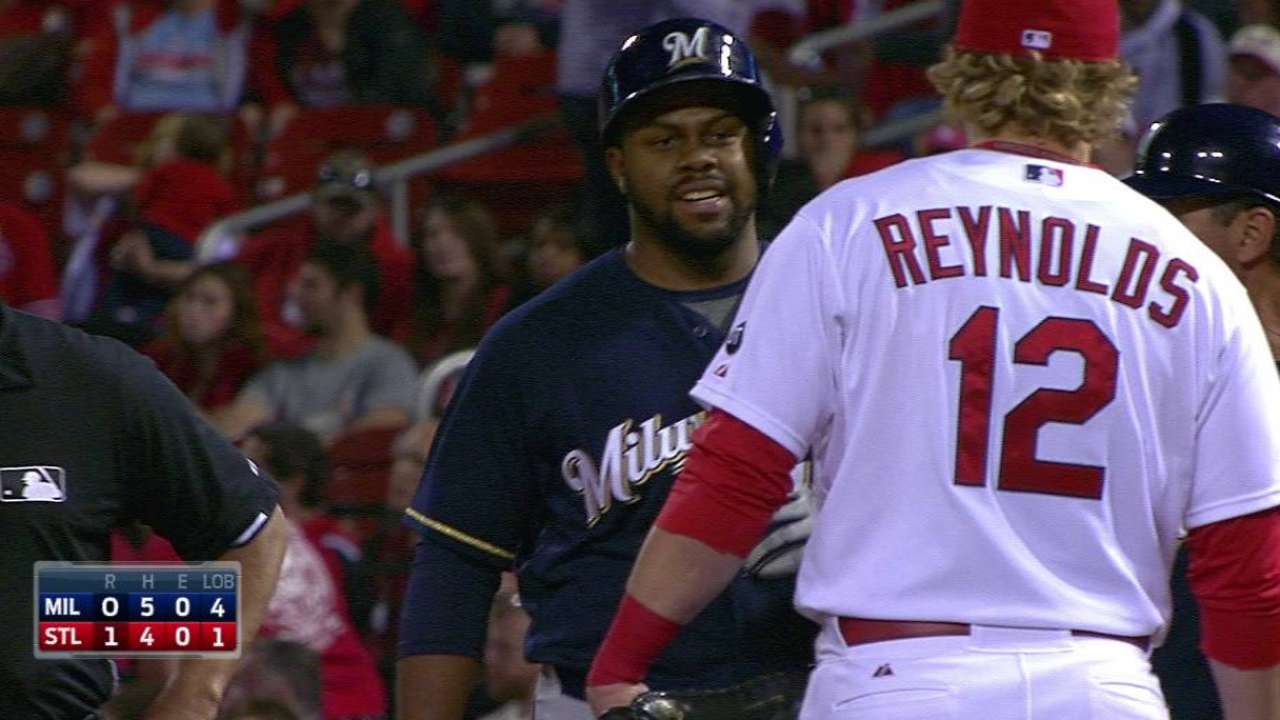 In The Show
The Brewers dipped all the way to Double-A Biloxi recently to promote right-hander Tyler Wagner to fill an opening in the big league rotation. Wagner, 24 and a fourth-round pick in 2012, had made only nine starts above the Class A level, but he got the nod, manager Craig Counsell said, because of his superior performance over the past two seasons.
"I wasn't expecting it," Wagner said. "I believed I was ready for the moment, but you never expect something like that.
The Brewers' recent top picks
2014: LHP Medeiros and SS Gatewood, Class A Wisconsin
2013: No first-round pick
2012: C Clint Coulter and OF Victor Roache, Class A Advanced Brevard County
2011: RHP Taylor Jungmann and LHP Jed Bradley, Triple-A Colorado Springs
2010: RHP Dylan Covey, Did not sign
Adam McCalvy is a reporter for MLB.com. Follow him on Twitter @AdamMcCalvy, like him on Facebook and listen to his podcast. This story was not subject to the approval of Major League Baseball or its clubs.