MLB.com Columnist
Jesse Sanchez
E. Martinez is new top international prospect
Cuban-born outfielder has drawn favorable comparisons to ex-Braves star A. Jones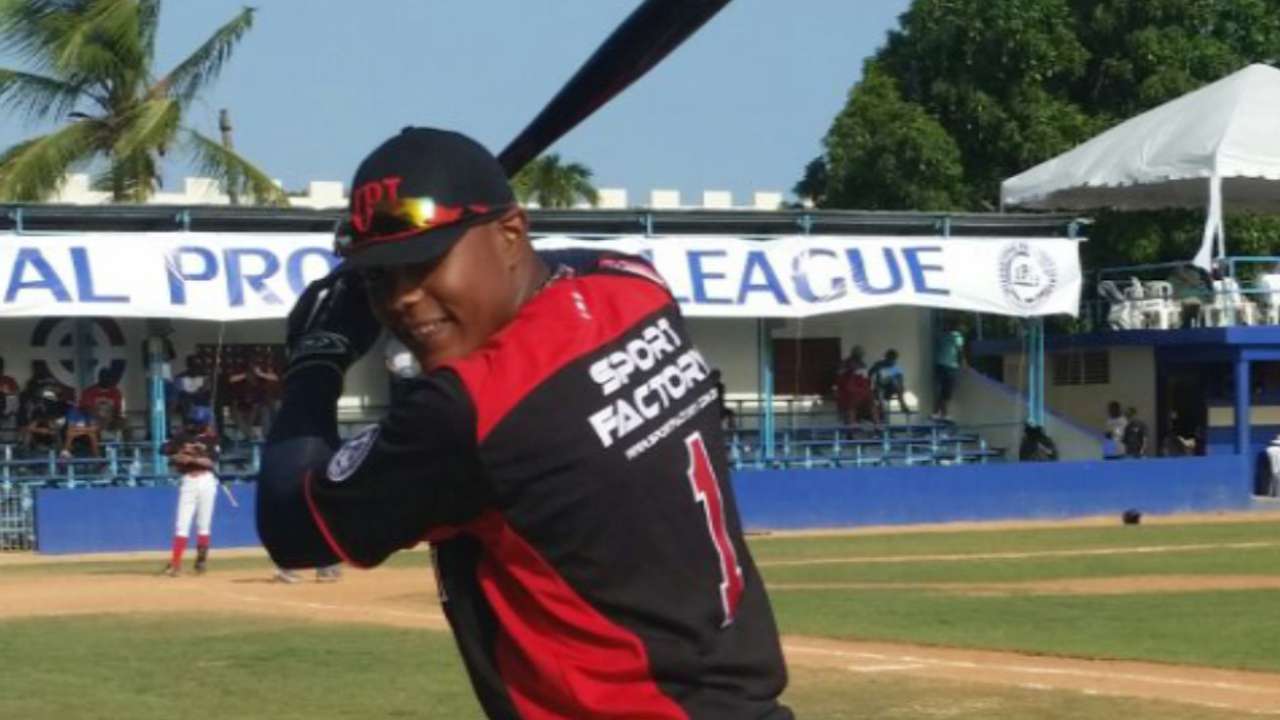 The latest top prospect from Cuba has two first names and one lofty scouting comparison.
It's still up in the air if outfielder Eddy Julio Martinez is the second coming of former All-Star outfielder Andruw Jones, as some scouts have said. What's certain is that Martinez has been the center of attention in the international scouting community since he became eligible last month.
"I'm feeling really good right now, and I'm in great shape," Martinez said in Spanish from the Dominican Republic, where he is training. "I'm working hard to get to my goal to play in the Major Leagues. That's what I have always wanted to do."
The 20-year-old center fielder, who enters MLB.com's Top 30 International Prospect Rankings in the top spot, left Cuba in November and established residency in Haiti in February. Martinez has been training in the Dominican Republic for the past few months, and he was declared a free agent by Major League Baseball in May.
It's unclear if the 6-foot-2, 195-pound outfielder, who played two seasons for Las Tunas in Cuba's Serie Nacional, will sign during the current international signing period or wait until the next period that begins on July 2. The Cubs, Yankees, Angels, Blue Jays, Nationals, Rockies, Tigers, Dodgers, Giants and White Sox are among the teams that have expressed interest in Martinez, according to industry sources.
Martinez, who has worked out privately for teams during the past few weeks and played games in the International Prospect League, began fielding offers this week. When he signs matters.
The Angels, D-backs, Rays, Red Sox and Yankees are in the maximum penalty for the current 2014-15 international signing period and won't be able to sign any pool-eligible players for more than $300,000 during the next two signing periods starting July 2. Martinez is expected to command much more than a $300,000 bonus.
Scouts like Martinez's solid and compact frame along with his athleticism. He has also impressed evaluators with his quick and compact power stroke in the batter's box. Martinez has shown the potential during recent showcases and games to hit home runs to all fields and work the counts.
Additionally, Martinez has been described as speedy out of the box. He has also shown basestealing potential and instincts -- a valued quality for players making the transition from Cuba's top league to professional baseball in the United States. Martinez is aggressive -- some describe him as "hard-nosed" -- and is not afraid to take an extra base.
On defense, Martinez has shown good instincts and the ability to cover the gaps in the outfield. Those skills, combined with a playable and accurate arm, make scouts believe he will stay in center field and could be in the big leagues after just a couple of seasons in the Minor Leagues.
It's impossible to tell if Martinez will be the next Andruw Jones, who made his big league debut at age 19, was a World Series hero as a teenager, played 17 years in the Major Leagues and two more years in Japan. What we do know is that scouts also like that Martinez has experience playing for Cuba's junior national teams in Mexico and Venezuela.
How fast Martinez's experience in Cuba and his skill set transfers to professional baseball in the United States is another question.
"People say I remind them on Andruw Jones and I'm flattered. I admire him and what he did," Martinez said. "But Mike Trout is my favorite player. He's good on offense and defense. He always has his uniform dirty, and he's really aggressive in all parts of his game. I like to play that style."
Jesse Sanchez is a national reporter for MLB.com. Follow him on Twitter @JesseSanchezMLB. This story was not subject to the approval of Major League Baseball or its clubs.