Bradley lands on DL with shoulder tendinitis
Hale says rookie needs 'break physically and mentally'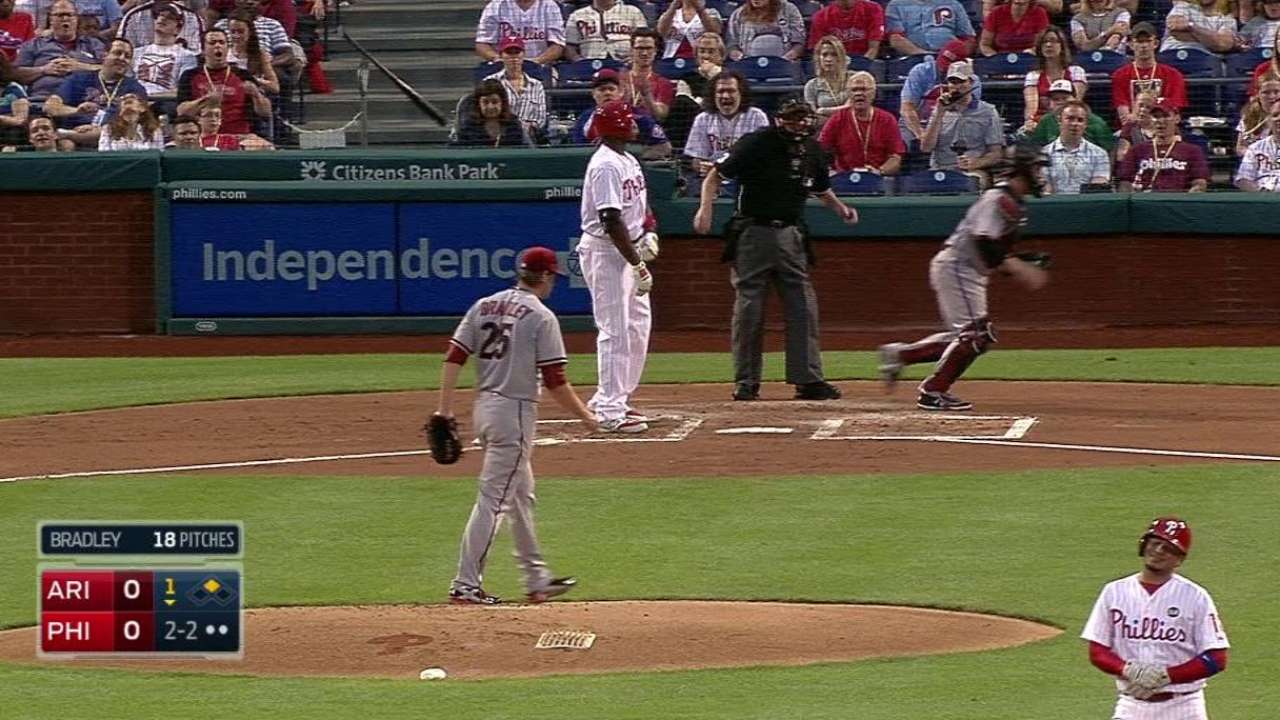 PHOENIX -- Since his return from the disabled list, D-backs starter Archie Bradley has been far from the dominant right-hander he was early in the season.
In April, Bradley was 1-0 with a 1.80 ERA in four starts. He went on the DL April 29 after he was hit in the face by a line drive off the bat of Colorado's Carlos Gonzalez. Since returning to the rotation May 16, he has gone 0-3 with a 10.91 ERA in four outings.
Bradley's now headed back to the 15-day DL, this time with right shoulder tendinitis, and the D-backs will look to get the rookie back on track during a few weeks off.
"We need to get him back to where he was before the injury to the face, so this will give us an opportunity to get him a little bit of a break physically and mentally, and then build him back up and have a rehab outing somewhere where he can compete," said D-backs manager Chip Hale.
In Monday's start, Bradley's struggles continued when he allowed five runs on eight hits in five innings. He has lost three of his last four starts.
Hale said Bradley's shoulder was sore on Tuesday, but all of the tests performed looked fine.
"We just felt like at this point after the tough outing, getting hit in the face and then some soreness in his shoulder, we wanted to DL him and get him a break," Hale said. "He just has to get it back together."
There are no guarantees Bradley will get his rotation spot back when he is healthy enough to return, Hale said, and he'll have to pitch well on his eventual rehab assignment. Robbie Ray was recalled from Triple-A Reno to start on Thursday and fill the void in the rotation.
Bradley has had trouble locating his off-speed pitches since his return. He has said the mental aspect of being hit in the face has not been an issue.
The D-backs right-hander said he hasn't felt the soreness in his shoulder while pitching, but rather the day after. Bradley will take a few days off before beginning his comeback process.
"It's frustrating because I want to be out there pitching, I want to work through it, I want to be a part of this team and help them win," Bradley said. "But I don't feel 100 percent and I'm not going to go out there if I'm not 100 percent and they don't want me out there if I'm not 100 percent either."
Jake Rill is a reporter for MLB.com. This story was not subject to the approval of Major League Baseball or its clubs.