Schwarber, Villanueva among top performers in Minors Wednesday
Cubs Nos. 2 and 21 prospects combine to go 5-for-9 with seven RBIs for Tennesse and Iowa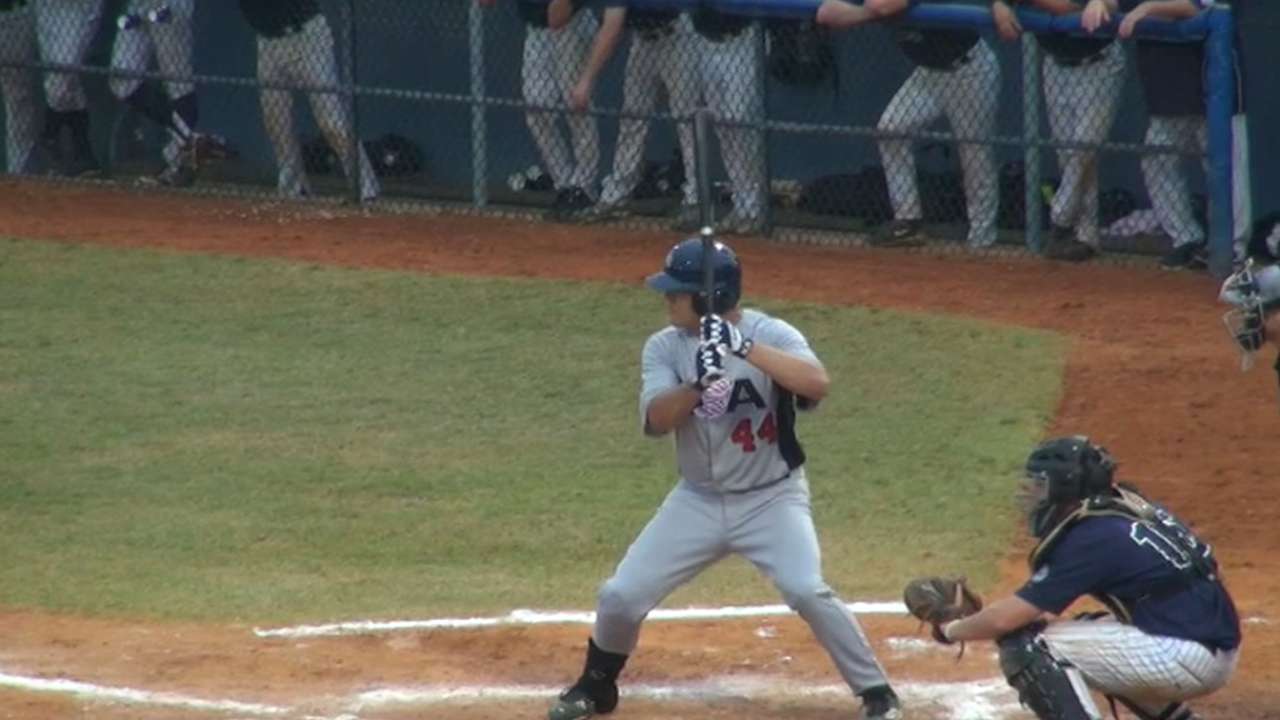 The Cubs are not exactly hurting for power at the Major League level, but the team has plenty more in the Minors.
Chicago's No. 2 prospect (No. 43 overall) Kyle Schwarber helped Double-A Tennessee to a 6-3 win over Chattanooga, going 3-for-4 with three RBIs. The Indiana product now has multiple hits in six of his past nine games and his season home run (12) and RBI (35) totals are good for fourth and 22nd in the Minors, respectively.
No. 21 prospect Christian Villanueva continues to destroy baseballs for Triple-A Iowa. The third baseman smacked a two-run homer on Wednesday in a 2-for-5 day. He finished the game with four RBIs and now has at least one homer in three straight games and has knocked in at least one in five straight contests.
The 23-year-old Guadalajaran was traded from the Rangers to the Cubs in July 2012 and has racked up 69 homers and 345 RBIs in his professional career.
More standout performances from Top 100 prospects on Wednesday
• Astros No. 2 prospect (No. 27 overall) Mark Appel was dealing for Double-A Corpus Christi, delivering five solid innings in the Hooks' 3-2 win over Northwest Arkansas. The former No. 1 overall Draft pick gave up two hits and one unearned run, striking out three on the night. Appel's performance came on the heels of three straight starts in which he gave up 15 earned runs, but he cut his ERA from 5.85 to 5.20 on Wednesday.
• D-backs No. 2 prospect (No. 35 overall) Braden Shipley won his first start in eight tries for Double-A Mobile. The right-hander had his best day of the year, giving up three runs in six shutout innings. He cut his ERA from 5.21 to 4.64 and stands at 3-4.
• Padres No. 1 prospect (No. 42 overall) Hunter Renfroe helped Double-A San Antonio to a 10-6 victory over Arkansas with a two-run home run. The right fielder scored twice for the Missions and has three homers and 18 RBIs on the season.
Other notable performances from around the Minor Leagues
• Angels No. 21 prospect Eric Stamets hit his first home run of the season for Double-A Arkansas. His two-run shot was part of a 2-for-4 day that included three RBIs. The shortstop is hitting .298/.300/.439 with eight RBIs this year.
• Athletics No. 4 prospect Renato Nunez and No. 9 prospect Chad Pinder both homered for Double-A Midland. The pair -- who hit back-to-back in the RockHounds' lineup -- combined to go 3-for-9 with four RBIs as Midland took down Tulsa, 5-3.
• Athletics No. 8 prospect Yairo Munoz is still slugging for Class A Beloit. The shortstop went 3-for-5 with a three-run home run, his fourth dinger in the past 11 games. On the year, he's got six homers and 29 RBIs.
• Athletics No. 11 prospect Chris Bassitt tied a career-high with 11 strikeouts for Triple-A Nashville. He gave up five hits and one unearned run while walking none in six innings. The 6-foot-5 right-hander didn't pick up a win, but he cut his ERA from 3.97 to 3.38.
• Blue Jays No. 19 prospect Matt Boyd has the third-best ERA in the Minor Leagues after his start Wednesday. The Double-A New Hampshire lefty tossed eight shutout innings -- giving up three hits while striking out six -- and picked up his fifth win of the year while cutting his ERA down to 1.08 ERA. Only Corpus Christi's Chris Devenski (0.59) and Montgomery's Blake Snell (0.72) have lower earned run averages this season, among qualifying pitchers.
• Brewers No. 18 prospect Michael Reed swatted a two-run homer for Double-A Biloxi. The outfielder went 2-for-5 on Wednesday and has six hits, two dingers and six RBIs in the past four games. On the year, he's hitting .331/.414/.530 with five home runs and 30 RBIs.
• Indians No. 20 prospect Ryan Merritt had his best night of the year for Double-A Akron. The 23-year-old went 7 2/3 shutout innings, striking out six while giving up two hits and a walk. He's 3-4 with a 3.53 ERA this season.
• Mets No. 10 prospect Gavin Cecchini notched his sixth straight multi-hit game for Double-A Binghamton. The shortstop went 2-for-4 with an RBI in Wednesday's 6-4 loss to Trenton and is 15-for-24 (.625) with two doubles since May 28. On the year, Cecchini is hitting .335/.390/.491.
• Mets No. 12 prospect Matt Reynolds hit his third home run of the year and first since April 24. The Triple-A Las Vegas shortstop went 1-for-4 with a three-run HR on Wednesday. Reynolds is hitting .271/.326/.406 with 32 RBIs in 2015.
• Nationals No. 28 prospect Matt Purke picked up his first win since undergoing Tommy John surgery last year. The Class A Hagerstown hurler gave up four hits in five shutout innings. The start was his second of the season and he's 1-1 with a 2.00 ERA this year.
• Orioles No. 3 prospect Christian Walker had a great game for Triple-A Norfolk, going 3-for-4 with two doubles and four RBIs in an 11-1 win over Gwinnett. The big day at the playe improved his season RBI total from 12 to 16 and he sports a .250/.296/.354 line.
• Pirates No. 14 prospect Willy Garcia homered twice for Double-A Altoona, leading off the bottom of the second and sixth innings with solo blasts. The center fielder went 3-for-4, scored three runs and extended his hitting streak to eight games. He's hitting .303/.347/.406 with three homers and 19 RBIs this year.
• Reds No. 28 prospect Tyler Mahle continues to dominate for Class A Dayton. The righty turned in perhaps his best performance of the season, giving up two hits and striking out eight batters in seven scoreless innings. Over the past five starts (33 1/3 total innings), he's 3-0 and has given up three runs while striking out 35 batters.
• Yankees No. 14 prospect Bryan Mitchell tossed six scoreless innings for Triple-A Scranton/Wilkes-Barre. The righty gave up two hits and seven walks, but struck out three while picking up his second straight win. He stands at 4-4 with a 2.86 ERA on the season.
Alex M. Smith is a reporter for MLB.com. This story was not subject to the approval of Major League Baseball or its clubs.