Yankees host 'True Blue' softball game
NYPD charity event draws 17,000 fans, with proceeds going to families of slain officers, police foundations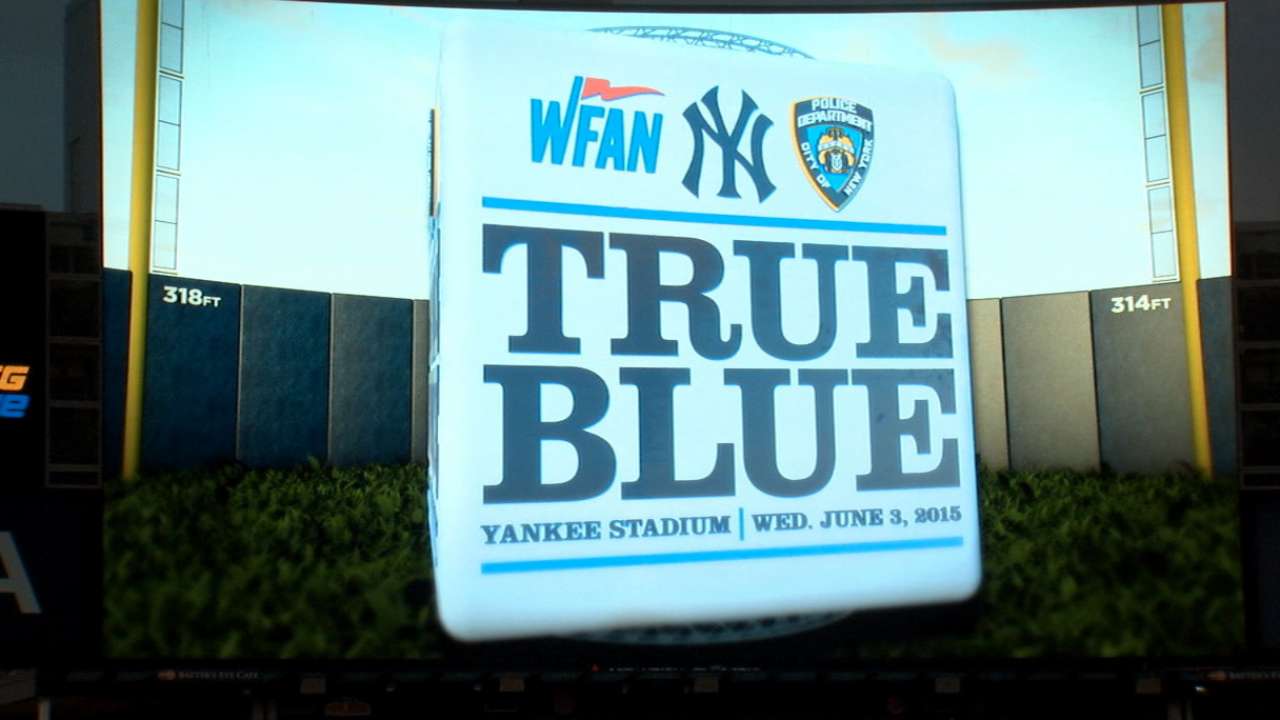 New Jersey Governor Chris Christie stood in Yankee Stadium's crowded Delta 360 Skybox, talking politics and possible election plans with each passerby who tugged at his sleeve. As he did, he fiddled with a well-worn baseball glove tucked against his left hip.
A few feet away, former New York City mayor Rudy Giuliani shook hands with a throng of New York police officers who had gathered around him. On the other side of the room, former Yankees manager Joe Torre posed for photos in front of his World Series trophies.
They came to Yankee Stadium to make a statement. So did 10-year-old Savannah Solis, a Texan with a goal and a microphone.
"I am honored to speak for my generation," Savannah said. "My goal is to tell as many police officers as I can that I love them."
That's why all of them were there. More than two dozen New York celebrities and former athletes joined 17,000 fans Wednesday night in honor of Brian Moore, Wenjian Liu and Rafael Ramos, NYPD officers killed in service of the city.
The Yankees and WFAN radio personalities Boomer Esiason and Craig Carton organized the "True Blue" benefit softball game, with proceeds going to the fallen officers' families and a variety of police-oriented foundations. They viewed it as a way to combat a growing tension between police and citizens.
"It's not just about the police officers, but their families at home who don't know if their dad or their husband or brother or sister-in-law is coming home at night," Carton said. "The fact that 17,000 people bought tickets shows what we believe, that communities support police."
So with the Yankees out of town, baseball gave way to softball in the Bronx. Team Boomer and Carton, the celebrity team, played four three-inning games against the NYPD's 1st, 84th and 105th precincts and the Detectives' Endowment Association.
As they took the field, each player wore three black patches over their heart -- BM. WL. RR. -- in honor of the slain cops.
Giuliani tossed a one-run second inning -- working his way around a defensive miscue by Christie and Buffalo Bills coach Rex Ryan -- and coached at third base. Yankees Hall of Famer Bernie Williams made a jogging catch and drew cheers, then sent himself tumbling into a group of fans in the stands. An NYPD officer did the same, taking a sure double away from Christie.
Throughout the night, which saw NYPD teams take three of the four games, every officer took a turn at the plate. Most at-bats ended in groundouts. Carton wasn't deterred.
"We want to thank everybody for coming out to show the world," said Carton, who then paused before adding, "that we support the NYPD."
Alden Woods is an associate reporter for MLB.com. This story was not subject to the approval of Major League Baseball or its clubs.