All he does is win: Shields moves to 7-0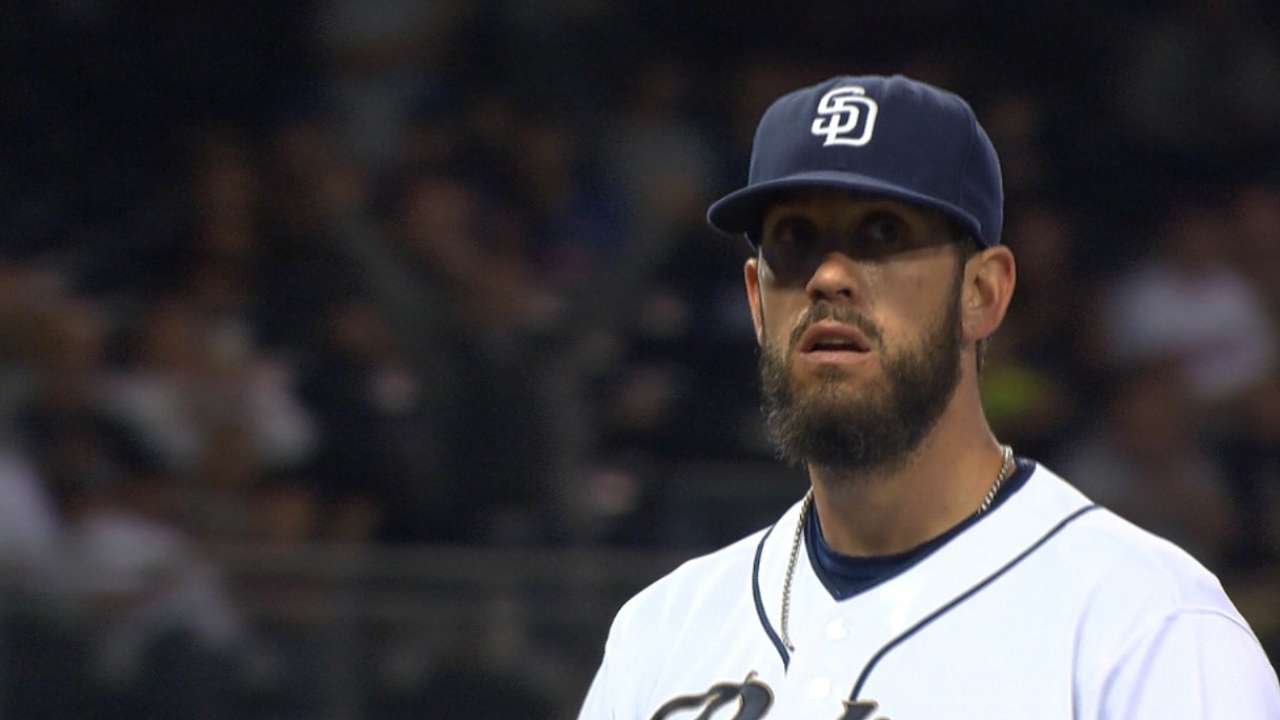 SAN DIEGO -- The Padres have a nifty in-game video where James Shields' head is placed on James Bonds' body.
After a thrilling movie chase scene which includes trains blowing up and other mayhem, Shields stares into the camera and says: "Shields, James Shields."
Well this 007 wanna-be has it backward -- he's 7-0.
Shields remained undefeated as a Padre by defeating the Mets, 7-3, on Wednesday night.
With wins in five of his last seven starts, Shields is living up to his billing as the Padres' ace. He worked seven innings, charged with two runs on six hits. He struck out four and walked two.
"He might not have had the crispness to his fastball, but there was life in the hitting area," Padres manager Bud Black said. "It might not have shown up in velocity, but there were some mishits -- some lefties rolled over on some fastballs and that tell me there is movement in the hitting area. There were not a lot of hard-hit balls."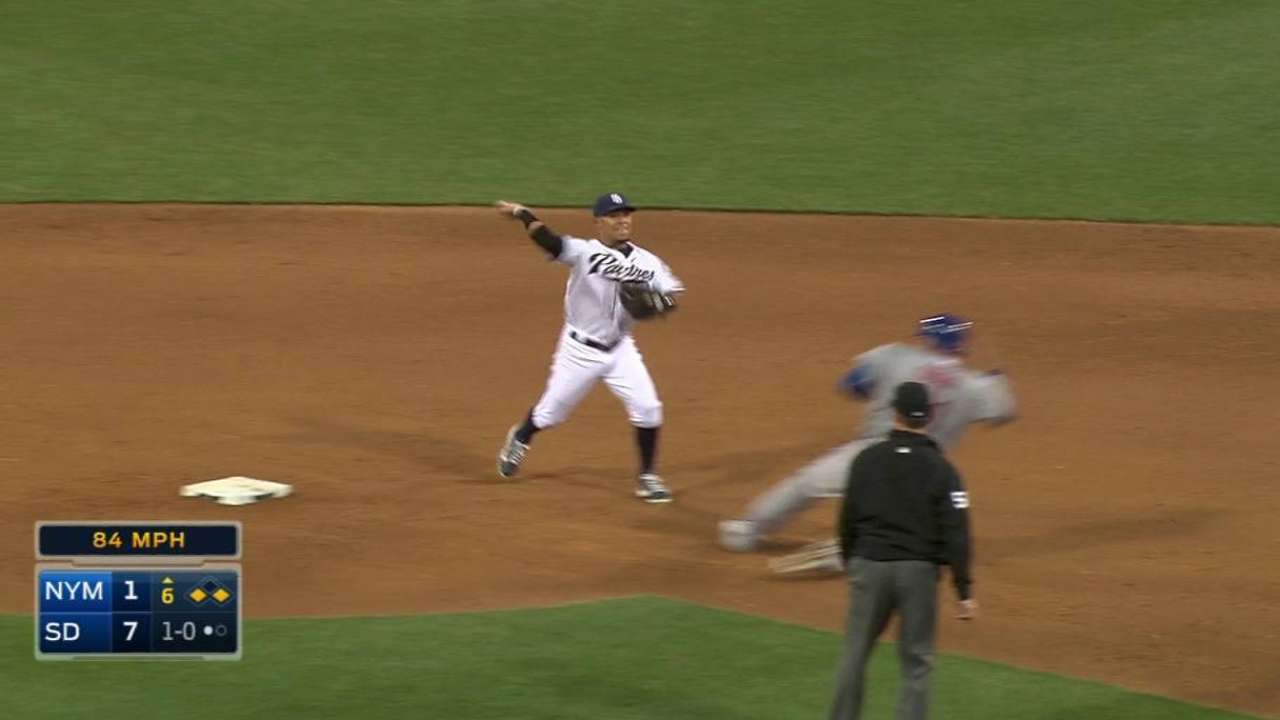 The Padres didn't swing and miss in signing Shields to a $75 million contract last offseason. He's the second Padre to start a year 7-0, joining Andy Hawkins, who began 1985 by going a franchise-best 11-0.
The Mets were overmatched, with Shields using any pitch in any count.
"That is a team over there that likes to hack a lot, it's a good hitting team," said Shields, who has pitched at least five innings in 50 consecutive starts, the longest active streak in baseball. "They have been hitting good all season long, and they were swinging early and often, and I was just making my pitches and getting more ground balls tonight."
The Padres turned two of those worm-killers into double plays. They got another one when right fielder Matt Kemp nailed Darrell Ceciliani trying to advance to third in the second inning.
"That play was huge in that moment of the game," Shields said. "Kemp has had a lot of assists in his career, and that was a great play by him."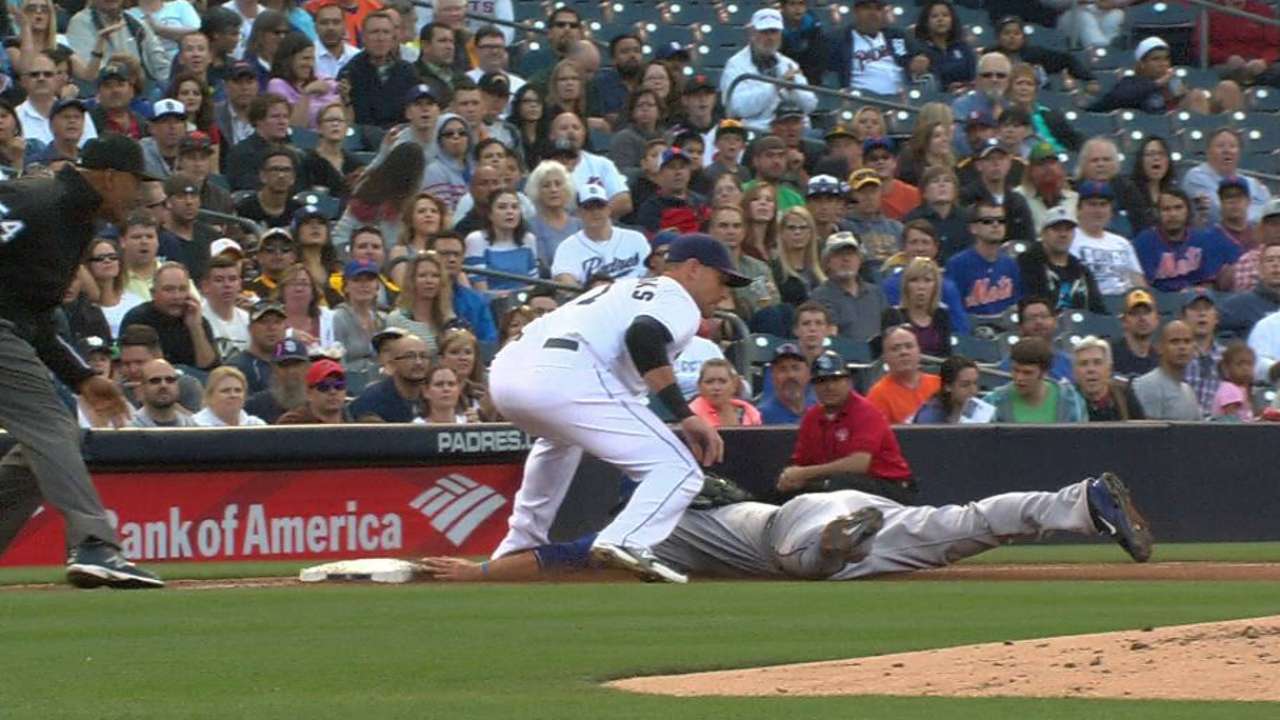 Black said Shields' greatness is equal parts pitching and moxie.
"Good hook, good change, good little cutter," Black said. "He kept the ball down and threw a strike when he needed to and worked his way through the lineup."
The bravado?
"That is always there,'' Black said. "That's never going to leave him. He is really a competitor. That was something I sensed when I met him, and it was substantiated in spring training. And even more so during the season."
It's a season that had taken a turn for the better. The Padres have won seven of their past 11 games and Shields -- James Shields -- is a big reason for it.
Jay Paris is a contributor to MLB.com. This story was not subject to the approval of Major League Baseball or its clubs.