Gee returns, but Mets are clearly far from healthy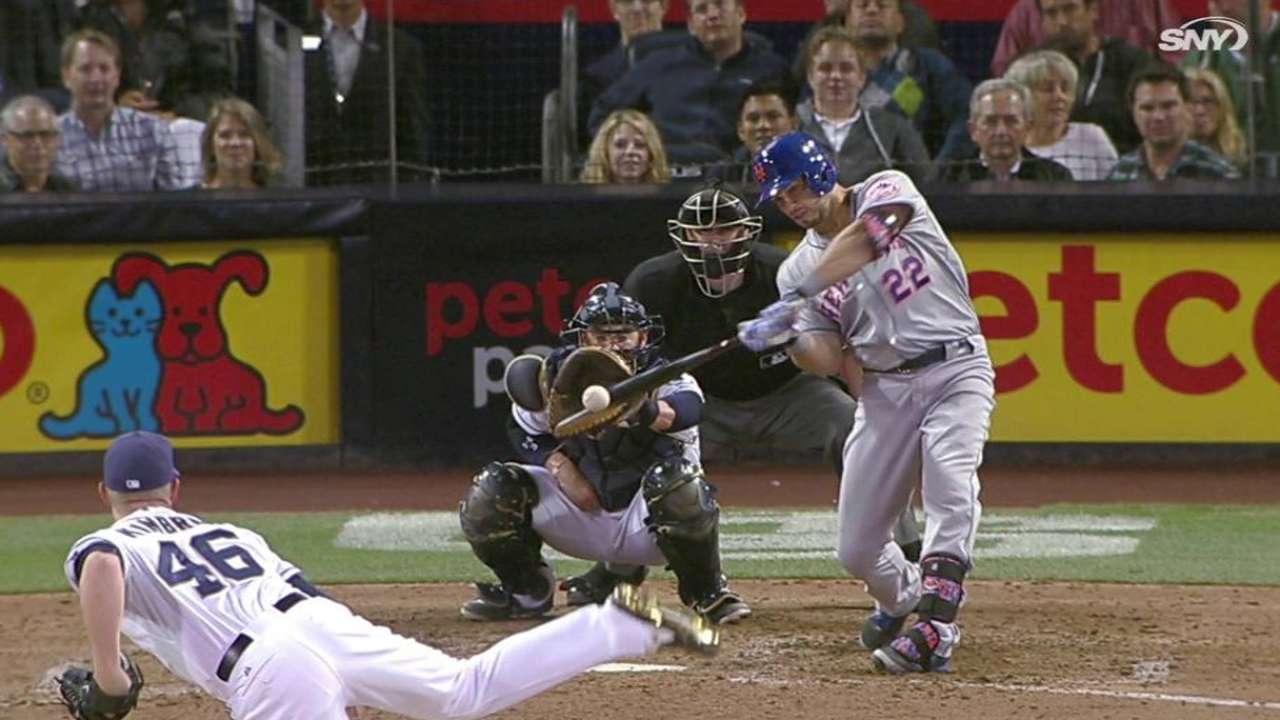 SAN DIEGO -- Thirteen Mets have landed on the disabled list this season, for reasons ranging from broken fingers to Tommy John surgery. Until Wednesday, none had returned to active duty.
Dillon Gee became the first, giving up seven runs in a 7-3 loss to the Padres that underscored the extent to which the Mets miss his peers. Ruben Tejada committed two errors at third base, for example, illustrating how much the Mets need a healthy David Wright -- or at the least, a healthy Dilson Herrera -- to make their infield less of a defensive liability. Padres starter James Shields retired 10 straight Mets from the second through fifth innings, prompting daydreams of absent sluggers Wright and Travis d'Arnaud.
"We certainly hope that that's the case," Mets manager Terry Collins said before the game, when asked about his missing stars potentially returning. "We've got some key people that are hurt and we need to start getting them back. As we get into June, your key guys have got to be in there."
Every team has injuries, which is why Collins stressed that his club's recent batch of boo-boos is no excuse for losing 14 games in 23 tries. But few teams have as much uncertainty surrounding their injured players as the Mets.
Wright is an extreme example; no one knows when he might return, only that it will be a while. Like Wright, d'Arnaud, Bobby Parnell and Vic Black have all suffered setbacks in their rehab programs, forcing the Mets to delay plans for a full and healthy roster. In some ways, the Mets will never truly possess the roster they drew up this winter -- thank the Tommy John surgeries of Zack Wheeler and Josh Edgin for that.
Their one solace in early June is that they can envision a time, not too far in the future, when they will be mostly healthy. That started Wednesday with Gee, No. 1 of 13, even if his return from the DL did not go as planned.
"I didn't feel terrible tonight, but the end result -- it wasn't great," said Gee, who allowed four earned runs and three unearned ones. "They squared up a lot of balls."
Gee is far from the most significant piece the Mets need to return. He may not even play much of a role for the team going forward. After Wednesday's game, Collins indicated that the Mets could skip Gee's next start to avoid giving Matt Harvey too much rest between outings.
More critical will be the returns of d'Arnaud and Herrera, who are both scheduled to begin rehab assignments on Thursday. Most critical will be the return of Wright, who doled out farewells and handshakes in the postgame clubhouse after Wednesday's loss. The Mets aren't likely to see their captain, who drove down from his physical therapy center near Los Angeles this week to visit teammates, until they fly to Los Angeles for a second West Coast swing in early July.
In the interim, the Mets need production from everyone else -- even those on the sidelines right now.
"We're hoping that dam does burst," Collins said, "and guys start saying, 'Hey look, we're ready to go.'"
Anthony DiComo is a reporter for MLB.com. Follow him on Twitter @AnthonyDiComo and Facebook, and listen to his podcast. This story was not subject to the approval of Major League Baseball or its clubs.