Lester laments not stopping Marlins' momentum
MIAMI -- One bad inning and a couple of bad pitches did Jon Lester in on Wednesday night as the Cubs fell to Miami, 7-3, in the series finale at Marlins Park.
Lester (4-4, 3.86 ERA) was doomed by a four-run second inning and back-to-back solo home runs in the fifth. In all, he allowed six earned runs on nine hits in five innings.
"It still comes down to executing pitches in the bottom of the zone, and for the most part, I didn't do that tonight," Lester said.
The four-run second was sparked by three straight one-out hits -- the third being a J.T. Realmuto RBI double on a full-count pitch that put Miami up 1-0.
"They had some good at-bats," Lester said. "They had some long at-bats -- fouled some pitches off and took some good pitches. I think it was the 1-2 count to [Realmuto] where the ball could have gone either way. But he works a 3-2 count and does a good job of hitting a double there and scoring a run."
Adeiny Hechavarria followed with an RBI infield single before Marlins starter Dan Haren popped up a bunt for the second out. Dee Gordon then grounded to short and was initially ruled out on Starlin Castro's throw to first, but the play was overturned on review after Marlins manager Dan Jennings challenged.
That play brought home a run, and after Lester returned to the mound following the review, Martin Prado added an RBI single of his own. In all, the lefty surrendered six hits in the inning.
"They did a good job of getting the momentum on their side in that inning and scrapping some hits," Lester said. "I didn't do a good job of making that momentum go away back to our side."
Lester got through the next two innings unscathed. But in the fifth, Giancarlo Stanton and Jeff Baker hit back-to-back home runs on what Lester called "two mistakes."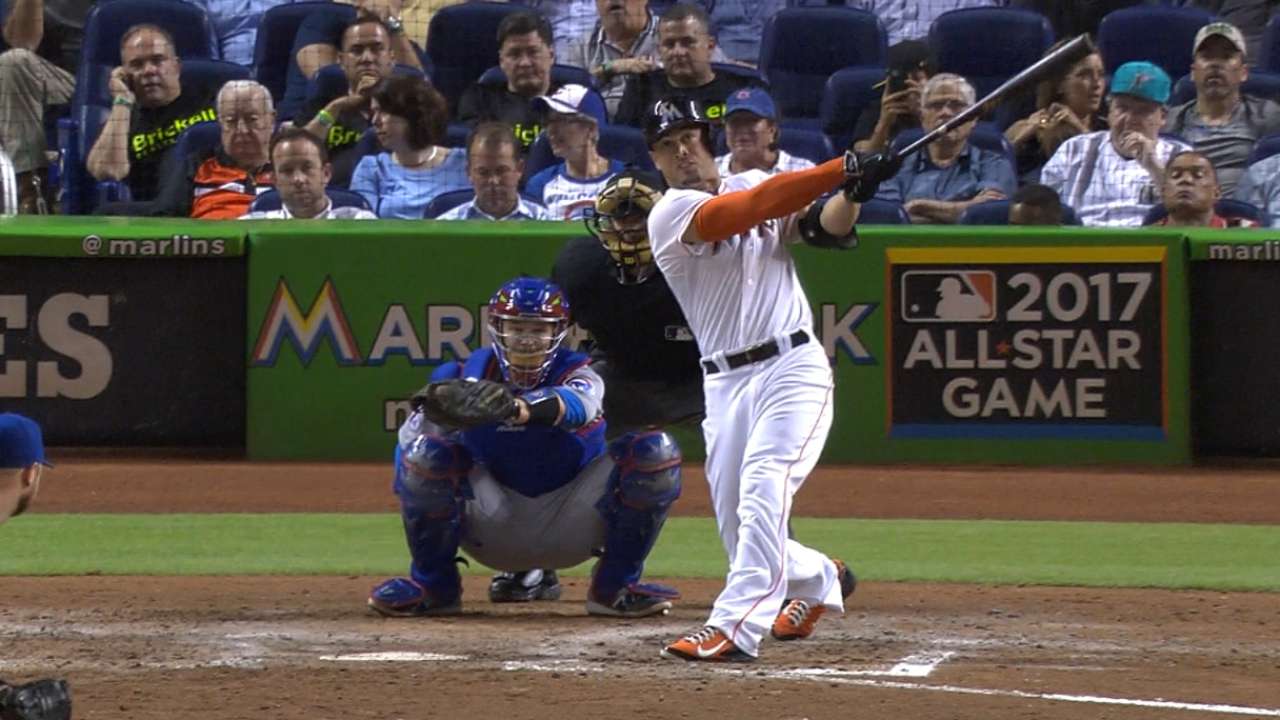 "With Stanton, I thought I had a chance of staying in with it being a big field, but he's so big and strong that he ends up getting it out," Lester said. "It was just a bad pitch -- middle up. ... Then the one to Baker, obviously, 0-2, it can't happen. I had a plan and an idea of what I wanted to do, but I didn't execute once again."
Lester was coming off a 10-strikeout performance in his last start. He notched only four strikeouts on Wednesday.
"It wasn't one of our better nights," manager Joe Maddon said. "The back-to-back homers kind of hurt us a little bit -- put some wind in their sails. It was not one of our better games overall, and you have to file it and move on."
Steve Wilaj is an associate reporter for MLB.com. This story was not subject to the approval of Major League Baseball or its clubs.