Citizens Bank Park continues to haunt Reds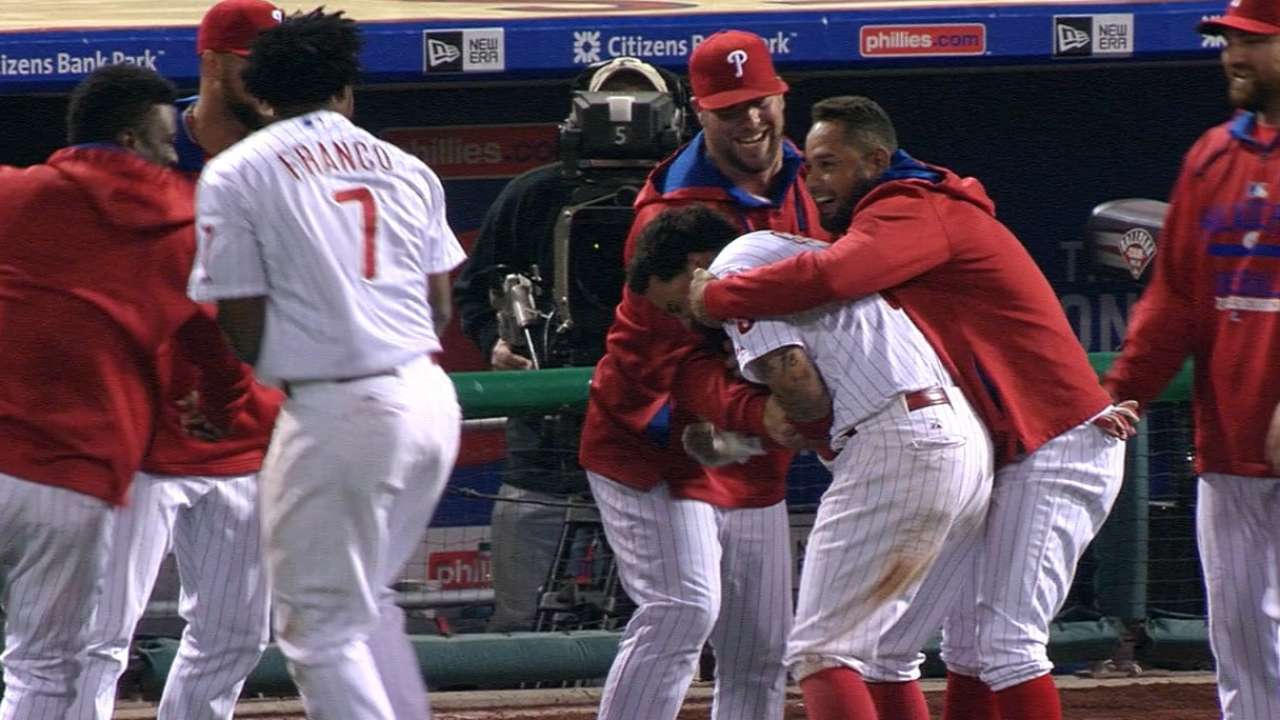 PHILADELPHIA -- Whether the Phillies are on top of the world like in past years, or struggling like they have this season, they seem to find ways to inflict gut-punching defeats on the Reds at Citizens Bank Park.
The latest came in a 5-4 walk-off Reds loss to the Phillies in 11 innings on Wednesday. In the bottom of the 11th with a Cody Asche on second base, Freddy Galvis hit a routine ground ball to first baseman Joey Votto. Reliever Ryan Mattheus hustled to cover the bag and receive Votto's toss. The ball kicked off the top of Mattheus' glove for an error on the pitcher as Asche came home to score the game-winner.
"I thought I was there in time and the ball hit off the top of my glove. It's a bad play. It's a tough one," Mattheus said. "It hit off my glove, I should make that play. There's no excuse for it. We practice that in Spring Training probably 500 times. I've got to make that play."
"Once I made my turn and looked over and saw they were going for it I knew I was going to score," Asche said.
The Reds, who blew a 4-0 lead in the ninth inning, were poised to defeat Phillies ace Cole Hamels for the first time ever. Hamels was 10-0 with a 1.36 ERA in 13 career starts, including the postseason, vs. Cincinnati.
On Tuesday, Cincinnati blew a 4-1 lead and dropped a 5-4 decision in another walk-off. With two outs in the eighth, Jay Bruce missed the third out when he lost Ryan Howard's fly ball in the lights before next batter Maikel Franco's hit the game-tying two-run homer.
With this three-game series already lost, the Reds are 0-8-1 in series at Citizens Bank Park since August 2006 -- not counting the playoffs.
"We just haven't pulled a lot of them out here," Reds manager Bryan Price said. "Those are two games sitting out here for us to take and we didn't finish them. You have to be able to finish."
There has been plenty of other heartbreak for the Reds in Philadelphia over those years.
• On May 19, 2013, Aroldis Chapman gave up back-to-back homers to Erik Kratz and Freddy Galvis for a walk-off loss.
• On May 25, 2011, the Reds lost a 5-4 game in 19 innings with Philadelphia infielder Wilson Valdez earning the victory by pitching the top of the 19th.
• On Oct. 8, 2010, in Game 2 of the National League Division Series, the Reds committed four errors for five unearned runs in a loss.
• Two nights earlier on Oct. 6, 2010, Roy Halladay dealt the Reds a no-hitter, only the second in postseason history.
"Games are tough here for us," said Reds starting pitcher Mike Leake, who came up empty despite taking a shutout into the ninth inning on Wednesday. "It's kind of one of those places, you can't explain why. I still feel like we played a pretty good game today."
What did Galvis think when the latest stroke of misfortune came when Mattheus flubbed Votto's toss?
"Thank God. We can go home," Galvis said.
Mark Sheldon is a reporter for MLB.com. Read his blog, Mark My Word, follow him on Twitter @m_sheldon and Facebook and listen to his podcast. This story was not subject to the approval of Major League Baseball or its clubs.