Buehrle turns back the clock with vintage performance
Left-hander fires six-hitter, increases shutout streak to 17 innings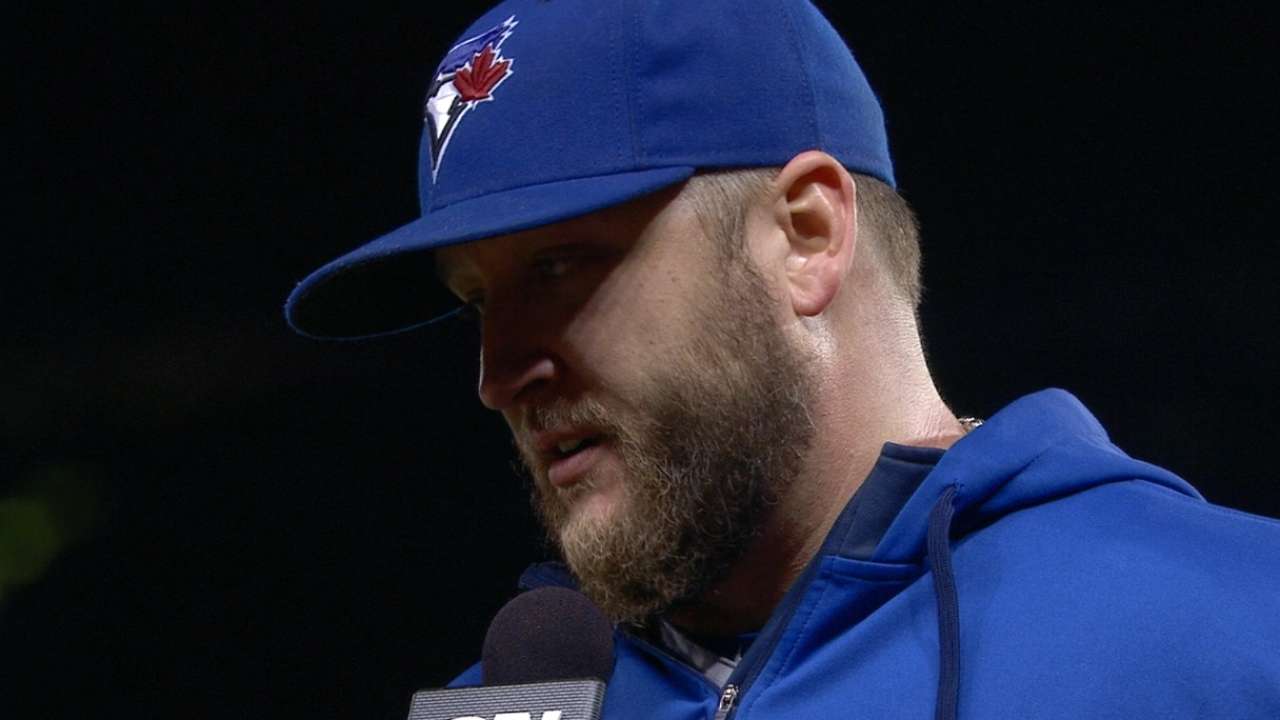 WASHINGTON -- Mark Buehrle was up to his old tricks on Wednesday night, but even this one came as a surprise with the veteran left-hander tossing back-to-back nine-inning complete games for the first time since 2004.
Toronto's veteran left-hander scattered six hits en route to the 10th shutout of his career in an 8-0 victory over the Nationals. He also became the first Blue Jays pitcher since Roy Halladay in 2009 to record complete games in back-to-back outings.
Buehrle completed the "Maddux" by needing just 93 pitches to earn his first shutout since July 25, 2013. He recorded 17 of his outs on the ground, and induced a lot of weak contact to make it look easy against one of the National League's better teams. The veteran also increased his shutout streak to 17 innings.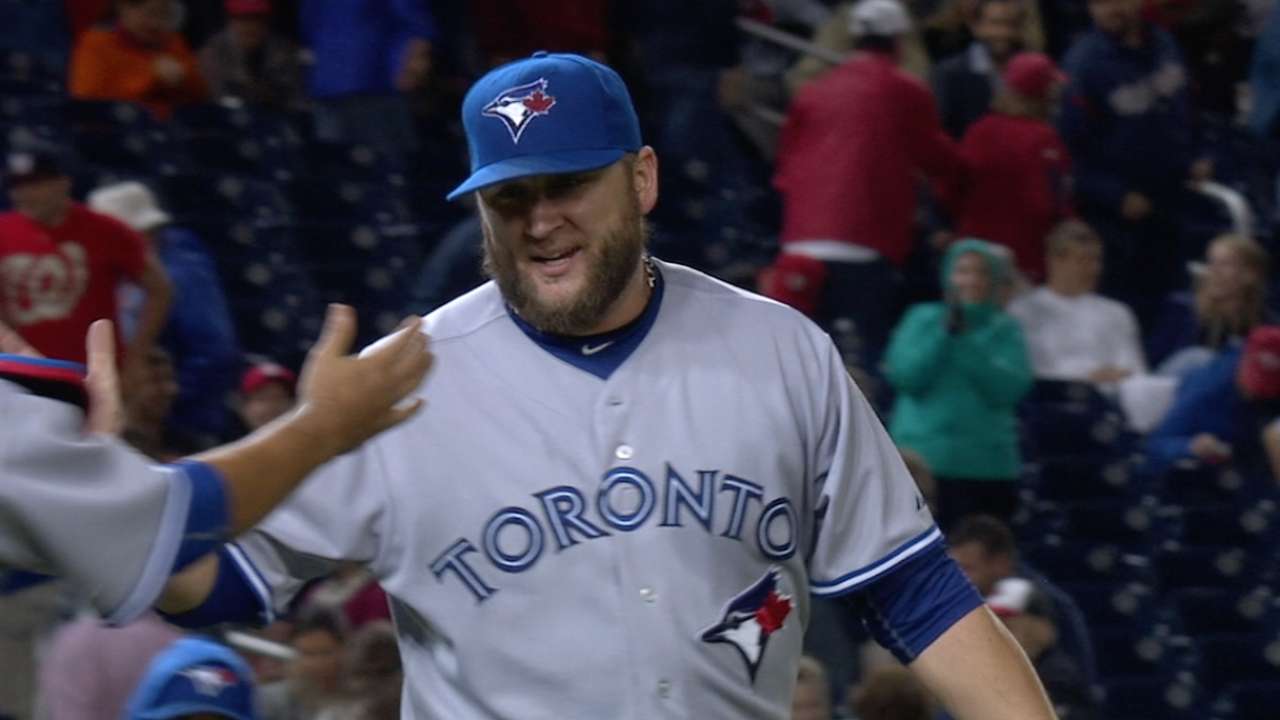 "I think that's when I'm on my game and I know the ball is down in the zone," said Buehrle, who improved to 7-4 with a 4.35 ERA on the season. "Last game in Minnesota, got a lot of fly balls, it was a matter of whether they were hitting it hard enough and far enough. I'm not a huge ground-ball pitcher, but I feel like I'm better off when they hit it on the ground."
It seems like almost every year there is a debate about whether Buehrle is finished. He'll go through a stretch of rough outings and the skeptics come out in full force thinking that there's simply no way he can keep the track record of success going this deep into his career. Yet, Buehrle has proven them wrong, time and time again.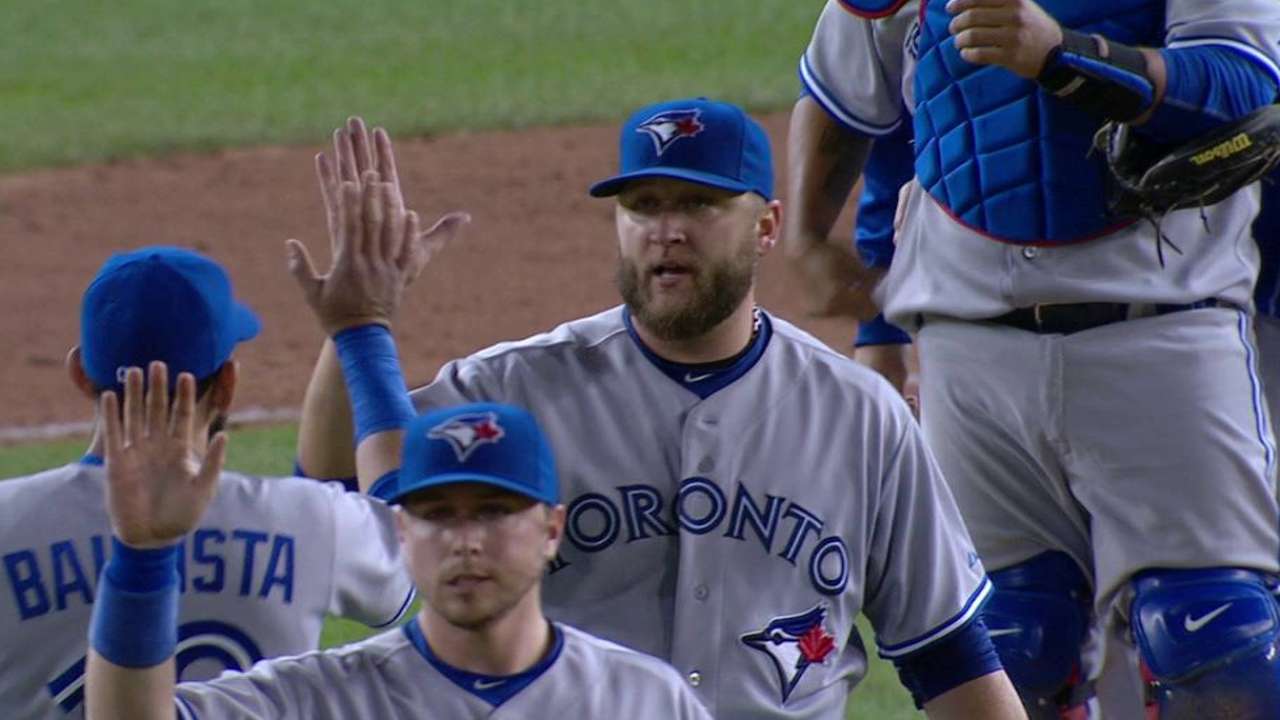 This time, the level of skepticism seemed to reach new heights. He had a 5.54 ERA on May 12 and didn't have a single start where he made it beyond the sixth inning. Buehrle's streak of 14 seasons with at least 200 innings pitched seemed like a pipe dream, but all of a sudden he's on pace to exceed that number again this season.
Buehrle has turned things around by tossing three complete games in his past four outings. The last two were nine-inning complete games, which is something he had not done since July 17 and 23, 2004, when he was 25 years old.
"He's a different style of pitcher, he's never been the power guy that when you lose it, you don't know what to do with it, those guys disappear," Blue Jays manager John Gibbons said. "He's always been a control guy. He used to throw harder, a little more overpowering, but he's basically the same guy.
"His game is to dissect the plate, change speeds, things like that. Guys like that, they start to get a little time on them, they still know how to pitch and they make adjustments, they're just doing it with less stuff."
Buehrle's impact on Wednesday night wasn't limited to the mound. He also singled in the second inning and then broke up a potential double play with a hard slide at second base. That's not something you see very often from pitchers, but when the opportunity presented itself he wasn't going to let it slip away.
"I'm just so bad at it and I embarrass myself, but I try and be an athlete when I'm out there," Buehrle said in his typical self-deprecating way. "If that called for it, I was going to second with the mind that if I get there, [the position players] do it, so I'm going to try and do it to break up a double play. Hopefully it wasn't dirty. I don't know if my cleat was up, I don't slide very often, so hopefully it was clean, but it did the job."
Gregor Chisholm is a reporter for MLB.com. Read his blog, North of the Border, follow him on Twitter @gregorMLB and Facebook, and listen to his podcast. This story was not subject to the approval of Major League Baseball or its clubs.