Franklin learning finer points of first base
Switch-hitting infielder gives Rays flexibility in lineup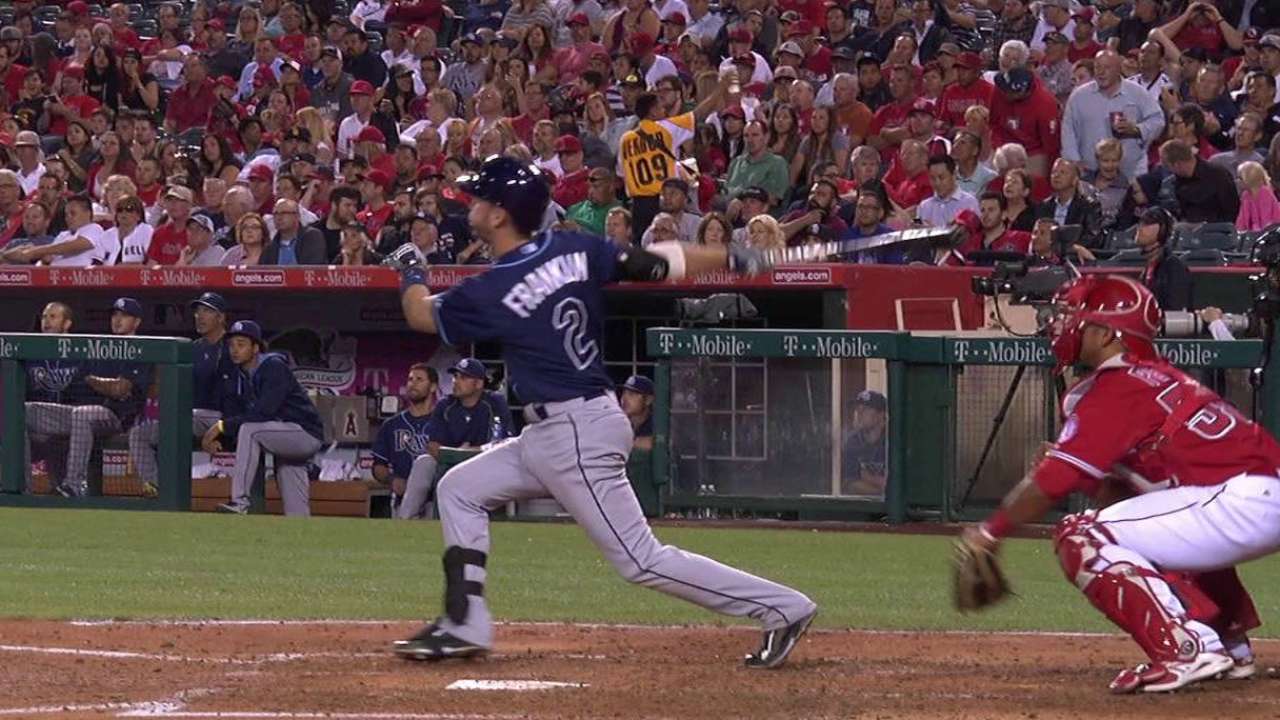 ANAHEIM -- The Rays continue to juggle pieces in their infield. Nick Franklin at first base is one of the newer developments.
Recently, manager Kevin Cash re-committed to having Asdrubal Cabrera at shortstop and Logan Forsythe at second to try to solidify the infield. With first baseman James Loney on the disabled list and the backup first baseman, Forsythe, playing second, that opened the door for rigth-handed hitting Jake Elmore to play first.
The idea of being able to fit the switch-hitting Franklin into the lineup to face right-handers is appealing to Cash. Thus, Franklin has been doing early work with infield coach Tom Foley to learn the finer points of the position.
"We want to get Franklin [in the game] when he has the potential to hit left-handed against right-handed pitching," Cash said. "We like to get the lefties in there. If that's a spot he can provide some help that would be nice."
Franklin did early work Wednesday as well as two other occasions during the past week.
"I think Foley and I agree that if you play short when you're coming up I think that you can probably play any position on the field," said Franklin, who plays shortstop and second base.
To date, learning the basics has been the hardest part of Franklin's education.
"I wouldn't say it's tough," Franklin said. "I wouldn't say it's hard. I would just say anything that you're doing out of your control or your hands is obviously going to be a little bit more challenging than playing your normal position.
"I feel pretty comfortable over there. The glove is bigger. I've learned already to use one hand instead of both hands. That was a quick adjustment."
Cash has been impressed so far.
"He's looked good his last couple of days out there," Cash said. "Maybe get him out there in a situation the game allows, to work with him a little bit. Him and Foley have been working the last two days. They'll continue to work. But so far it looks good."
Bill Chastain is a reporter for MLB.com. This story was not subject to the approval of Major League Baseball or its clubs.