Off-days prompt shifting Shoemaker to 'pen
Angels manager Scioscia makes move to minimize disruption to rotation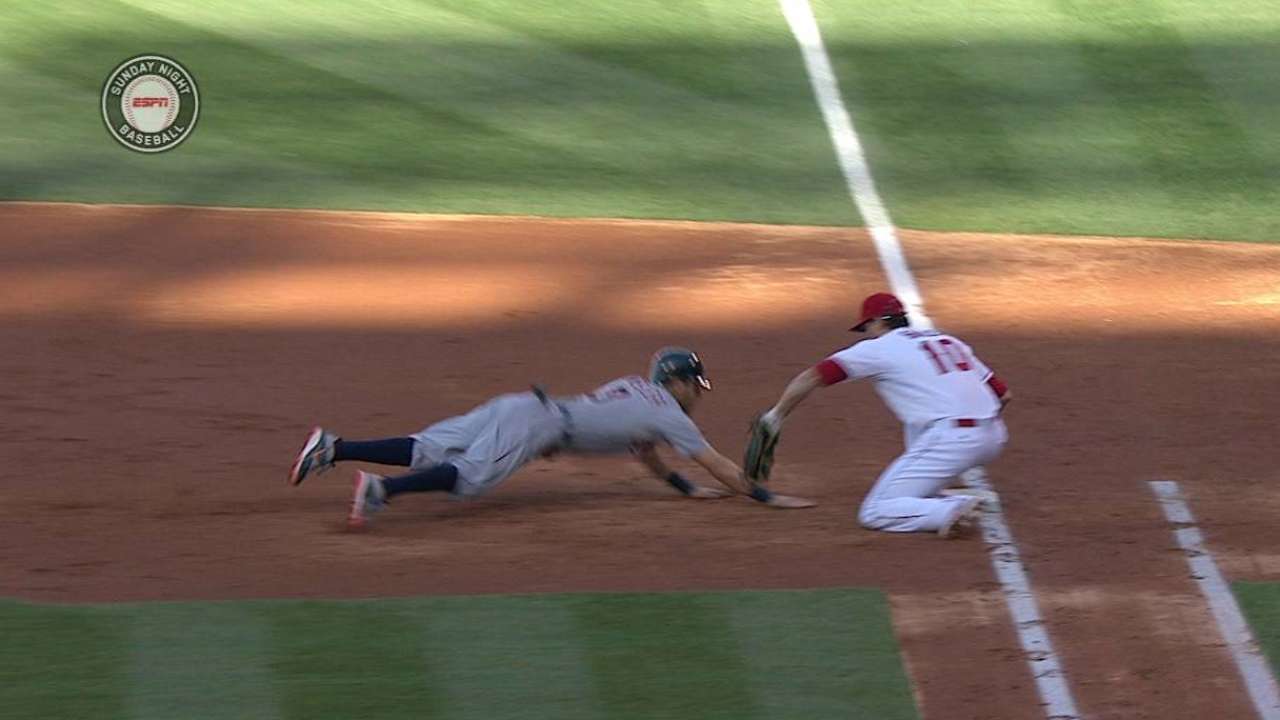 ANAHEIM -- Angels manager Mike Scioscia said that because of upcoming off-days Thursday and Monday, the team would be changing up its starting rotation when it goes on the road after tonight's series finale against the Rays.
For the Angels' next series against the Yankees in New York, they will start Jered Weaver on Friday, Garrett Richards on Saturday and C.J. Wilson on Sunday. Matt Shoemaker will pitch out of the bullpen at least for the next few days, Scioscia said, and will likely rejoin the starting rotation toward the end of next week.
"We don't want some guys to get so far behind where they're pitching in seven or eight days," Scioscia said. "The fact of having five guys and really having five guys throwing the ball pretty well, you don't want to disrupt all five."
But it is interesting that the one disrupted is Shoemaker, who seemed as if he was starting to build some consistency in back-to-back strong starts -- especially in preventing the home run. Those starts were both homerless after he allowed an American League-high 13 in his first eight starts.
"I think that the best way to do it is, we know Matt can help us in the 'pen," Scioscia said. "He has at times before. Won't be a bad thing for him, because he'll get a couple more bullpens in to keep finding his release point and get his pitches down in the zone."
Scioscia said he anticipated Shoemaker coming out of the bullpen for the next two to three games, maybe four. The right-hander won't be on a pitch count in a bullpen appearance unless it was within a couple of days of his eventual next start.
In the meantime, the Angels won't need to bring up another starter, and Shoemaker could even return to the rotation earlier than expected if one of the other four starters ends up needing an extra day.
Worth noting
• Angels reliever Mike Morin, who could be out until mid-June with a left oblique strain, threw for the first time since the injury in left field before Wednesday's series finale against the Rays.
"If he is throwing, it's the first stages of the progression, and he's got a ways to go," Scioscia said.
• Ducks left wing Pat Maroon and goalie Frederik Andersen, as well as Hilary Knight of the U.S. women's ice hockey team, took batting practice at Angel Stadium before Wednesday's game.
"I think they'll be all right in hockey," was Mike Trout's scouting report.
David Adler is an associate reporter for MLB.com. Follow him on Twitter @_dadler. This story was not subject to the approval of Major League Baseball or its clubs.