Getting to know the top 20 Draft prospects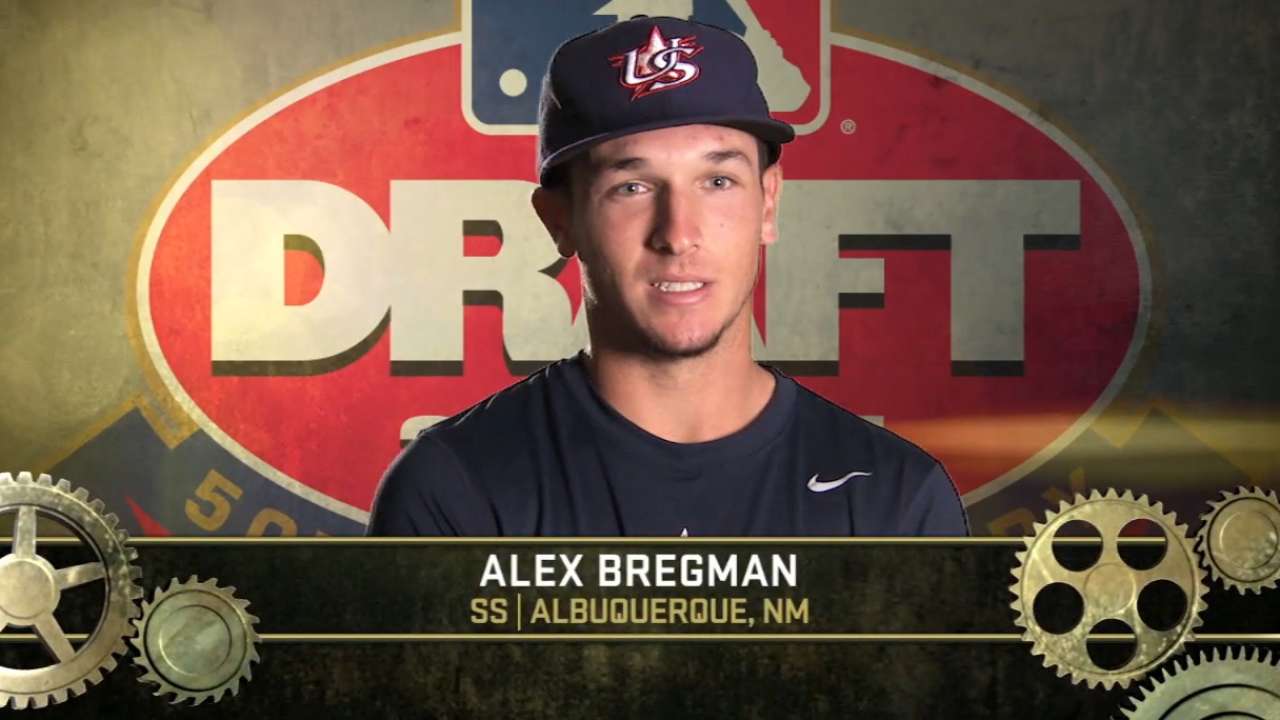 With the 2015 Draft right around the corner, we take a closer look at the top prospects in this year's class, and we hear from the players and those close to them to find out what makes them tick.
The Draft will take place from Monday through Wednesday beginning with the Draft preview show on MLB.com and MLB Network on Monday at 6 p.m. ET. Live Draft coverage from MLB Network's Studio 42 begins at 7 p.m., with the top 75 picks being streamed on MLB.com and broadcast on MLB Network. MLB.com's exclusive coverage of Day 2 begins with a live Draft show at 12:30 p.m. on Tuesday, with exclusive coverage of Day 3 beginning at 1 p.m. on Wednesday.
MLB.com's coverage includes Draft Central, the Top 200 Draft Prospects list and Draft Tracker, a live interactive application that includes a searchable database of over 1,800 Draft-eligible players. Every selection will be tweeted live from @MLBDraftTracker, and you can also keep up to date by following @MLBDraft. And get into the Draft conversation by tagging your tweets with #mlbdraft.
Click on each player's name to view his scouting report and grades, stats, MLB comp and more.
1. Brendon Rodgers, SS, Lake Mary (Fla.) HS
2. Dansby Swanson, SS, Vanderbilt
3. Carson Fulmer, RHP, Vanderbilt
4. Alex Bregman, SS, LSU
5. Dillon Tate, RHP, UC Santa Barbara
6. Daz Cameron, OF, Eagle's Landing Christian Academy (McDonough, Ga.)
7. Kyle Tucker, OF, Plant HS (Tampa, Fla.)
8. Andrew Benintendi, OF, Arkansas
9. Tyler Jay, LHP, Illinois
10. Jon Harris, RHP, Missouri State
11. Walker Buehler, RHP, Vanderbilt
12. Trenton Clark, OF, Richmond (Texas) HS
13. Kyle Funkhouser, RHP, Louisville
14. Ashe Russell, RHP, Cathedral HS (Indianpolis)
15. Mike Nikorak, RHP, Stroudsburg (Pa.) HS
16. Kolby Allard, LHP, San Clemente (Calif.) HS
17. Garrett Whitley, OF, Niskayuna (N.Y.) HS
18. Tyler Stephenson, C, Kennesaw Mountain (Ga.) HS
19. Cornelius Randolph, SS, Griffin (Ga.) HS
20. Ian Happ, OF, Cincinnati