Kiermaier's homer in 10th lifts Rays over Halos
ANAHEIM -- Kevin Kiermaier led off the 10th inning of a 5-5 game with a home run off Angels closer Huston Street, lifting the Rays to a 6-5 win in the rubber game of the three-game series at Angel Stadium Wednesday night.
"He was ahead 0-1 and then tried to get soft and got behind in the count, and Kiermaier got a fastball and didn't miss it," Angels manager Mike Scioscia said. "That's basically it. It's gonna happen, and Huston is as consistent as any pitcher out there in the Major Leagues."
The Angels had just tied the game in the ninth off Rays closer Brad Boxberger on Erick Aybar's sacrifice fly. With the Angels trailing 5-4, Aybar's fly to right field plated Efren Navarro, who had drawn a one-out walk and advanced to third on Johnny Giavotella's single. Giavotella is now batting .533 (16-for-30) in late-and-close situations, and he also homered earlier in the game, as did Mike Trout.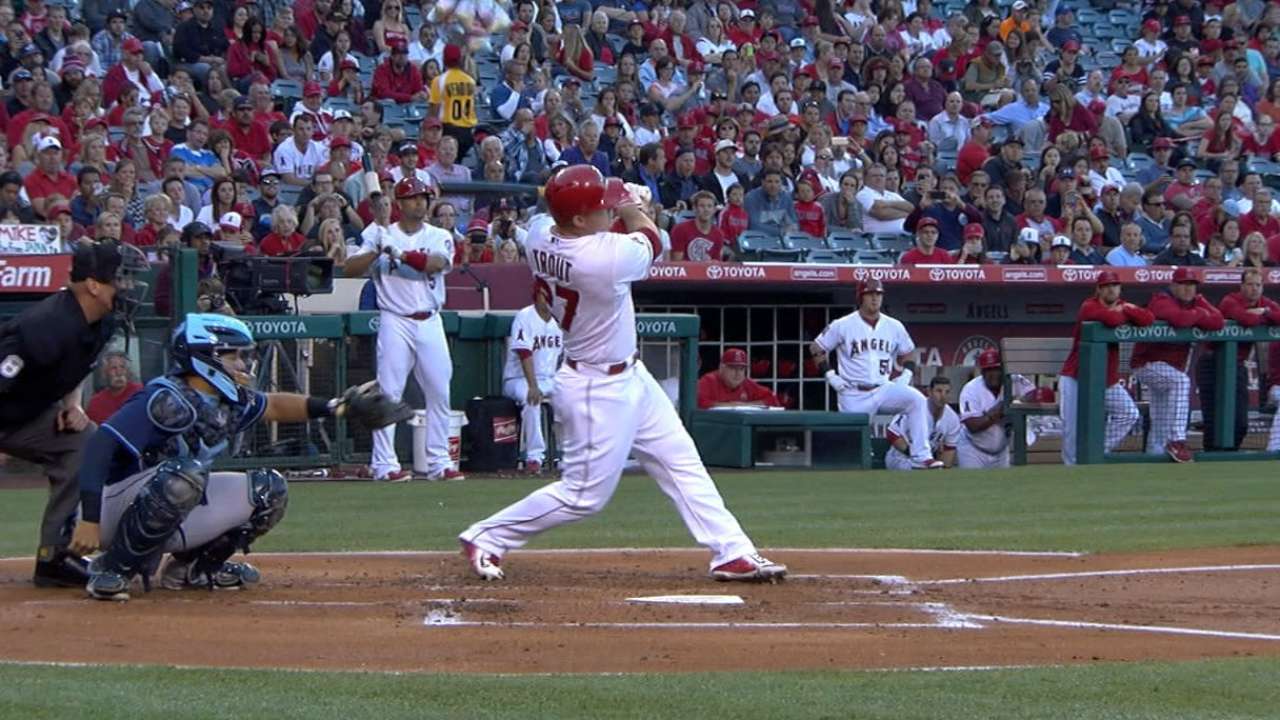 The Rays also rallied from a 4-0 deficit against Angels starter Hector Santiago, putting up a five-run sixth inning. Tampa Bay jumped all over Santiago, who didn't record an out in the sixth and gave up two long balls -- a two-run homer to Joey Butler and a three-run shot to Steven Souza Jr., which ended his night.
"They scored some early runs, but what a credit to our guys in the sixth inning to get those big hits and get on base and the home runs by Joey and Souza," Rays manager Kevin Cash said. "And then obviously, [Kiermaier]."
MOMENTS THAT MATTERED
Sixth-inning thunder: Brandon Guyer got hit by a pitch from Santiago to start the Rays' sixth. Butler followed with his fourth home run of the season on a 1-0 pitch. An Evan Longoria single and a Logan Forsythe walk then set the table for Souza, who connected for his 11th home run of the season to give the Rays a 5-4 lead. More >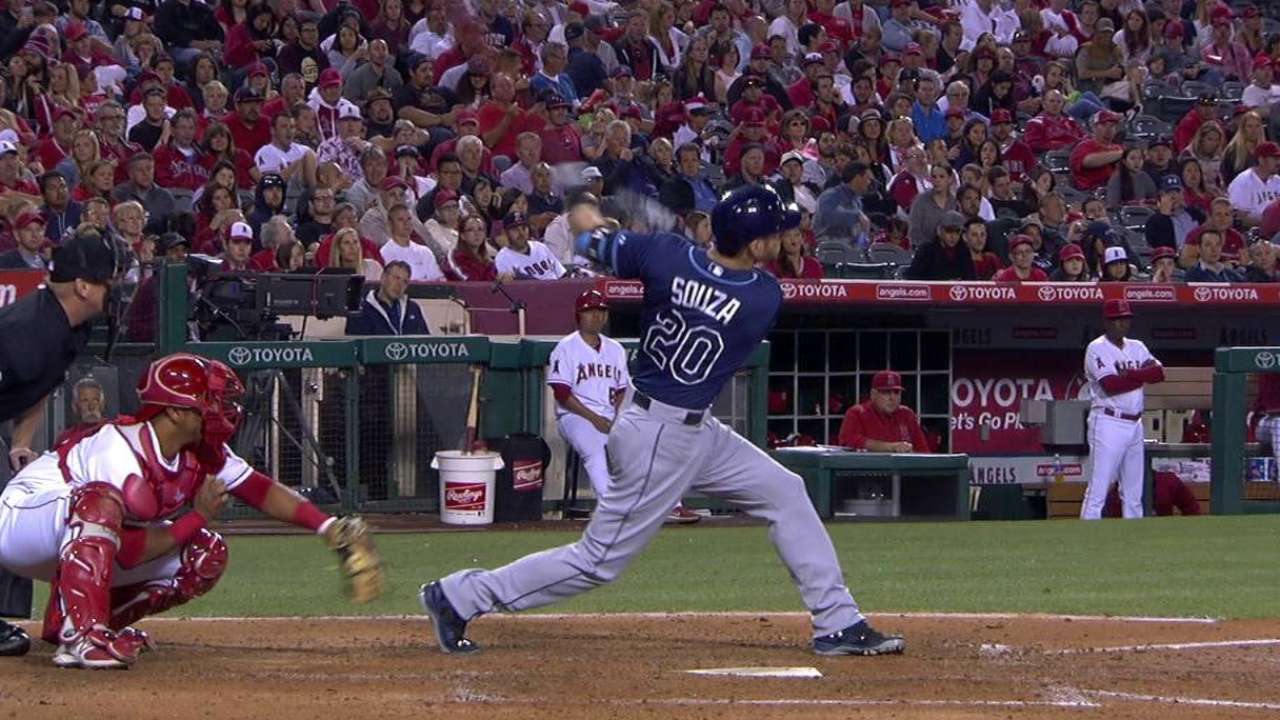 Pujols can't make Rays pay: After Aybar's sac fly tied the game in the ninth, the red-hot Albert Pujols had a chance to win it after Trout was intentionally walked in front of him for the third time in the Angels' 10-game homestand. But with the winning run on second, Pujols bounced out to third to end the inning, and the Rays won it in the 10th. The first and second times Trout was walked to get to Pujols, Pujols ripped a walk-off single and popped up to center field. More >
Cabby's gem: After the Rays put up a five-run sixth inning to take a 5-4 lead, the Angels had a chance to tie the game in the bottom of the inning. David Freese led off with a ground-rule double, and after a Matt Joyce strikeout, Carlos Perez singled off the glove of diving shortstop Asdrubal Cabrera. Angels third-base coach Gary DiSarcina waved Freese home, but the ball had only gotten a few feet from Cabrera, who retrieved it and nailed Freese at home to preserve the Rays' lead.
"The Cabby play might have been the best play of the year," Cash said. "A run-saving play."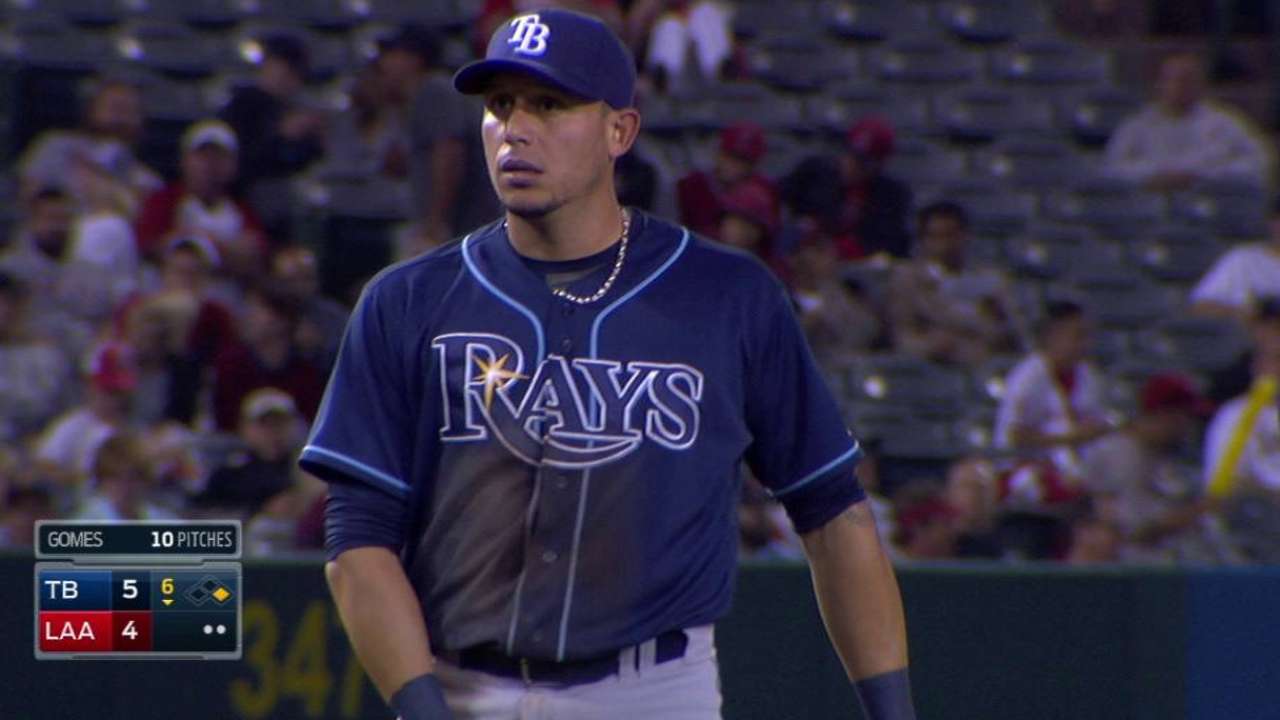 Ex-Ray Joyce can't get it done: Angels designated hitter Joyce couldn't come through in two late-game chances against his former team. First, with the Angels trailing 5-4 in the eighth inning, Joyce came up with the tying run on third base and two outs but struck out when he was fooled by a changeup from former teammate Boxberger. Then in the 10th, with the Angels again down a run and a man on first, Joyce tried to bunt for a hit against the Rays' shift with two strikes. He got the bunt down fair but was thrown out at first base.
"To be honest with you, my last couple of at-bats I didn't see the ball too well," Joyce said. "For me, I didn't think it was a terrible play -- I've done it before and got it down. It was just a tough pitch to get it down the line. … I took it upon myself to take a chance, and it didn't work out."
QUOTABLE
"We could have easily shut it down, but we kept going and it just kind of shows the character of this team." -- Kiermaier on the Rays coming back after being down 4-0
"Matty has a feel for the game, and I'm not gonna second-guess him. He's gonna do what he has a feel to do." -- Scioscia, on Joyce's bunt in the 10th inning.
SOUND SMART WITH YOUR FRIENDS
Boxberger entered Wednesday night's game with 15 saves in 15 opportunities. That changed in the ninth inning when he surrendered a sacrifice fly to Aybar that drove home the tying run to send the game into extra innings.
REPLAY REVIEW
The Rays lost their challenge in the second inning Wednesday when Mikie Mahtook was caught stealing second base after being picked off by Santiago. Santiago threw over to Pujols at first, and Pujols relayed the throw to second baseman Giavotella. Giavotella missed the initial tag, but Mahtook over-slid the bag and Giavotella tagged him out. Cash challenged that Giavotella had missed both tags, but the ruling on the field was confirmed upon review.
The Rays also got a crew-chief review in the ninth inning, when Angels pinch-runner Taylor Featherston was called safe on a pickoff attempt at first base by Boxberger. Upon review, the safe call was confirmed -- Featherston got his hand in ahead of the tag. But Featherston was eventually thrown out trying to steal second, anyway.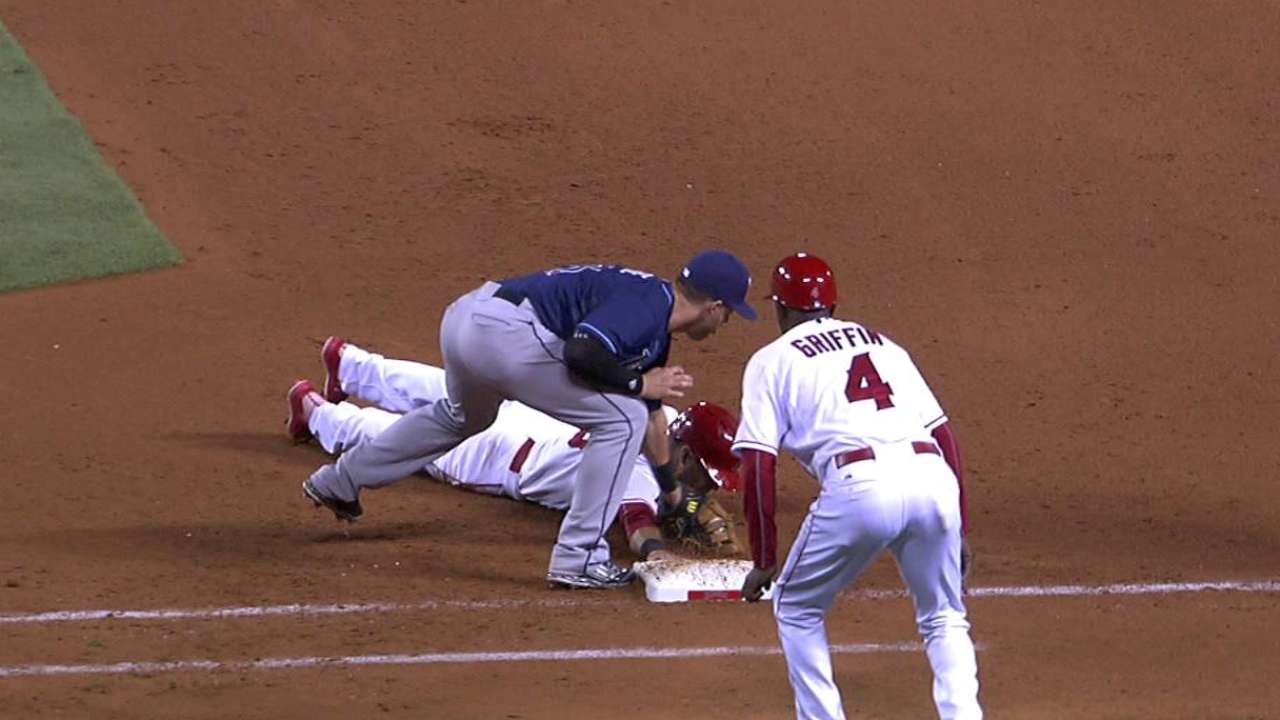 WHAT'S NEXT
Rays: The Rays travel to Seattle to begin a four-game series against the Mariners Thursday night. Erasmo Ramirez (3-2, 5.53) will start for the Rays, pitching against his former team for the first time. Since April 19, Ramirez ranks among Major League leaders (minimum 30 innings pitched) in opposing average (.154, first), opposing OBP (.245, fourth) and opposing slugging (.252, second).
Angels: The Angels have an off-day Thursday before traveling to New York for a three-game series against the Yankees that starts Friday. Jered Weaver will take the mound for the opener riding a string of five straight quality starts since correcting a mechanical issue in his delivery early in May.
Watch every out-of-market regular season game live on MLB.TV.
David Adler is an associate reporter for MLB.com. Bill Chastain is a reporter for MLB.com. This story was not subject to the approval of Major League Baseball or its clubs.