Shortstops' success a happy problem for Bucs
Mercer heating up, homers again vs. Giants; Kang doubles in two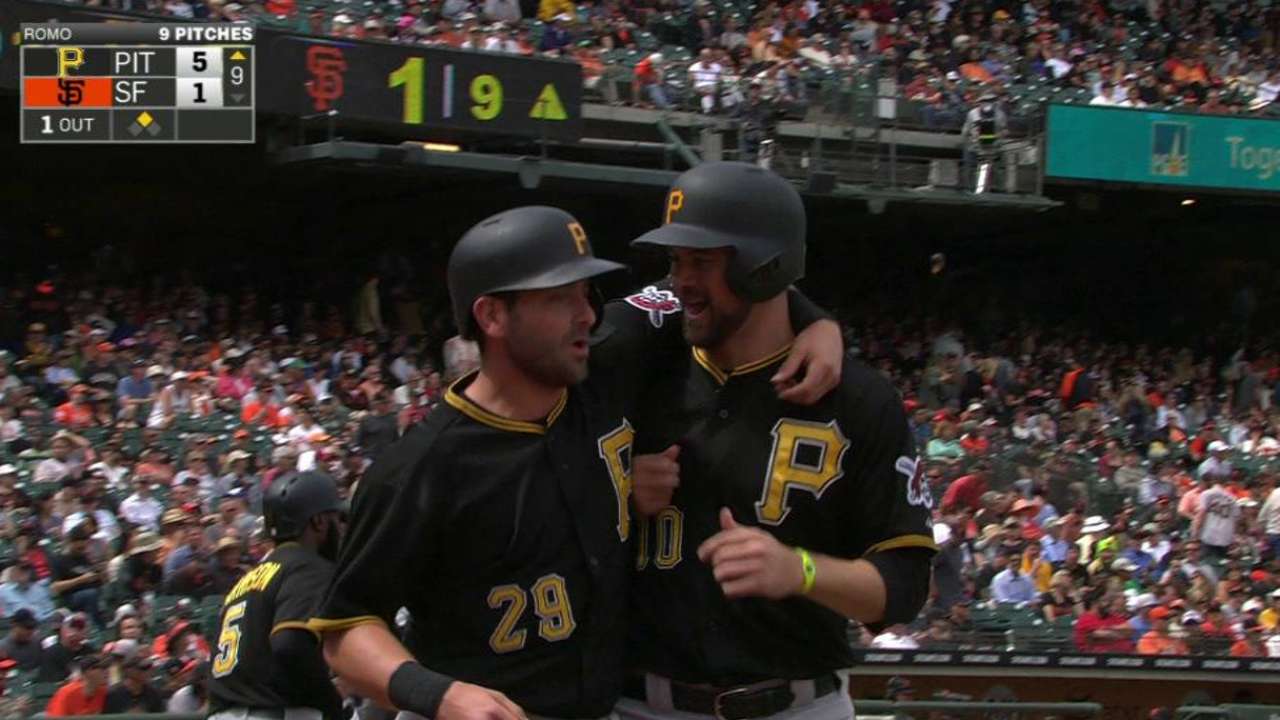 SAN FRANCISCO -- Clint Hurdle's fondest dream was taking place right in front of his eyes. Jordy Mercer, one of his shortstops, homered in the fifth inning and doubled in the pull-away ninth. Then his other shortstop, Jung Ho Kang, came off the bench to drill a two-run double that made the Bucs' eventual 5-2 victory over the Giants more comfortable.
Dream? Don't you mean "nightmare," having to decide between the two? No. You must understand, Hurdle recently argued, "having guys producing is every manager's dream, to have to make those decisions."
Mercer went 2-for-4 in each of the last two chapters of the Pirates' eye-catching Bay Area sweep, including a home run -- his first two of the season -- in each game. This is about the time of the year when Mercer's bat shows up, as predictably as the swallows returning to Capistrano.
A year ago, his average did not get above .200 until June 2. This year, his average did not get above .200 until ... June 2, Tuesday night's game here.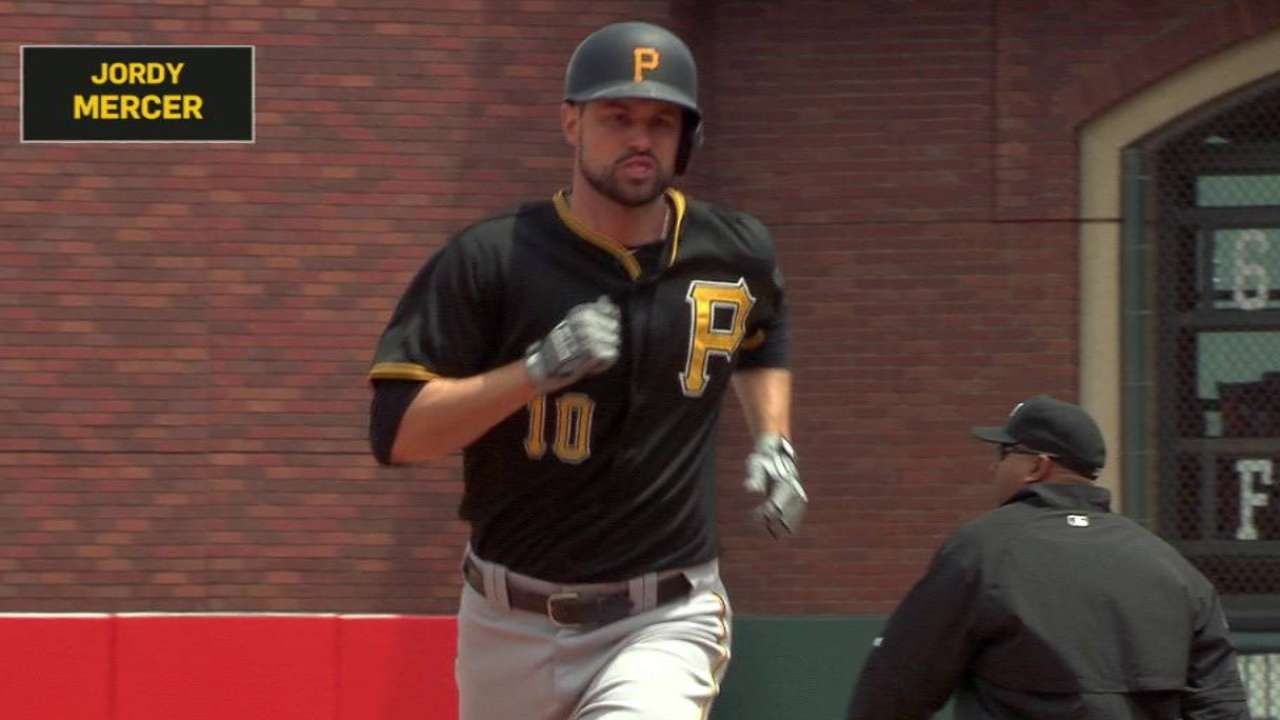 As often discussed, Mercer's situation has been considerably altered by the presence of Kang. Yet the Bucs' incumbent shortstop had no concerns about this time not getting the playing time necessary to get untracked.
"Absolutely not. I feel like I'm an everyday player," Mercer said. "We still got four months to go. The cliche is, 'It's not how you start, it's how you finish,' and I've always taken that to heart.
"But I'm not stupid," he added, referring to the couple of recent weeks when he was either sitting on the bench or drawing collars while Kang was on an extra-base-laden hitting streak. "I kept getting out, and he was swinging a hot bat. So he's got to play. It definitely was tough, no doubt about it. I had to get my mind right."
And his swing, which returned before the hits did.
"He's been [swinging] better for a week, 10 days, but not getting results," Hurdle said. "There's nothing like squaring up some balls -- as he did [Tuesday] night -- and success to help a player's confidence."
Most pleasing to Hurdle was neither the sound of Mercer's home run, nor that of Kang's drive into the left-center alley -- but the sight of Mercer applauding in Kang's direction as he crossed the plate on Kang's double.
Did you expect anything less? That seemed to be Mercer's attitude.
"That's what it takes to be a championship team, picking each other up," Mercer said. "We're going to need that depth in the next few months down the road."
Tom Singer is a reporter for MLB.com and writes an MLBlog Change for a Nickel. He can also be found on Twitter @Tom_Singer and on his podcast. This story was not subject to the approval of Major League Baseball or its clubs.