Weiss: 'Resilient' Rox will bounce back
Manager meets with players after Tuesday's tough loss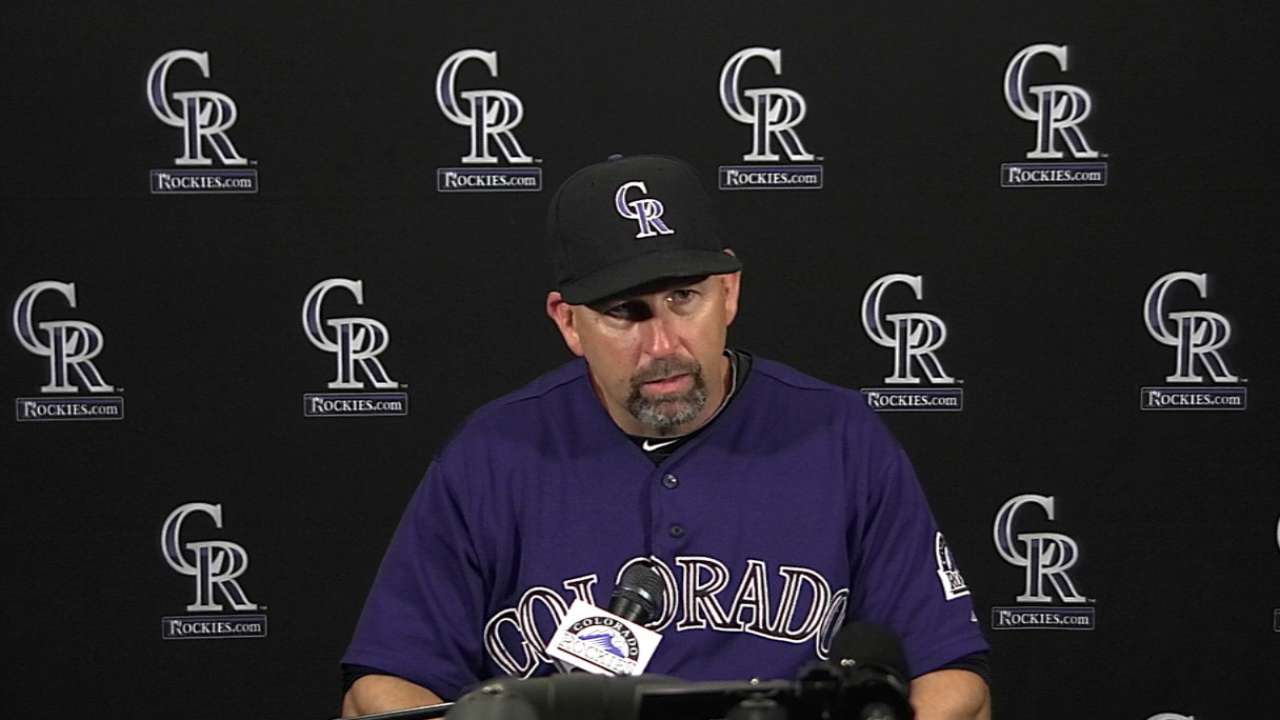 DENVER -- In the din of music and bat cracks of batting practice, Rockies manager Walt Weiss grabbed a dugout seat beside reliever Rafael Betancourt, who had just completed his exhaustive pregame preparation Wednesday afternoon.
Despite the fact Betancourt gave up the grand slam to the Dodgers' Alex Guerrero that turned a possible doubleheader sweep into a 9-8 loss Tuesday night, Weiss -- in words and action -- stood beside Betancourt.
Weiss said closer John Axford, who had closed the 6-3 win in the first game, was not available. The two had talked between games, and Weiss made his decision and was "not going to change my mind just because there's a save opportunity." Axford had pitched Wednesday, Friday and Saturday and taken Sunday off. In the first game, he threw 22 pitches, and gave up a hit and ended the game by striking out Yasmani Grandal.
So Weiss went into the game down to two choices: Betancourt, with 75 Major League saves, and rookie righty Scott Oberg, with one. Weiss used Oberg for two outs in the eighth, pinch-hit for him in the bottom of the inning, and went with Betancourt.
"I considered everybody that was out there, and Raffy was the obvious choice, because he's got many, many big league saves, he's been there many times, he's thrown the ball well for us this year," Weiss said. "He had the one hiccup the other day in Philly because he was sick. For me, it was a no-brainer."
Betancourt couldn't hold a three-run lead.
Betancourt retired the only batter he faced in the first game. In the second game, Betancourt gave up three singles, struck out Justin Turner and forced an shallow Joc Pederson pop-up before Guerrero lifted a 1-2 pitch over the center-field wall.
Before batting practice Wednesday, Weiss and the staff held a closed-clubhoue meeting with the players. Weiss didn't go into detail but made it clear the subject of not letting a deflating loss linger was addressed. The Rockies, who seemed in deep trouble after an 11-game losing streak, lost a chance to escape last place in the National League West. They began Wednesday 7 1/2 games behind the first-place Dodgers.
"It can [linger], but it won't," Weiss said. "We've been real resilient, this team. We've bounced back from some of our toughest losses and won the next day. I expect we'll do that again.
"A lot of good things happened yesterday. Tough ending to a very good day. I just check in with them and make sure we maintain the proper perspective."
Thomas Harding is a reporter for MLB.com. Follow him on Twitter @harding_at_mlb, and like his Facebook page. This story was not subject to the approval of Major League Baseball or its clubs.