Good ABs, seeing more pitches Eaton's goals
Leadoff hitter confident consistency will take hold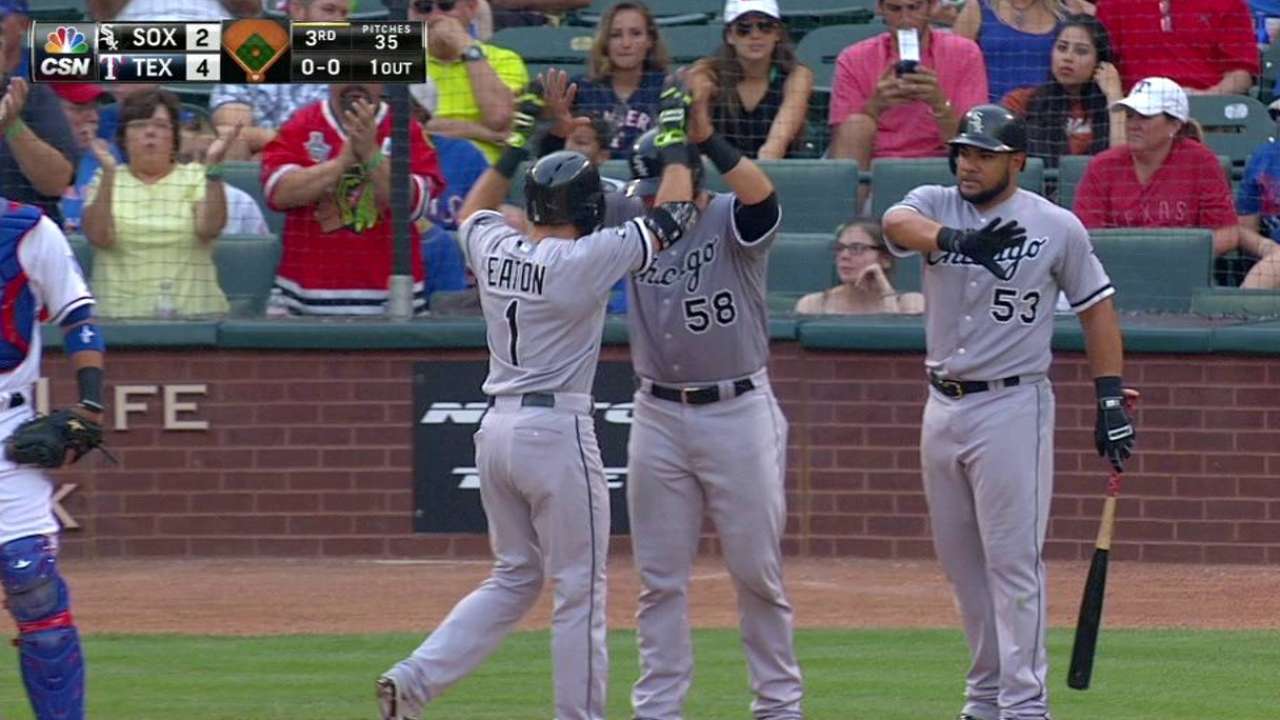 ARLINGTON -- At one point during Tuesday night's series opener with the Rangers, White Sox leadoff man Adam Eaton happened to glance at the scoreboard and saw the top three batters in his team's lineup hitting in the .230 to .240 range.
"You are not going to be doing too well offensively when your top three hitters are hitting that," Eaton said. "So, we've got to pick it up and get things going. I think we will."
Eaton picked up his offense during the month of May. After hitting .192 without an RBI in April, he batted .262 with a .325 on-base percentage, including two homers, five doubles and two triples. He carried that extra-base punch into June with a two-run homer off Colby Lewis that stood up as the only White Sox offense during a 15-2 shellacking on Tuesday night.
That long ball didn't illustrate the Eaton improvement as much as the homer serving as the culmination of a nine-pitch at-bat. Eaton entered Wednesday's contest seeing 3.86 pitches per at-bat, with Adam LaRoche ranking 20th overall in baseball at 4.12 pitches per at-bat to provide some sort of barometer as to where Eaton currently falls.
"I'm still searching for some more consistent at-bats," said Eaton, who entered Wednesday hitting .233 with eight RBIs. "But at-bats like yesterday, where I can see six, seven, eight, nine pitches in an at-bat, I think when I'm going well, that's more consistent. It hasn't been that consistent."
"His balance is a little bit better," said White Sox manager Robin Ventura of Eaton. "Power-wise, I don't think that's necessarily part of the game that comes with it. Balance-wise and being able to put it in play and utilize his speed more is what you expect out of him. Early on, he was not in balance, striking out a little bit more and not making contact and putting it in play. This is a little bit better."
The White Sox offense surprisingly sits last in the American League in home runs and slugging percentage, and only leads the Phillies in both categories overall. But much like Eaton believes his game will continue to get better with 400-some at-bats remaining, he feels the same way about the team as a whole.
"I have all the confidence in the world in these guys and I have since Spring Training, and I'll continue to say that," Eaton said. "It's a long season. We are into the thick of it now. We are in June. But I think there's better baseball ahead of us."
Scott Merkin is a reporter for MLB.com. Read his blog, Merk's Works, follow him on Twitter @scottmerkin and listen to his podcast. This story was not subject to the approval of Major League Baseball or its clubs.