Almaraz ready for first MLB Draft with Phillies
New amateur scouting director wants to make an immediate impact for Philly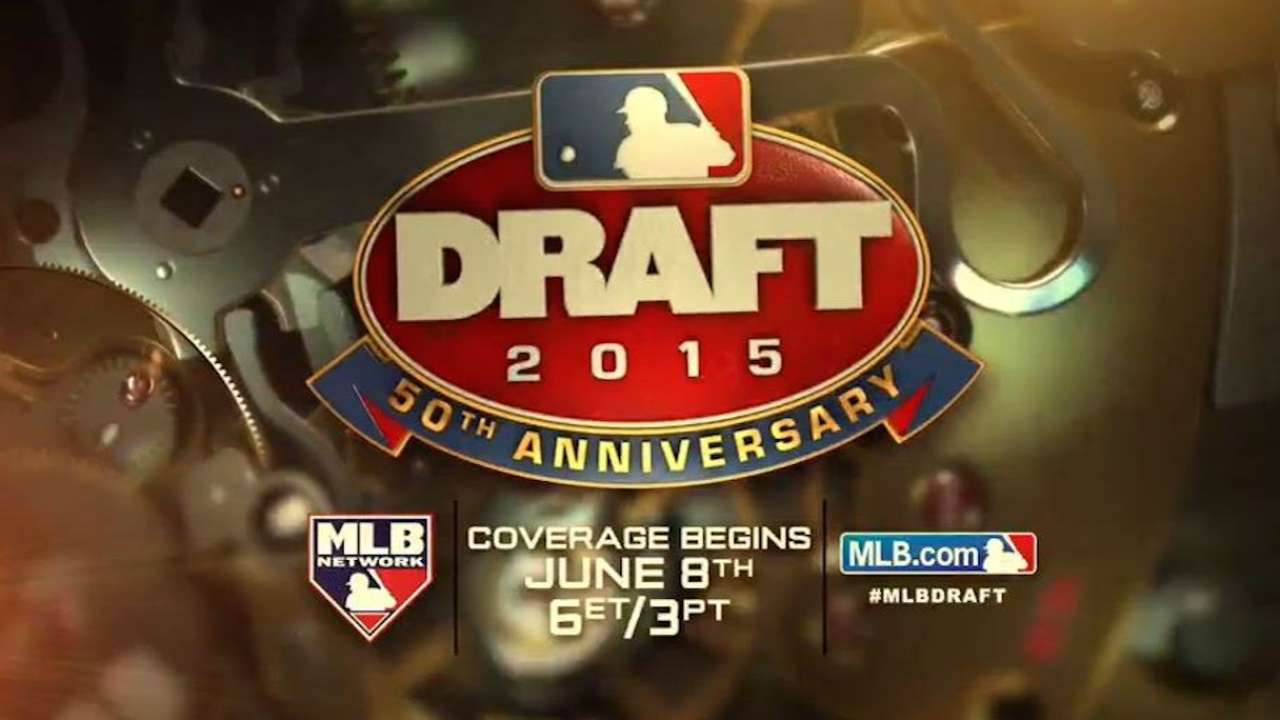 PHILADELPHIA -- Phillies president Pat Gillick said something interesting in Spring Training about new amateur scouting director Johnny Almaraz.
He said Almaraz likes players.
"People might not understand that," Gillick said, "but sometimes you look at a player and you can talk about his minuses or you can talk about his pluses. Our new scouting director, he talks about players' pluses. He wants to concentrate on what this player can do, not on what he cannot do. So I think it's a little bit of a different approach."
The Phillies announced in October that Almaraz had replaced Marti Wolever, who had run the organization's drafts for more than a decade. Almaraz gets his first crack at it next week, when Major League Baseball holds the 2015 Draft.
The Phillies have the 10th overall pick.
"I believe that we all know what a baseball player is," Almaraz said Wednesday evening at Citizens Bank Park. "It's somebody who executes the fundamentals, somebody who hits behind the runner, somebody who takes pitches, who can bunt the ball to both sides of the field. Pitchers who can throw strikes, first pitch for a strike.
"Baseball players who know how to play the game. We're going after baseball players with ability. Sometimes when you get somebody who is extremely talented in any sport, and you try to teach them the game sometimes they cannot ever learn it."
The Phillies hope that tweak in philosophy serves them well. Since the Phillies selected Cole Hamels with the 17th overall pick in the 2002 MLB Draft, Phillies first-round selections (including supplemental picks) have a combined -1.2 WAR, according to Baseball Reference.
That group includes outfielder Greg Golson (2004, playing in Mexico), right-hander Kyle Drabek (2006, pitching in Triple-A Charlotte), infielder Adrian Cardenas (2006, retired), left-hander Joe Savery (2007, not playing), Travis d'Arnaud (2007, Mets), Anthony Hewitt (2008, Class A Frederick), Zach Collier (2008, not playing), Jesse Biddle (2010, Double-A Reading), Larry Greene (2011, retired), Shane Watson (2012, injured), Mitch Guellar (2012, injured ), J.P. Crawford (2013, Double-A Reading) and Aaron Nola (2014, Double-A Reading).
In fact, since the Phillies selected Golson in 2004, the Phillies' five most successful draft picks have been J.A. Happ (third round in 2004, 6.8 WAR), Vance Worley (third round in 2005, 5.4 WAR), Jarred Cosart (38th round in 2008, 5.5 WAR), A.J. Griffin (34th round in 2009, 4.3 WAR) and Kyle Gibson (36th round in 2006, 3.4 WAR).
Griffin and Gibson never signed with the Phillies. They reentered the Draft at a later date.
The Phillies will be looking for the best player available at No. 10, which only makes sense. While they certainly could use a hitter, they cannot afford to be picky. They have numerous holes to fill.
"I know we are going to get a good player at 10," Almaraz said.
And what would make his first Draft a successful one?
"My definition of a successful Draft is getting somebody in the first, second and third round who are going to impact the Major League level four to five years from now or sooner," he said.
Todd Zolecki is a reporter for MLB.com. Read his Phillies blog The Zo Zone, follow him on Twitter and listen to his podcast. This story was not subject to the approval of Major League Baseball or its clubs.