Hughes befuddled after shortest start of year
Twins right-hander allows season-high 11 hits in 4 1/3 innings
BOSTON -- For four innings during Game 1 of Wednesday's doubleheader with the Red Sox, Phil Hughes shakily pitched around traffic on the basepaths. In the fifth, the right-hander was walking back to the Twins' dugout, shaking his head in frustration following his shortest start of the season.
"It's not very fun when you feel like you're constantly trying to battle out of jams," Hughes said after the Twins fell, 6-3, at Fenway Park.
Over 4 1/3 innings, Hughes (4-5, 4.96 ERA) gave up five runs and a season-high 11 hits. He allowed the leadoff man to reach base four times -- all on singles -- and surrendered base hits to three of the last four batters he faced.
"He was in the stretch a lot. Had to labor," Twins manager Paul Molitor said. "I think command was a little off, seemed like the ball was elevated quite a bit. A lot of [hits] up the middle, the other way. They were staying on the ball really well, and we couldn't contain."
Although four Red Sox hitters enjoyed multi-hit games off Hughes, perhaps none did more damage than Dustin Pedroia, who went 3-for-3 with leadoff singles in the first, third and fourth innings. The second baseman is 16-for-41 lifetime against Hughes.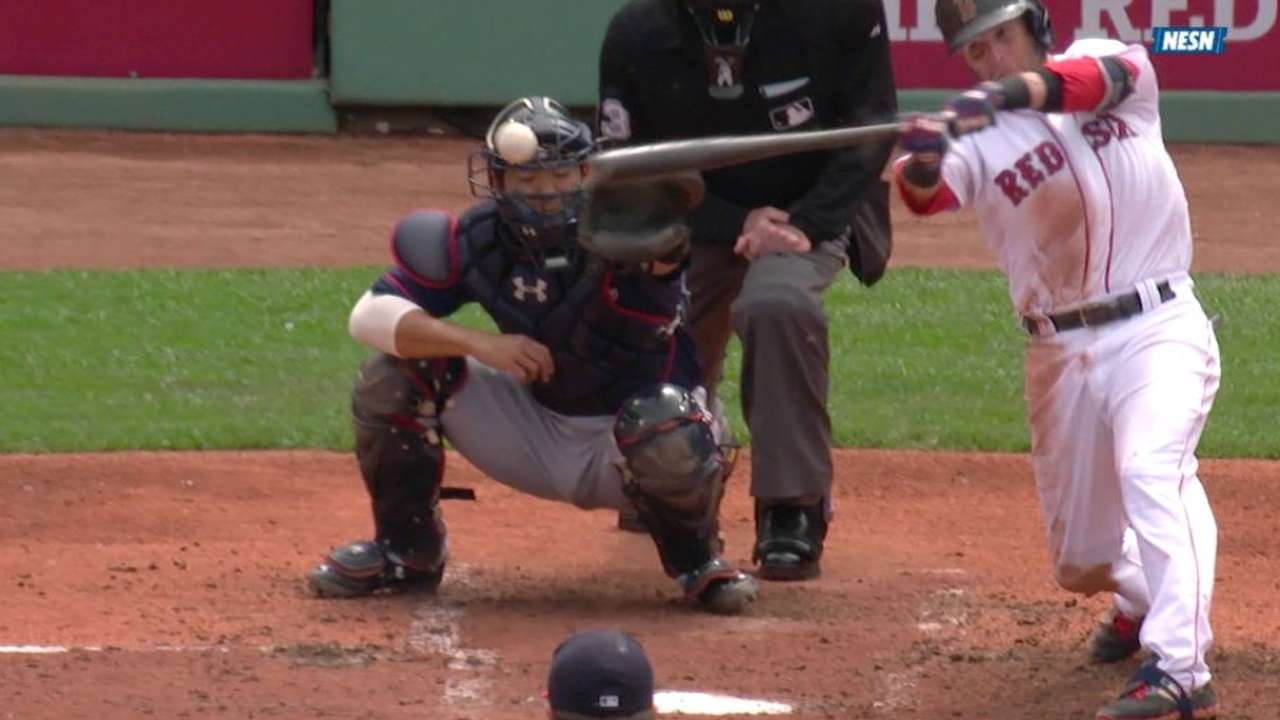 "Pedroia, I tried everything," Hughes said in exasperation. "Tried to run some stuff in on him. Tried curveballs. Shot a curveball, a weak little swing that he punched out to right field in the first. Tried to elevate later on that he was able to get on top of and hit it to right.
"For whatever reason, he's just locked in against me right now. I threw pretty much everything I had at him, and nothing seemed to be working."
Hughes' starts have tended to follow a similar pattern. He attacks the strike zone and rarely issues walks, but that approach often leaves him vulnerable to high rates of contact. And though he found himself in a number of two-strike counts Wednesday, Hughes experienced difficulty locating his put-away pitches.
Following his sixth start of four or more runs, Hughes vowed he would make execution of those pitches an emphasis moving forward.
"It's more just about location and really executing a pitch when I need to," Hughes said. "In big spots, especially. Two outs, two strikes, guys on, stuff like that."
Alec Shirkey is an associate reporter for MLB.com. This story was not subject to the approval of Major League Baseball or its clubs.