Knee feeling better, Castro back behind dish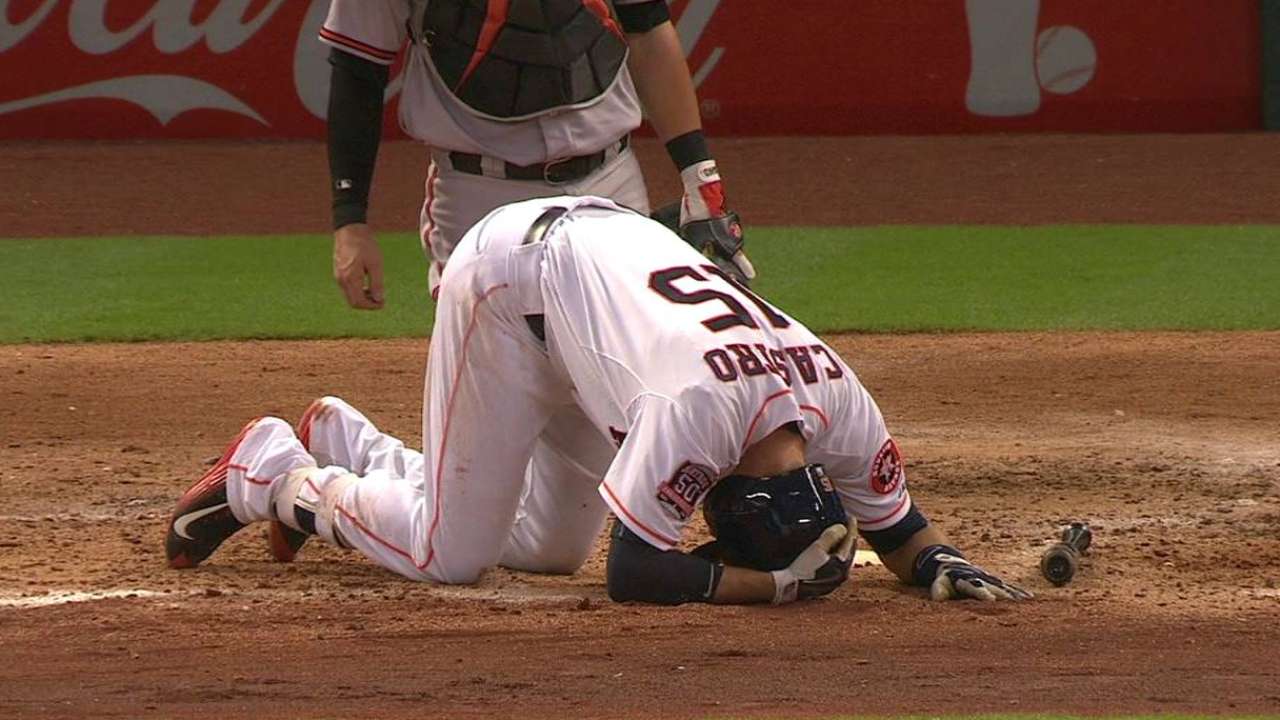 HOUSTON -- Two days after taking a fastball off the side of his right knee, Jason Castro returned to action on Wednesday, batting seventh and in his usual spot behind the plate for the Astros.
"Better than yesterday," Castro said of the knee before the game. "Still obviously a little sore, but definitely good enough to play."
Castro took the Ubaldo Jimenez pitch off his knee in the fifth inning of Monday's win. He gingerly made his way to first base and stayed in the game after attempting to run off the injury down the first-base line.
Manager A.J. Hinch pulled him in the seventh as a precautionary measure and sat him on Tuesday, though he would have been available if needed.
"Kind of," Castro said when asked if he is surprised how quickly he recovered. "Based on the way I felt that first night when it happened; I didn't feel very good. Woke up yesterday actually feeling better. Today was better than that. Happy the way it's gone so far based on what it could have been."
Rasmus under the weather: Colby Rasmus has been battling flu-like symptoms, said Hinch.
"He had a couple rough nights getting sick," Hinch said. "I've kept him out of the lineup more out of sickness than anything else."
Rasmus went 1-for-4 on Monday but gave way to Jake Marisnick in center field on both Tuesday and Wednesday. Marisnick went 0-for-4 with three strikeouts on Tuesday.
Rasmus spent most of Tuesday's game in the training room but went to the dugout late in case he was needed as a pinch-hitter or defensive replacement. Rasmus took batting practice on Wednesday and would be available.
"We'll give him today [off]," Hinch said. "I'm not sure he'll play tomorrow against [projected Orioles starter Wei-Yen] Chen, but I expect him to be full strength by Toronto."
Chandler Rome is an associate reporter for MLB.com. This story was not subject to the approval of Major League Baseball or its clubs.