Twins run themselves out of late scoring chance
With offense at a premium in Game 1, Dozier's baserunning miscue costs run in eighth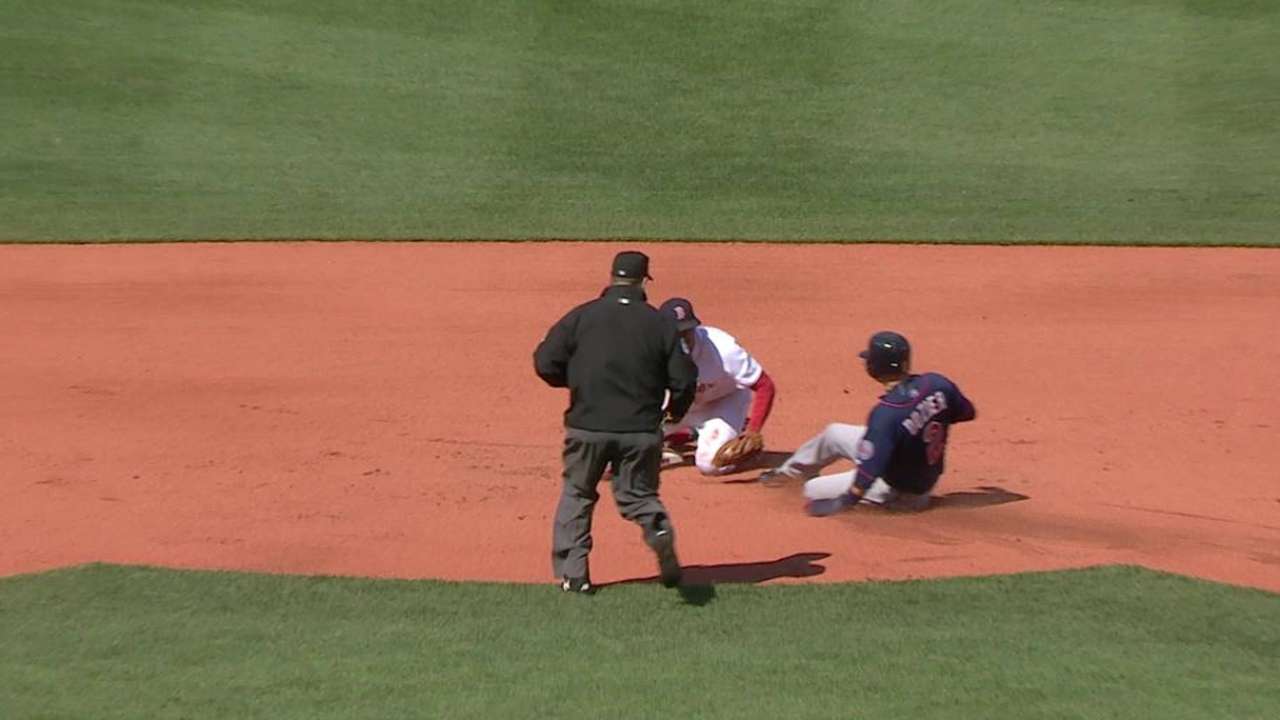 BOSTON -- In Wednesday's Game 1 of a doubleheader that was short on runs for the Twins, one of their best shots at scoring came in the eighth inning, with men on the corners and only one out. Instead, a a baserunning error led to a double play that kept the Twins' offense quiet in a 6-3 loss to the Red Sox at Fenway Park.
Replacing Shane Robinson as a pinch-hitter, Joe Mauer smoked a 1-2 pitch down the line to first baseman Mike Napoli, who had been positioned only a few feet off the bag. Assuming that Napoli would throw to second base right away, Brian Dozier took off in an attempt to beat out a double play.
"It's kind of just your instincts take over," Dozier said. "Napoli was probably five or six feet off the bag. Joe smoked it. I really didn't know if he went back to the bag or not. I took off, and I thought he was going to throw to second first. And then, after about three quarters of the way there, I assumed since the ball was not there yet that he touched first and was throwing to second."
Napoli, however, stepped on first before turning and firing to Xander Bogaerts, who tagged Dozier to complete a 3-6 double play. Had Dozier beaten the throw, or even avoided an out long enough for Danny Santana to reach home plate from third, the Twins could have picked up another run.
"By that time, I was already committed. Hindsight, you just stop and let the run score," Dozier said.
Twins manager Paul Molitor said he talked to Dozier about the play, reminding the 28-year-old second baseman of one of the finer points of baserunning that was reviewed during Spring Training. He also felt Santana might have scored with a better effort running down the third-base line.
"I don't think Danny ran probably as hard as he could," Molitor said. "I was kind of watching what Brian was going to do, we were yelling at him to hold up. Ball was hit so firmly that Napoli made the right decision to take the sure out and hope for two."
Though they hit an American League-best .303 with runners in scoring position through April and May, the Twins went 0-for-4 in Wednesday's Game 1. The team has also combined to score just five runs in its last five games at Fenway.
And the gem thrown by Boston starter Eduardo Rodriguez, who allowed one run -- Dozier's 10th homer -- on two hits in seven innings, certainly did not help any of the Twins' scoring endeavors.
"Rodriguez was as good as advertised," Molitor said. "We tried to hang in there. We had the opportunity there in the eighth. Joe hit the ball on the nose."
Alec Shirkey is an associate reporter for MLB.com. This story was not subject to the approval of Major League Baseball or its clubs.