Gray's growth shows in MLB-best ERA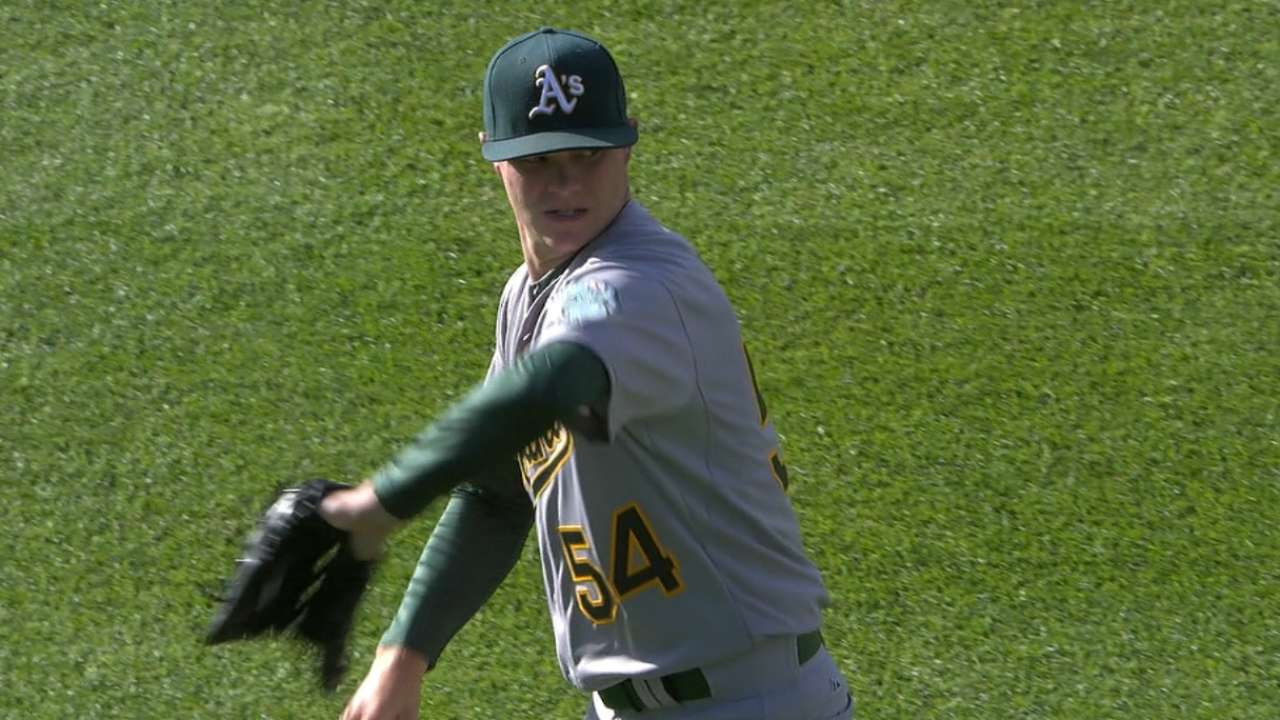 DETROIT -- Sonny Gray has long been carrying the A's. Now, the right-hander is also shouldering baseball's best ERA.
"That doesn't surprise me," said catcher Stephen Vogt after Gray's ERA dropped to 1.65 following eight scoreless innings on Wednesday in Detroit, where the A's cruised to a series-clinching 6-1 victory.
"The way Sonny is at 25 years old and making adjustments the way he does and pitching smart like he does," Vogt continued, "he definitely has to be in the conversation as one of the best in the game."
The A's still have more losses than any other American League team, but they've won eight of their last 11 games to improve to 22-33. Throughout the first two months of the season, Gray has been the lone constant.
On Wednesday, the right-hander allowed just two hits -- the first a base hit to former teammate Yoenis Cespedes with two outs in the fourth, the other a seventh-inning leadoff single to Miguel Cabrera -- and fanned seven with just one walk allowed. Not once did a runner reach third when he was on the mound.
Gray finished the eighth inning having thrown 108 pitches, and with a five-run lead, Oakland manager Bob Melvin didn't hesitate shutting his ace down for the night.
"You get a four-run lead with Sonny Gray, you feel like it's a 15-0 advantage," said outfielder Josh Reddick. "You feel like you get one run for that guy, whether it's the first or the eighth, you're going to get a 'W' no matter what. He goes out there with the utmost confidence in himself, and I think it gives our lineup a little bit of a boost in knowing that if we can score one or two, it's going to be a shutout for him."
It marked the second straight outing of eight innings pitched for Gray, who has completed as many frames in four of his 12 starts this season.
Gray entered the game lacking feel for his typically excellent slider, so he simply gave it more of a cutter appearance -- "That's a pretty common adjustment," said Gray -- to complement a live fastball.
"That's just who he is. He knows what he needs to get adjustments," said Vogt. "Whether it's throwing more four-seamers to get his two-seamer back, whether it's throwing more sinkers to get his four-seamer or get on top of his curveball or slider, he always seems to know what to do to make in-game adjustments."
"He's got the confidence and experience now to try to do some new things," said Melvin. "When he first got here, he was basically fastball-curveball, came with a changeup, then a slider. Now he's able to throw a little bit of a cutter. Now he's able to do it a little on the fly, that's how much confidence he has in himself."
Jane Lee is a reporter for MLB.com. This story was not subject to the approval of Major League Baseball or its clubs.