Ausmus: No problem with Tigers trying bunts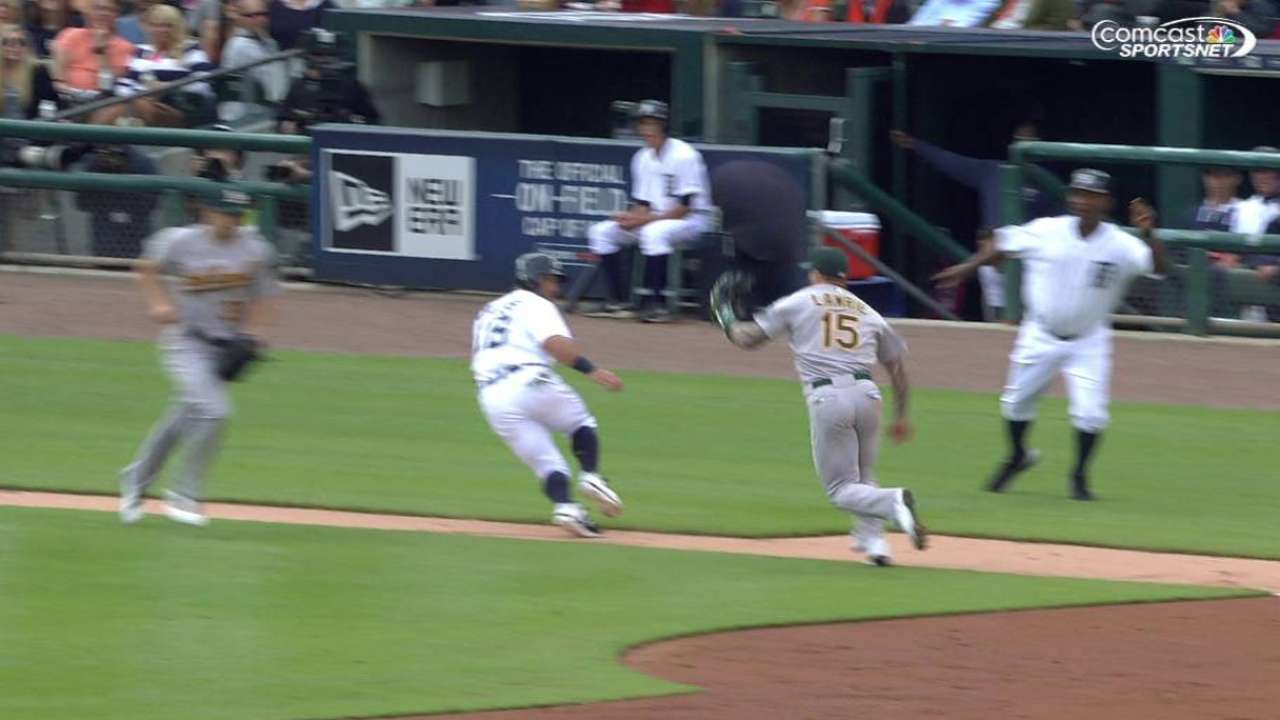 DETROIT -- The Tigers are tied for eighth in the Majors with eight sacrifice bunts in 27 attempts. They rank second in the American League with 10 bunt hits out of 40 attempts, according to STATS Inc. The Tigers' success bunting is not at an efficient rate, but as their offense struggles to produce runs, bunting more has become a thought.
An ancillary question coming out of Tuesday's loss to the A's was whether consecutive bunts in the third inning was the right thought.
When James McCann bunted with runners at first and second with nobody out, he was trying to advance runners into scoring position for the top of the order, with a chance to plate a run without a hit. When Anthony Gose then bunted, he was trying to capitalize.
It was an unusual sequence, though not without precedent. The 2003 Tigers once laid down three consecutive bunts in a game the final week of their season as a way to spark a struggling offense and avoid 120 losses. This offense, for all its struggles, isn't at that point.
Both bunts, according to manager Brad Ausmus, came from the players.
"There was no bunt on," Ausmus said. "I didn't put the bunt on. That was on their own."
Gose said his bunt was his decision.
"It was a terrible bunt, probably not the right situation to do it there, early in the game," Gose said. "Probably a good time to swing the bat and save it for some time later."
At the same time, he believed he could've pulled it off with a better bunt.
"I just thought if I could get it past the pitcher, we'd at least get a run, maybe even end up on first base, with first and third," Gose said. "But it probably wasn't a good situation to do that at that time of the game.
"Obviously, [with] a good bunt, things are different. We're not sitting here talking about it, probably. Obviously, it was a terrible bunt, so it looks bad, especially in that situation."
Though it wasn't his call, Ausmus said he understood the idea.
"Actually, it doesn't bother me, and teams have started doing it more in the last few years," Ausmus said. "If he gets the bunt down, you get the run in. If he's out, there's a runner at third, if not, it's first and third. So you see that actually a lot more frequently than you [once] did. It just wasn't a well-executed bunt."
McCann's bunt actually was just the second sacrifice by the Tigers since May 12, so the propensity toward the bunt has been relative. It's not as if there has been a rash of bunting that would prompt Ausmus to remove a green light. Part of the downfall with Gose's bunt is that Tyler Collins, standing on third base, had no indication, though Collins said he was aware of the possibility.
"He's a guy that can do it in any situation. You have to be ready for it," said Collins, who ended up in a rundown. "When I saw it down, I thought he got it down the line. I couldn't tell it was that close to the pitcher. By the time he caught it, it was too late."
Jason Beck is a reporter for MLB.com. Read Beck's Blog, follow him on Twitter @beckjason and listen to his podcast. This story was not subject to the approval of Major League Baseball or its clubs.