Lyles to undergo season-ending toe surgery
'I tried to deal with the pain, but it just gave out on me'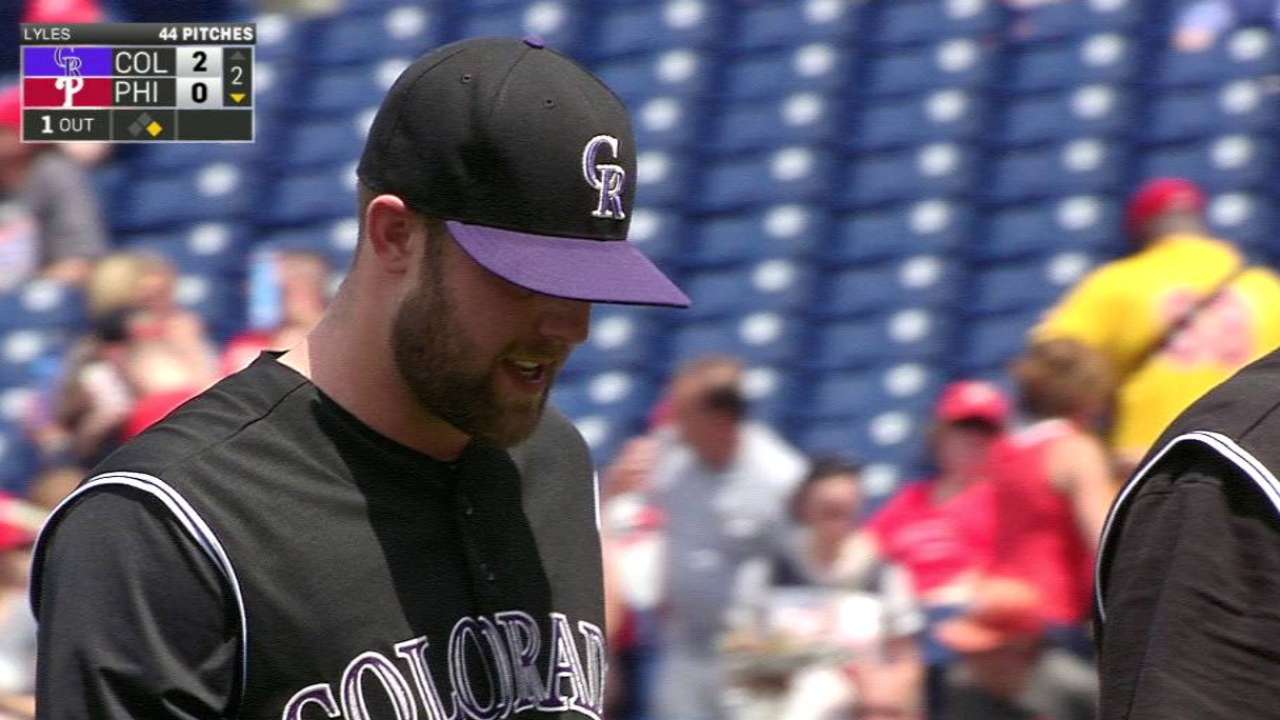 DENVER -- Rockies right-hander Jordan Lyles will undergo season-ending surgery next Wednesday to repair the medial collateral ligament and the capsule in his left big toe. Dr. Joshua Metzl will perform the surgery.
"He's obviously a tough kid and always gives us competitive starts when he takes the ball," Rockies manager Walt Weiss said. "Certainly tough news."
Lyles sprained his big left toe on May 23 against the Giants, causing him to check out after just four innings. His next start was scheduled for Friday in Philadelphia but was then pushed back to Sunday, when Lyles faced just six hitters before leaving. The Rockies placed him on the 15-day disabled list the next day.
It was then that Lyles knew his season was finished.
"After my last start when I came out, I knew that [surgery] was the route we were going to go," Lyles said "After I did the initial damage to my toe two starts ago, we knew surgery was in the future.
"I tried to deal with the pain, but it just gave out on me."
Lyles said the surgery is essentially "Tommy John for the big toe" and later added that the Rockies training staff "hadn't really seen anything like it." He got a second opinion from a turf-toe specialist in North Carolina, but that diagnosis matched up with Dr. Metzl's initial belief to go ahead with surgery.
Lyles finished the season 2-5 with a 5.14 ERA in 10 starts.
"I'll be off my foot for a month or two and then use crutches for another month or two after that," said Lyles, who missed more than two months last season with a broken left hand. "I'm not really sure how long the process is."
The Rockies' list of replacement candidates, however, is a substantial one. Left-hander Chris Rusin filled in nicely for Lyles after he checked out in Philadelphia, and long reliever Christian Bergman has made 11 career starts. Triple-A pitchers David Hale and John Lannan both have Major League starting experience as well, although Lannan isn't currently on the 40-man roster.
Eddie Butler, Kyle Kendrick and Jorge De La Rosa are the scheduled starters for this weekend's series against Miami, but De La Rosa's injured finger could shuffle around the starting rotation even more.
"We've had some guys step up in the last three weeks," Weiss said, "and we'll need to continue to get that."
Top prospect Jon Gray has been more productive lately, owning a 2.78 ERA over his last six starts. But the Rockies will likely keep him in Triple-A for more development.
Worth noting
• Reliever LaTroy Hawkins is scheduled to throw 25-30 pitches on Thursday in a Triple-A rehab assignment. He'll then pitch again on Sunday as he continues recovering from the right bicep tendinitis that has kept him on the disabled list since April 22.
• Outfielder Corey Dickerson ran around the bases and ran out singles on Wednesday. He's been on the DL since May 19 with plantar fasciitis.
Dargan Southard is an associate reporter for MLB.com. This story was not subject to the approval of Major League Baseball or its clubs.